Discussion Starter
•
#1
•
Well, needed to move a tank out of the baby's room and that meant breaking down a reef. The Manzigumi was redone to another location in the house and I used all the same stuff from the 1st attempt. Well, 3 new pieces of wood, but most of the hardscape materials are the same.
I also added about 5 Gal worth of Lava rock in mesh bag, I could see any good reason to have to use more new ADA AS, this saved me a couple of bags for basically 1-2$. The central core is the lava rock. I only used 60% of the ADA As from the old manzigumi display, so it was quite a savings. It was dead space.
The tank will have E belem hairgrass only. Maybe some moss/Mini pellia etc or a few Buce's in the darker shadows
I'm going to get it planted later this week, I got the filters running and water in it tonight. I am going to run it cooler, around 76 or so. I think I'll add a lot of high grade CRS SSS shrimp and go with a South East Asia theme.
This will be a relatively easy tank to maintain and keep. The slope is very steep, but the light is fairly even along the sloping. There are 4 viewing sides, so while this might seem like challenge, I've done a lot of tanks with this placement and I strongly prefer this positioning.
The dining table is this view:
The main view folks look for the FTS is this:
Top and diagonal view folks see walking towards it: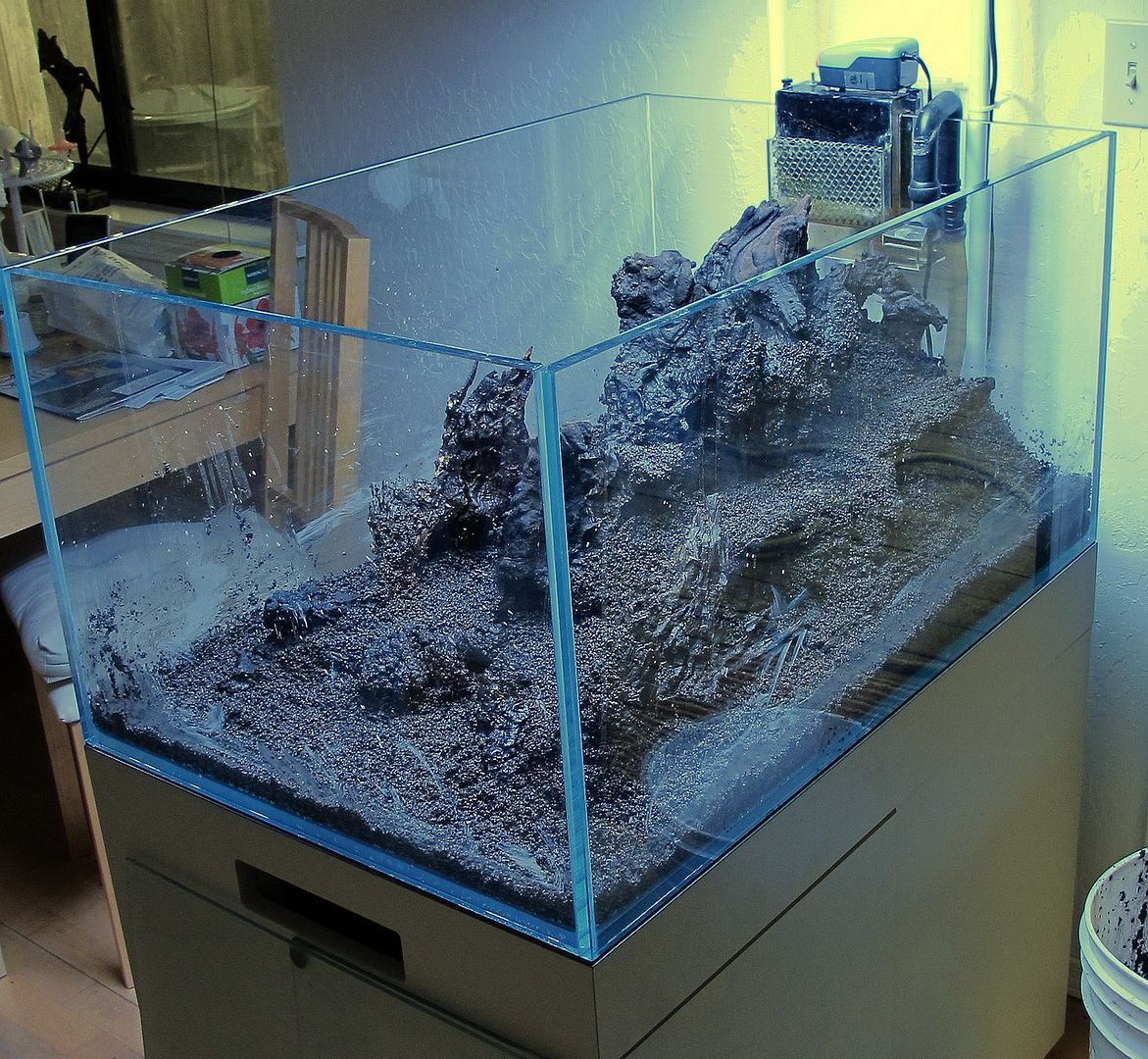 I might add Botia sidthimunki again, I had few issues with them as long as they were fed.
There are many ample dark caves and hiding spots for any cryptic species.
I have a fair amount of Hair grass coming this week, so it 'll be good to really crank the CO2 and good light and water changes for the next few weeks(8 weeks typically, 3x a week water change, 60-80%). This hard scape is much better than the old one, more access and a steeper slope, and of course, more viewing sides/angles etc.