I decided to give my soon to be six year old a fish tank for her birthday. (Okay, I'll be honest this is kind of a gift to myself as well). This is only my second high tech planted tank, so I am still a rookie and bound to make mistakes -- what little I know about planted tanks I've learned by reading this forum, talking to my awesome LFS guy, and watching YouTube tutorials. So here goes...
Tank
: 12" (30cm) Deep Blue Pro rimless cube
Light
: Fluval Aura High Performance (New!)
Filter
: Aqueon Quietflow AT10 submersible
Substrate
: EcoComplete (Black)
Decor
: Seiryu Stone (19 lbs)
Flora
: DHG, S. Repens, and P. Helferi (all tissue cultures from TopFin)
Fauna
: 2 Dwarf/Pea Puffers; 1 Otocinclus [To be added in a few weeks]
CO2
: Paintball w/ Aquatek CO2 Regulator Mini & Glass diffuser
Dosing
: EI Method
Here is a full tank shot (the water was still a bit cloudy):
Here is a view of the front and right side of the tank: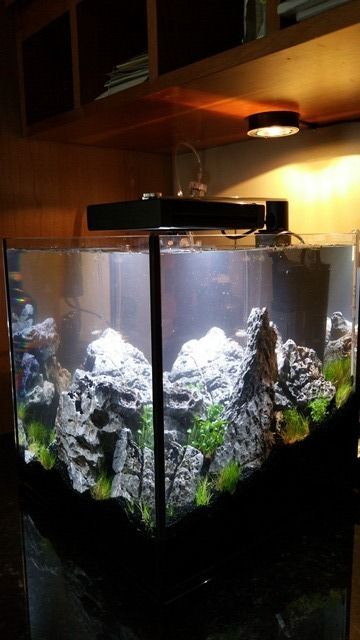 And finally, just the right side: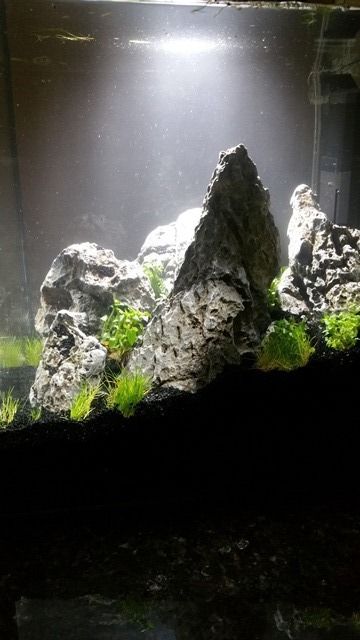 I am running the tank at 1 bubble per second and hoping to get the tissue cultured plants acclimated for the first two weeks. Will report back soon...
Thanks for reading/viewing! Advice always welcome and appreciated.