Discussion Starter
·
#2
·
Added Fluval Compact Heater
Added a small (25 watt) heater designed for the Fluval Edge to left of the Aqueon AT10 filter. So far it seems to be working and slowly warming the tank. It is designed to just raise the temperature to 78 F (26 C) and then shut off, that should be more than adequate for the planned flora and fauna. Since the tank is in our kitchen where the ambient temperature is usually about 72 F (22 C), I am not too worried about needing a stronger heater.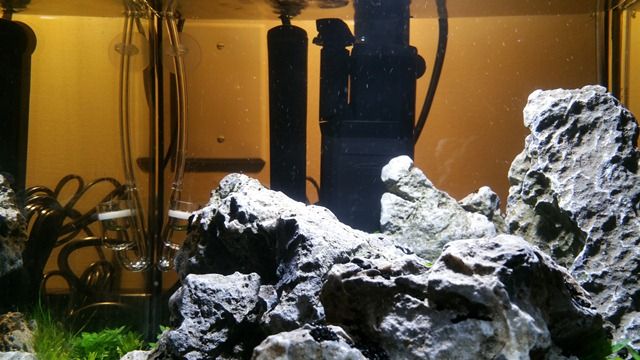 If I had space to use a canister filter, I would have gone with an inline heater, but the current option with submersible filter and heater does not look too bad.
Here is a detail of the DHG from today (Day 4)
I've begun transferring a bit of water and filter media from my 125 gallon to help begin the cycling process. Not having any luck finding a small bottle of ammonia to really start the cycle though...
Here are measurements for the tank water:
Ph
: 7.6 (morning) to 6.0 (evening)
NH3 / NH4
: 0
NO2
: 0
NO3
: 0
GH
: 11 degrees
KH
: 8 degrees