Discussion Starter
·
#1
·
Thanks to some people on here, and some people on my local plant group site,
www.miapg.com
the michigan aquatic plant group, I was able to put together my first planted tank.
I've been keeping african cichlids for over a year, but never messed around with much more. After having a nice display tank and also breeding tanks, I"ve grown a bit bored with the africans. They look nice, but they just don't do as much for me. So I wanted to start something a little different and more fun.
Being that I"m on an extremely small budget, I was lucky enough to beable to do a decent low tech set up.
So far I have spent:
$40 on 2 coral life 48" t5 NO lights
$15 on substrate
$30 on driftwood
$0 on tank 65L 48x12x24 (buddy gave it to me was new with a chip)
$0 on stand (bought a tank and resold it for more than I paid and kept accessories)
$0 glass lids from same tank transaction
$10 on filtration (AC110 and AC 70)
$22 on plants (most were generously given to me by miapg.com members)
$80 on fish (5 denison, 9 pentazona, 3 gold, 8 black ruby barbs, 1 flying fox, 1 featherfin cat, 2 geo. surinamensis)
So less than $200 bucks.
I'm using baseball infield clay mix and some sort of aquatic planting mix (maybe SMS) that I got for dirt cheap from the LFS that they had left over after doing their display tanks.
I'm dosing with excel and the comprehensive fert with no problems yet. I'm hoping that I don't need additional ferts.
I set the tank up after getting most of the stuff needed, but really just threw it together. I didn't even wash out the substrate. Well, that turned out to be sort of a mistake because I hated it and needed to take it down an re-do it. It was a good learning experience though.
Here's the first try: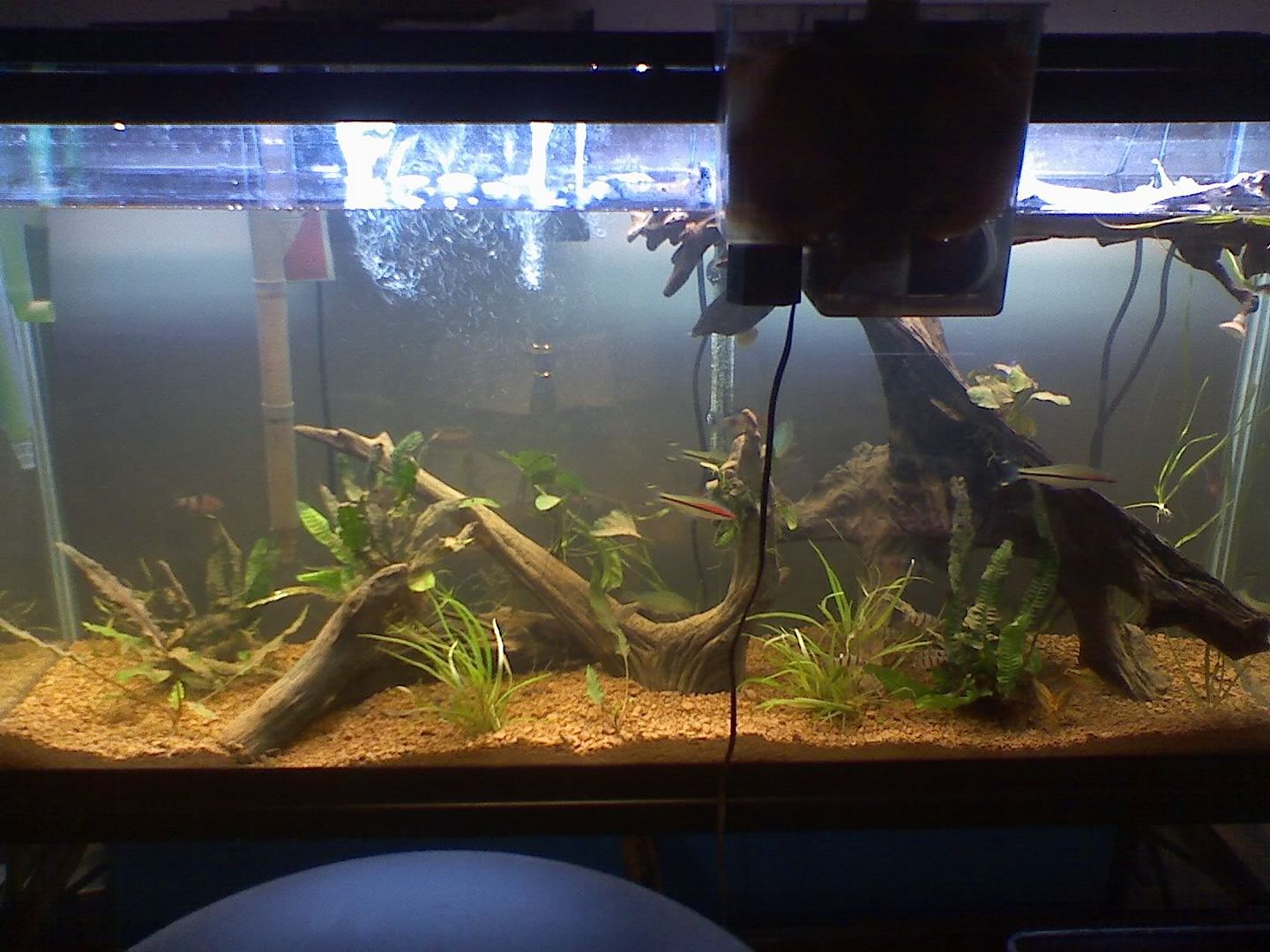 I thought the first try turned out pretty lame. Too flat. The red substrate is sorta ugly. It's all around just kind of boring. Even once I added plants, it was just uninteresting. Plus, like I said I didn't wash out the substrate, so it was VERY VERY VERY silty. That's why I have the additional HOB on the front and have a cannister running on it to try to filter it out. It cleared up fine, but any time the geos were working, or if I tried to plant anything, it clouded up very easily.
Here are some pictures after I added more plants, but it still wasn't doing much for me...
Right: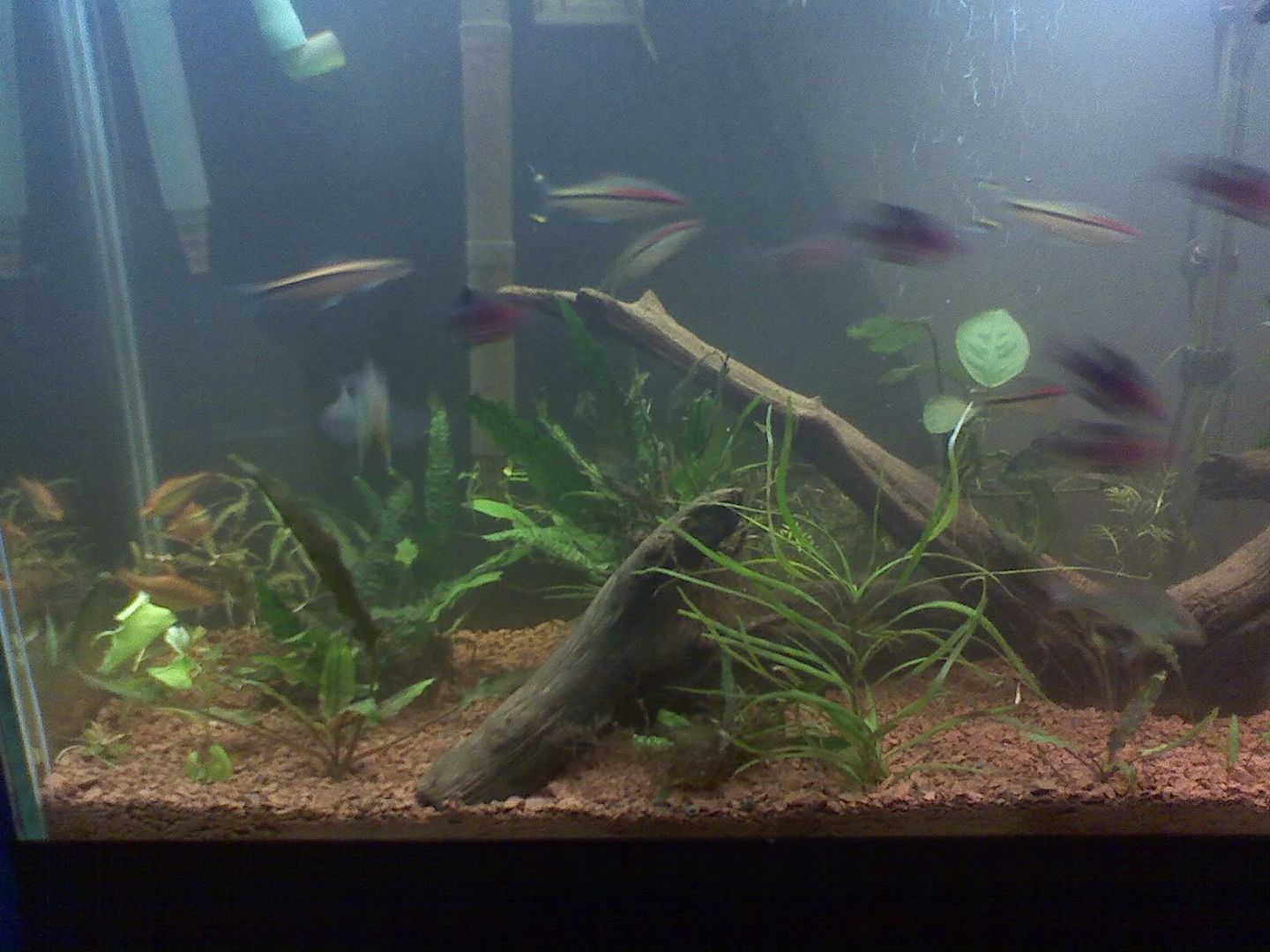 Left: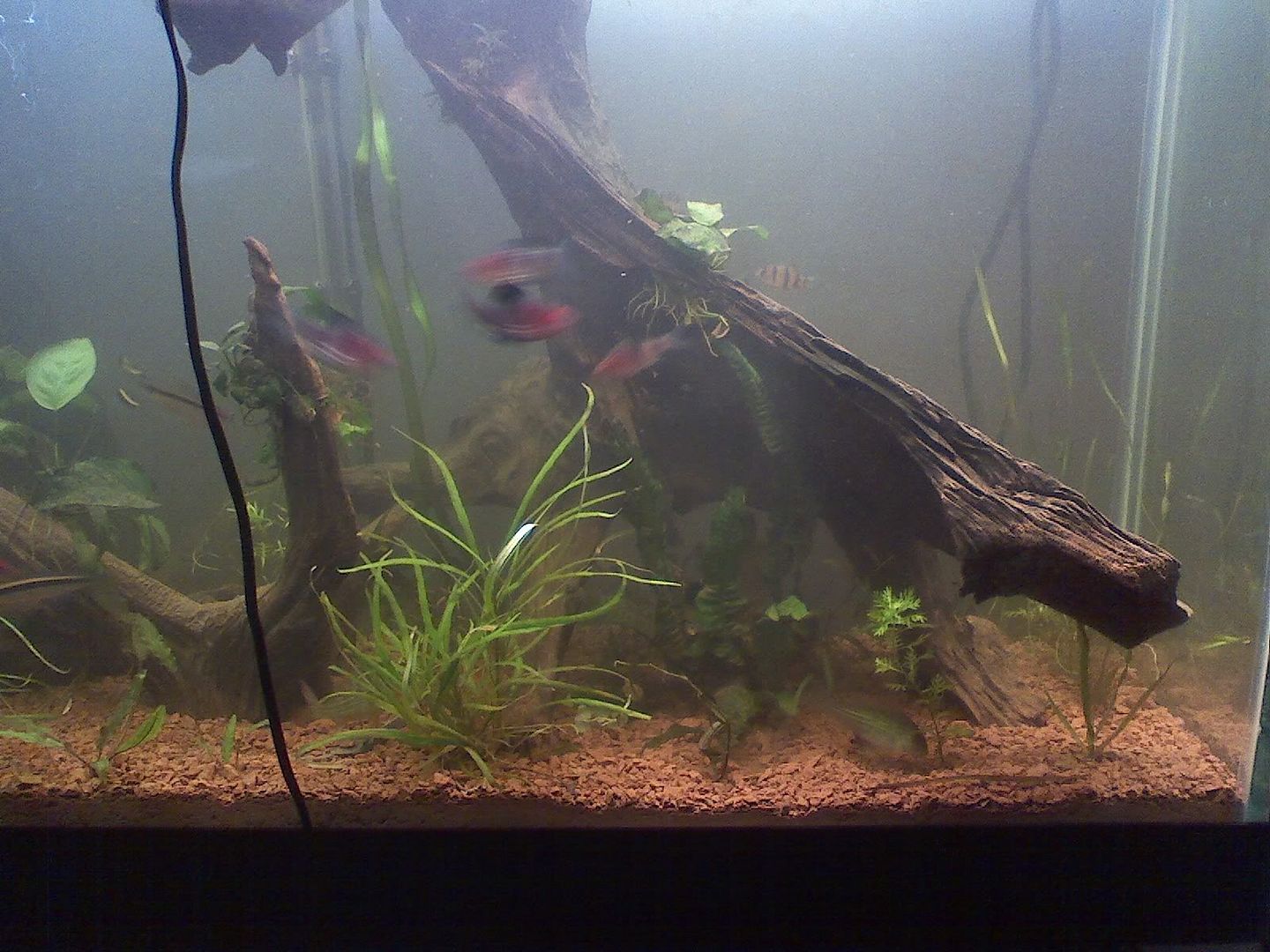 So being that I was disappointed with the look of the tank, I decided to take it down and start over...
Sorry some of these pictures are foggy... I had just brought my camera in from the cold and the lens fogged up..
I didn't want to slow my progress, so i just took the junky photos...
put the red calcined clay infield mix down as a base... then starting to cover it with the darker plant soil... also stuck some rocks in there:
Adding wood and some plants and a nifty garbage bag background
Adding more plants... I can see I should have tried harder to keep the red substrate below the trim on the glass, but oh well. YOu only really see that with the flash...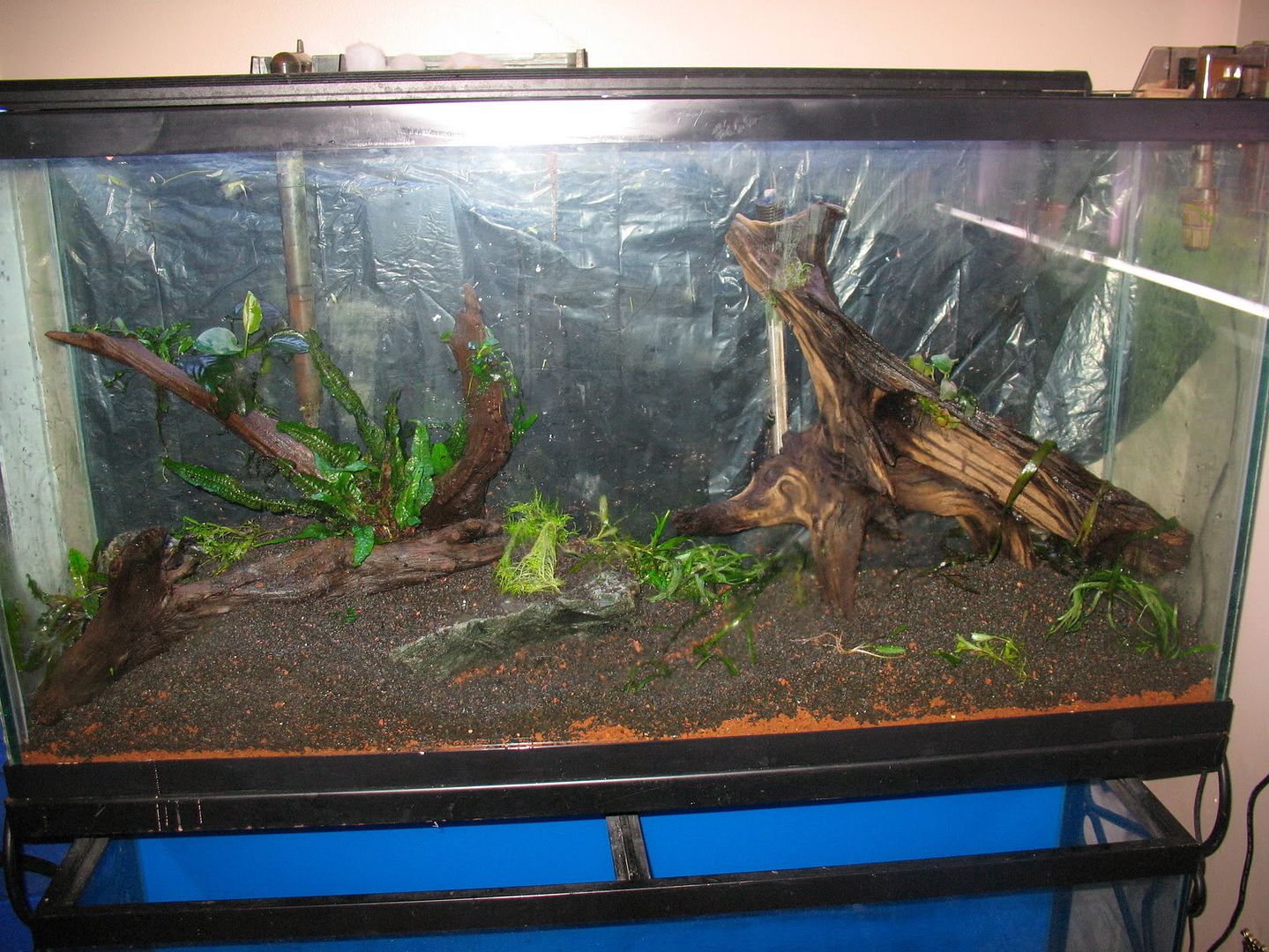 Overhead Left:
Overhead Right: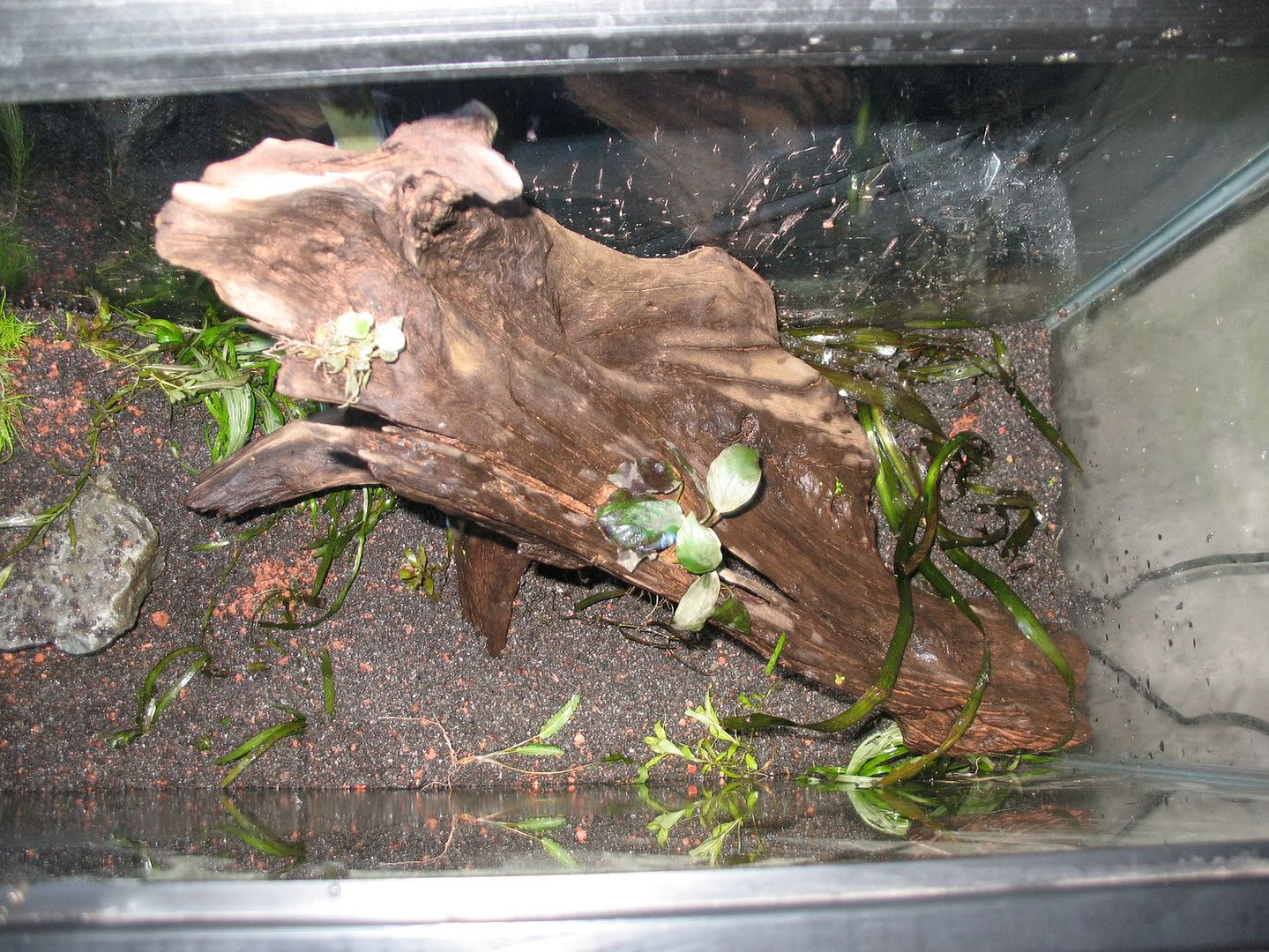 MOst of the plants in... time to fill'er up
Teacup and saucer method:
FULL!!!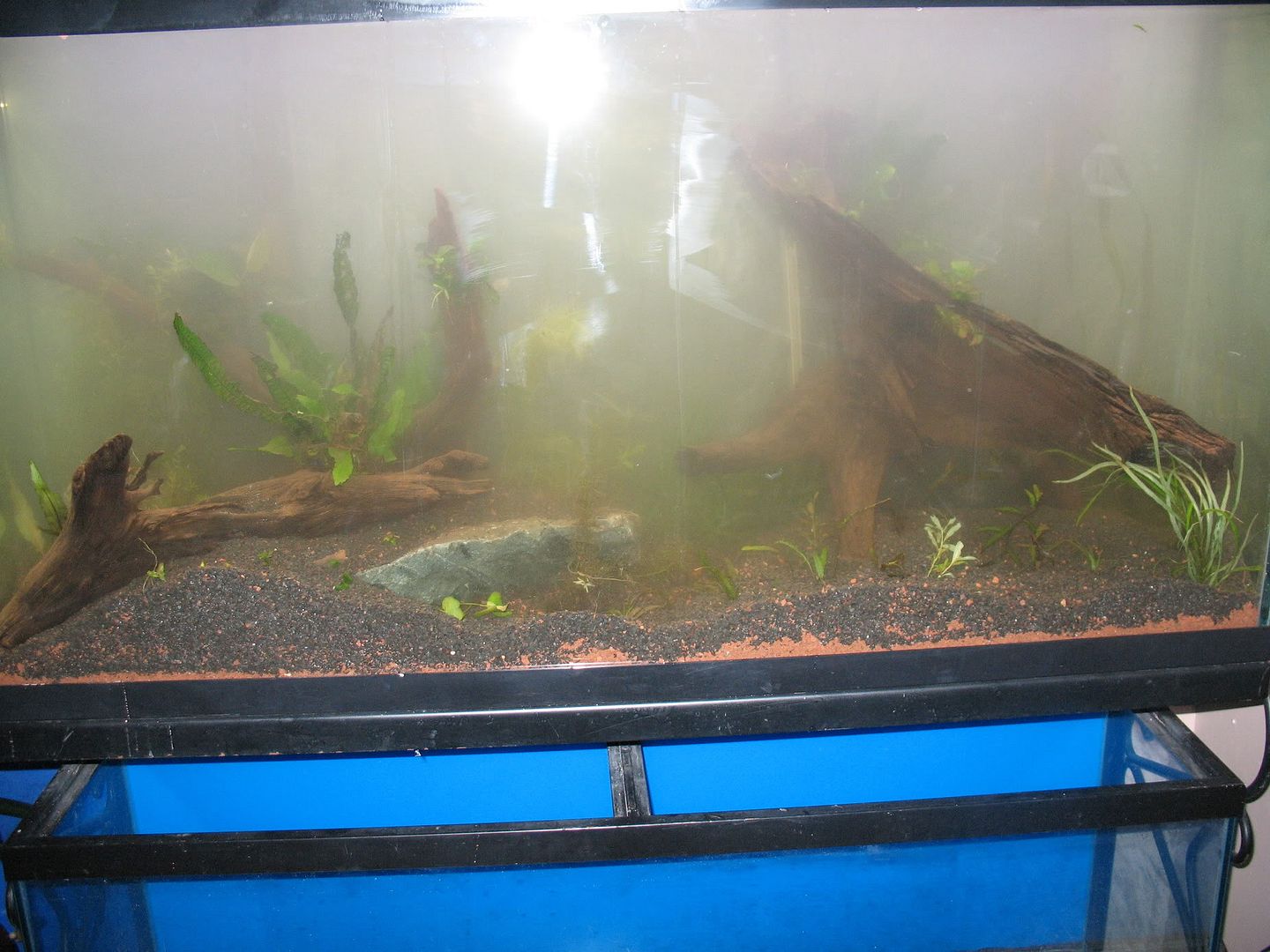 Clearing up!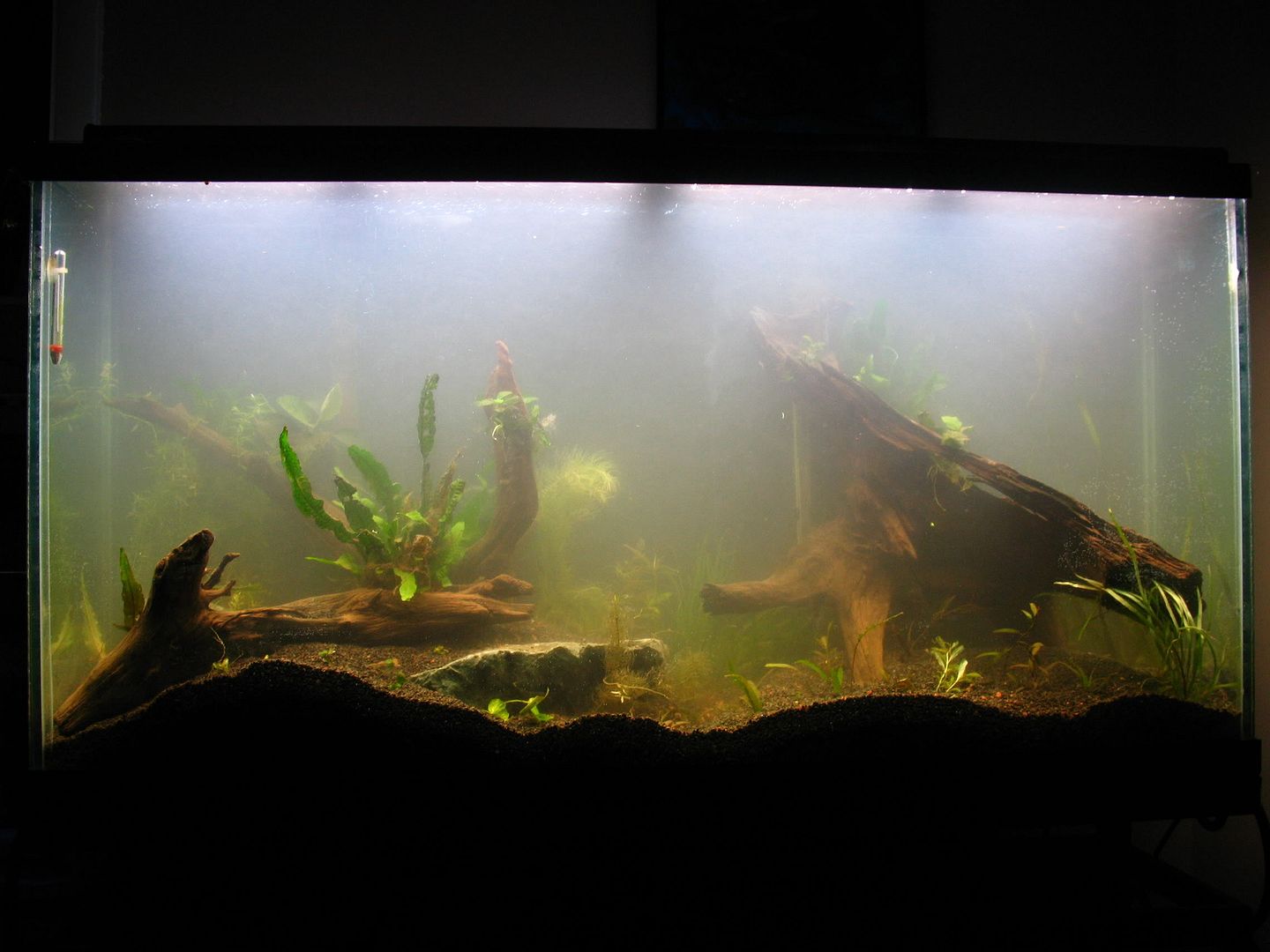 Yay!!! All clear!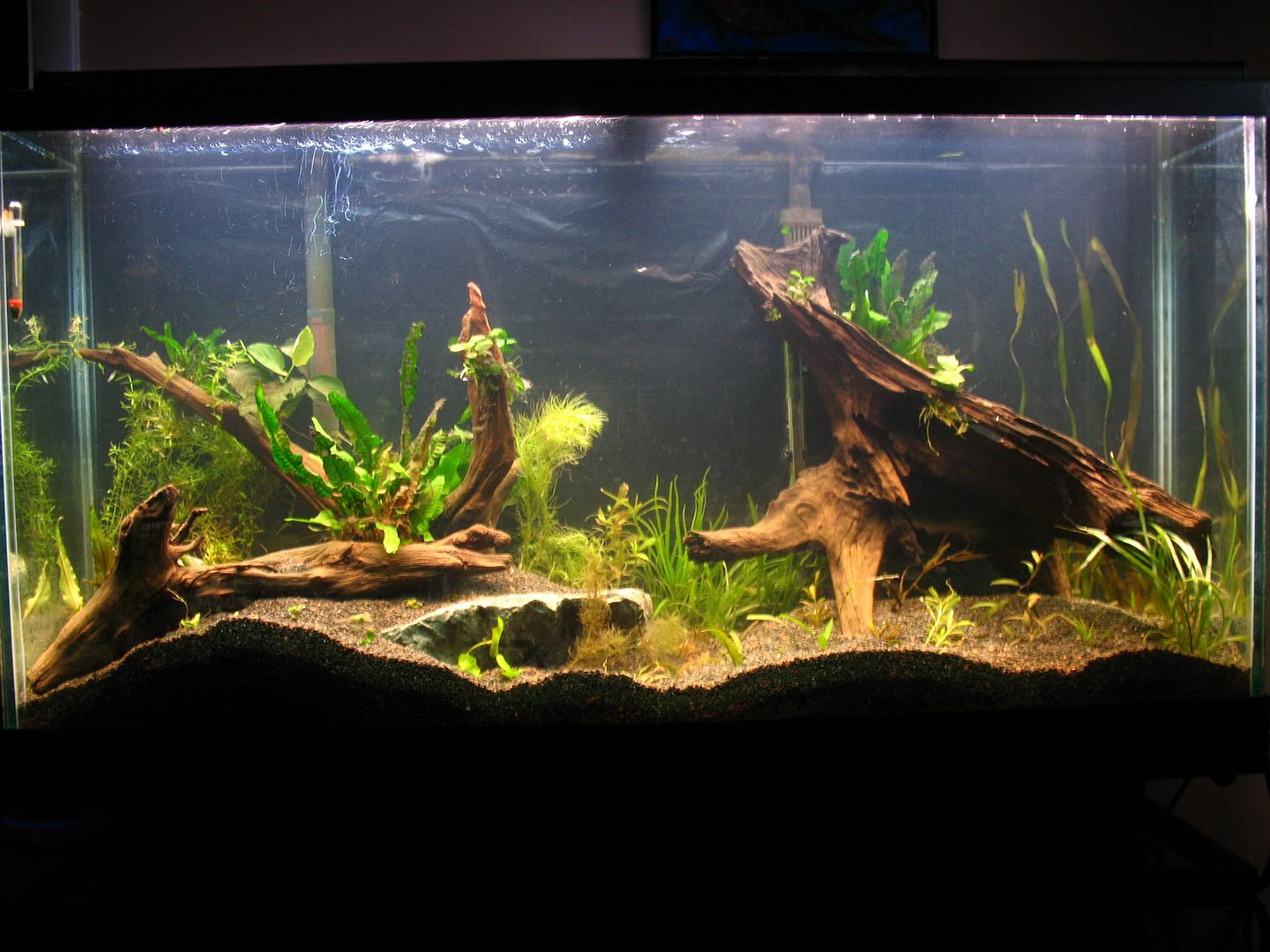 Next day, good and clear...
(also shows my custom fish artwork from my cousin.. lol)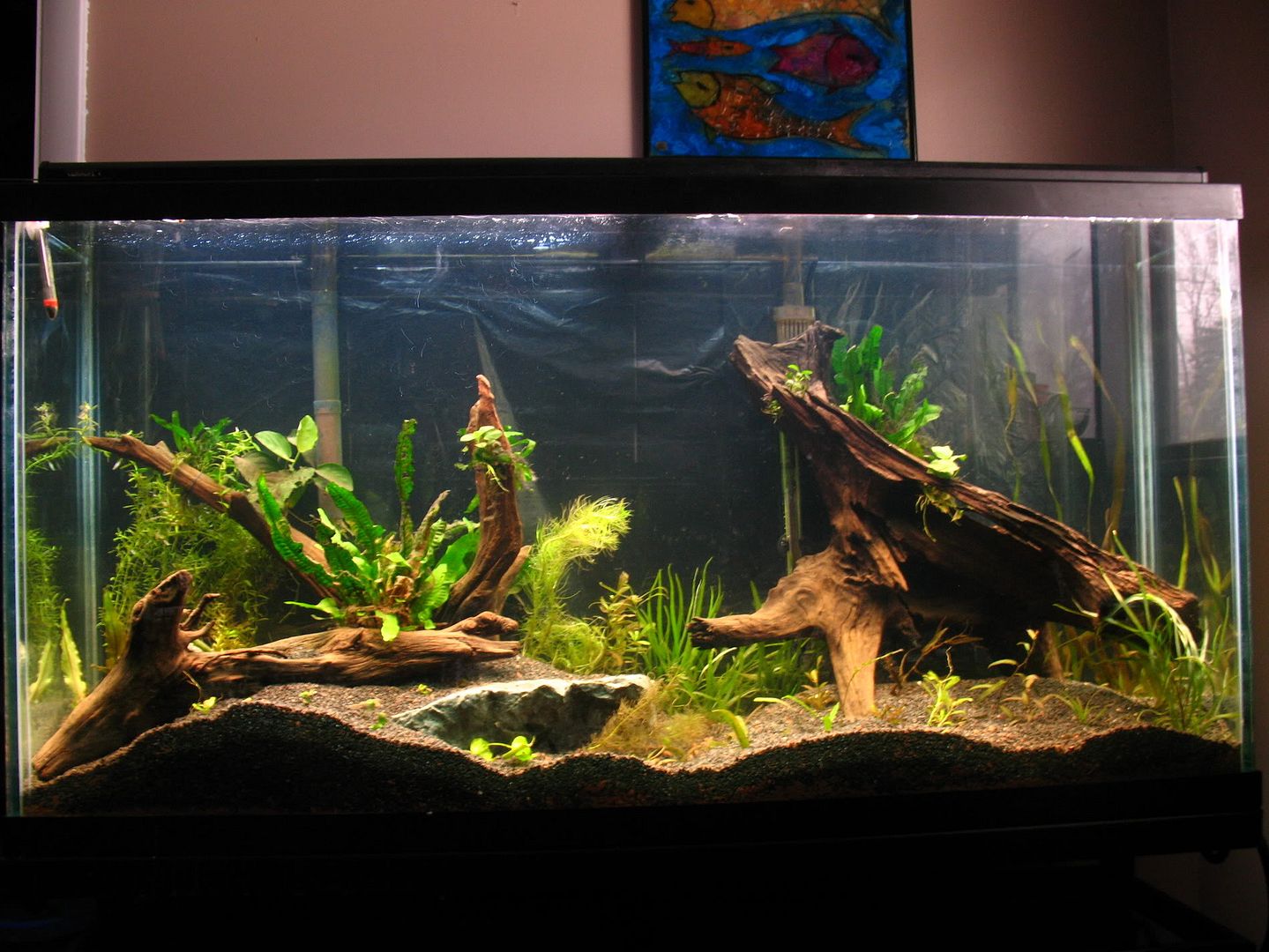 Left side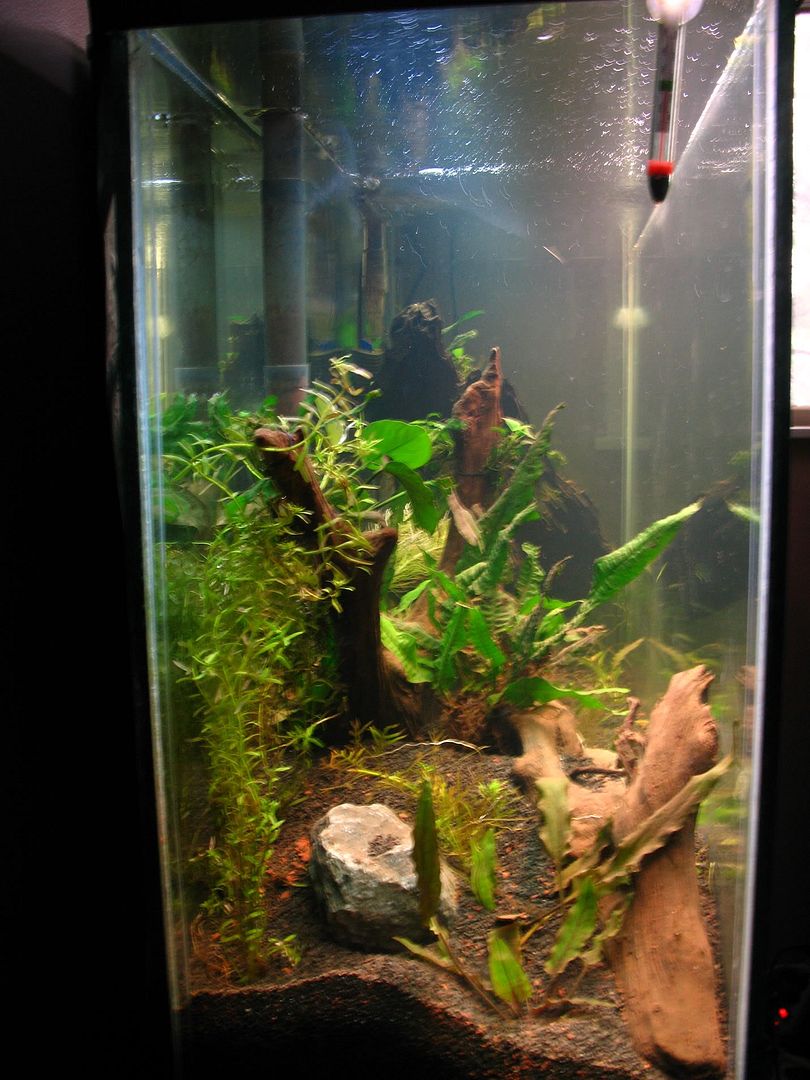 Time for fish!!!
(sorry they're just blurs.. I was not using a flash.. )
99% finished... I think I need some more fore ground plants, although there are quite a few. They are just very small.
So thanks for looking!!!!
Just your basic planted tank, nothing fancy or very creative. I didn't have to customize anything, or do anything at all but set it up. I had been collecting/floating the plants for some time... collecting the wood... just slowly getting enough stuff together to slap it all together. Which is what I did with the first go around. I'm really glad I took it down and gave it another shot. I'm really a lot more happy with try #2.
Comments, criticisms, and suggestions are more than welcome!!! Help me make the most of my tank!!!