Project Daiguren Hyorinmaru
great crimson lotus ice ring
About the name: I'm a
Bleach
fan, what can I say?
On to the good stuff!
Tank: 48"x12"x21", 55 US gallons
Filter: Rena XP3 (2x20ppi foam/2x30ppi foam/~40x Bio-stars/Bio-chem Zorb)
Substrate: ~40lbs white leveling sand / ~50lbs black diamond blasting sand
Decoration: Loads of gray shale collected from a stream in Frankfort, KY. Several sandstone patio tiles from Home Depot.
Lighting: 4x 26w CFL spirals with clip-on work light reflectors from Home Depot (most likely won't bother with a cover/fixture or antyhing like that).
Flora: A single melon sword mother plant for now, 18" at the tallest point!
Fauna: CICHLIDS!
So far I have purchased five cichlids, four of which I have identified as:
Red Peacock cichlid
Aulonocara sp.
Albino 1/2 Crimson cichlid
Paralabidochromis sp.
Electric Yellow Labridochromis cichlid
Labidochromis caeruleus
Red Zebra cichlid
Maylandia zebra
The fifth I am not sure of, but I believe him to be a peacock cichlid.
EDIT: three more cichlids were purchased, species TBD.
Yes, I realized that I am mixing peacock and mbuna, however, the peacocks are not only the largest currently, but they are also much more aggressive than the mbuna is. This may change, but I will play it by ear from here on to see if it's gonna work out long term.
I plan on adding at least five more to the tank (which is currently not fish ready, I need to fasten the rock wall to the back of the tank so I need to drain it again
)
To be continued, it's late here and I have to work tomorrow. I will update later with pics of what I have so far.
UPDATE 9/19/2011
Well, I finished siliconeing the rock wall last night, I made a big mess.
I think I cut the tip of the silicon tube too big, so a lot came out and kept coming out.
Here are some pics of the planning stages (I put it all together on the floor)
(still had the smaller pieces on the bottom of the tank, those are gone now, replaced with black blasting sand)
Leftmost piece is put together.
Got them in safely, though I almost had bad things happen lol. Red clamps are to hold it to the glass so the silicone can hold it to the glass, and the hangars are keeping pressure on a couple of pieces to cover where I got too much silicone on or to cover a hole)
See what I mean? Wayy too much silicone. I'm ashamed of myself.
BUT! I heard Red Sanford say "YOU BIG DUMMY!" and I remembered that the excess silicone would pull right off, and it did.
My project for tomorrow is to pull as much off as possible to make it look cleaner.
I also got some "patio stones" from Home Depot yesterday. They are roughly 6"x6"x2-3" and are made of sandstone, and have excellent coloration and marbling in them! They were also pretty ridiculously cheap, 60 cents each!
They look kinda like this:
(that's the pic from the HD site, I will get some actual pics of them once I get them inside and start putting them together).
What does anyone think of this stone? It's at my LFS and it's ~$40. I don't exaclty know how it would look in the cichlid tank with the darker stone wall and such, so I'm debating. It's about 8"x8"x8" or so and weighs about 20lbs.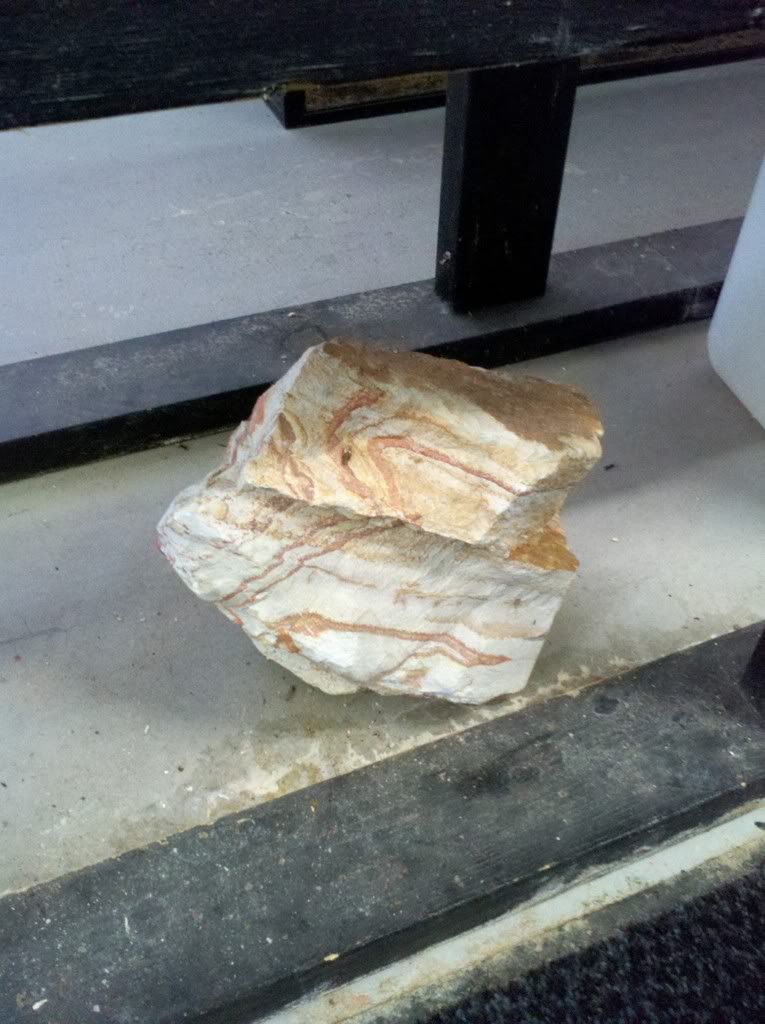 Well, I think that's all for tonight. If anyone has any comments, feel free.
Also, if anyone has any suggestions for plants, please let me know! Lighting will be a custom CFL fixture like Hoppy's with four 26w CFLs, and I'm not planning on dosing ferts or injecting CO2.
Thanks!