Recent FTS...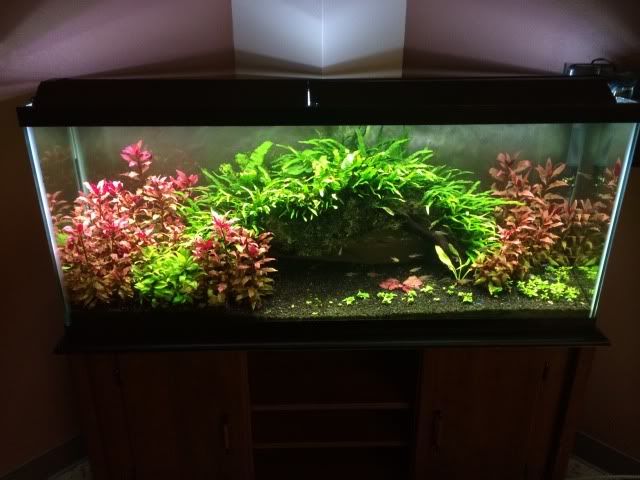 Big shout out to the following for contributing one way or another..
HighDesert
- Plants!
h4n
- Plants!
Steve106
- Plants!
Marineland
- 48" aquatic lighting system w/timer! HUUUGE hook-up!
Caribbsea
- 80lbs of eco-complete! HUUUUGE hook-up!
Arizona Nature Aquatics
- Tons of advice and misc hook-ups!
A buddy/coworker of mine and I decided to take over a much neglected 55 gallon tank that was left in the bays of our station. This is pretty much what it looked like the day we took it over from the lazy dudes on C-Shift. Pay no attention to my awesome algae "paint" job...
I brought in an old piece of wood that is about 23" long that I had lying around my backyard for the past few years. We let it sit in one of the sinks to waterlog it and leech as many tannins as possible.
Once it was waterlogged we stuck it in the tank. There were still two HUGE feeder goldfish that "C" shift had kept alive for 6+ years, and one zebra danio someone dumped into the tank awhile ago. Not wanting to kill the goldfish we decided to have someone transfer them to a koi pond that another station had made and stocked.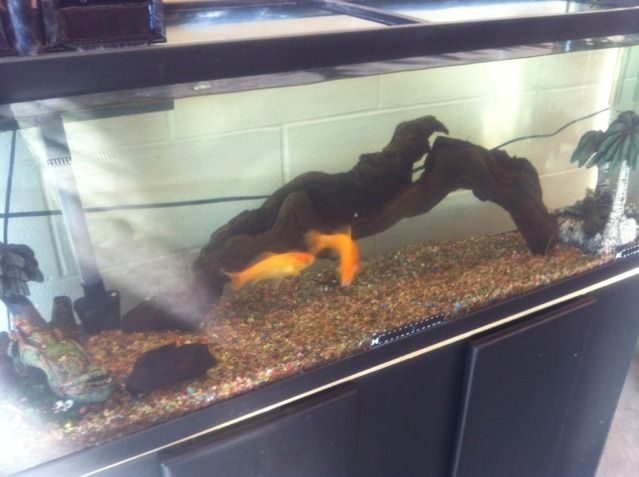 While we were cleaning out the tank we found all sorts of random things. The crazy thing was that we found about a dollars worth of pennies in the tank that were all corroded and what not. Crazy that the fish were still alive.
Anywho, we got hooked up by a member on here with some NLJF so we tied it to the backside of the wood. When we get more java ferns we are planning on filling in the middle, and then the front so that it is completely covered in ferns. The wood is still leaking tannins so we bought some seachem purigen and put it into the filter; we'll see how much it helps absorbing the colors.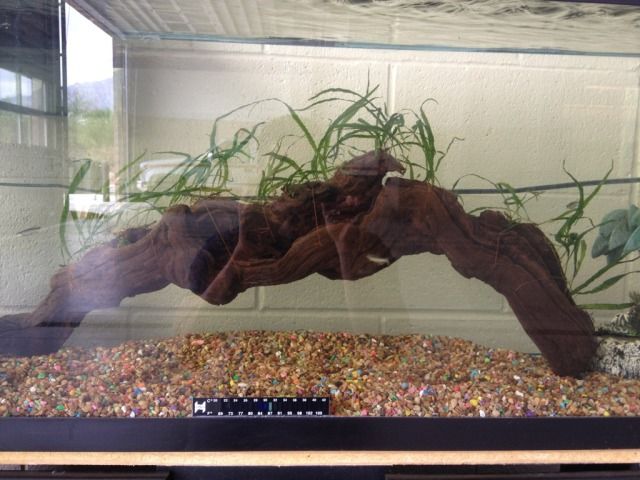 The stand that the tank sits on is old, rotting, warped, and just a huge POS. Will found a good deal on a stand on craigslist for $40 so we picked it up.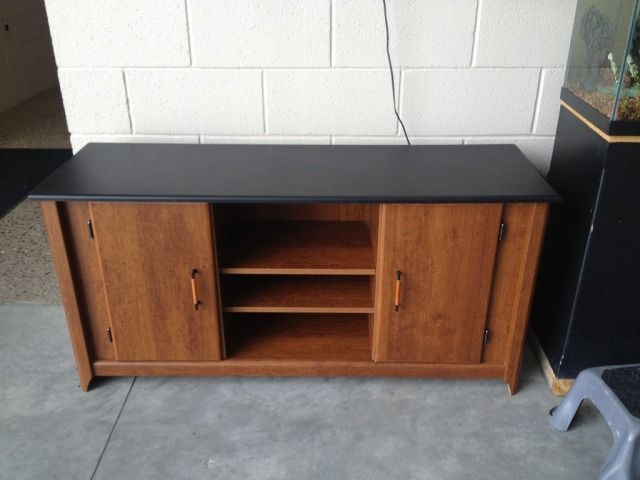 Since taking it over we put in a bristlenose pleco to help with algae control and recently added two more zebra danios to keep the one dude company. We also added an Aquaclear 70 to replace the stock filter that came with the tank. We are still running the old filter to help with filtration and beneficial bacteria build-up. We want to replace that substrate with Caribsea Eco-Complete Plant Substrate. Once this is done, we'll be able to put in a lot more plants.
We are keeping the lame decorations in the tank just so the pleco has more things to eat algae off of. Once the substrate and plants are in we are moving the tank inside the station in the dayroom. We want to put in a school of neon or cardinal tetras but aren't committed to it yet; still deciding and doing research. We need fish that are somewhat hardy consider we only work 11 days a month and won't be able to keep an eye on the people dropping random things into the tank.
Will update this thread when the tank progresses.