I set up a 5.5 gallon nano tank a few weeks ago. The substrate is about 1" of loose peat, with 1" of sand out of a river on top of that, with about 1/2" of gravel on top of that. It started off a little higher, but the peat and sand have compressed. So far, the only ferts have been a Jobe's Plant Stick broken into two pieces and inserted into the substrate near the rooted plants.
Lighting is two 10W full spectrum flourescents from the aquarium section of walmart in a hood I made out of acrylic. The hood is pretty low quality because I didn't have any proper tools, just a dremel and some epoxy that claimed to work on acrylic, but doesn't really. At least it was cheap.
For plants, I started out with an A. Crispus which was mostly dead and a small amazon sword that wasn't in much better condition. I took these out of the pots/wool and planted them in the substrate. I also got a few stalks of anarachis and hornwort, both of which were absolutely covered in multiple types of algae. I scavenged some driftwood from the shore of Lake Superior, boiled it, and put it in the tank with a betta.
This was taken about a week after the tank was set up: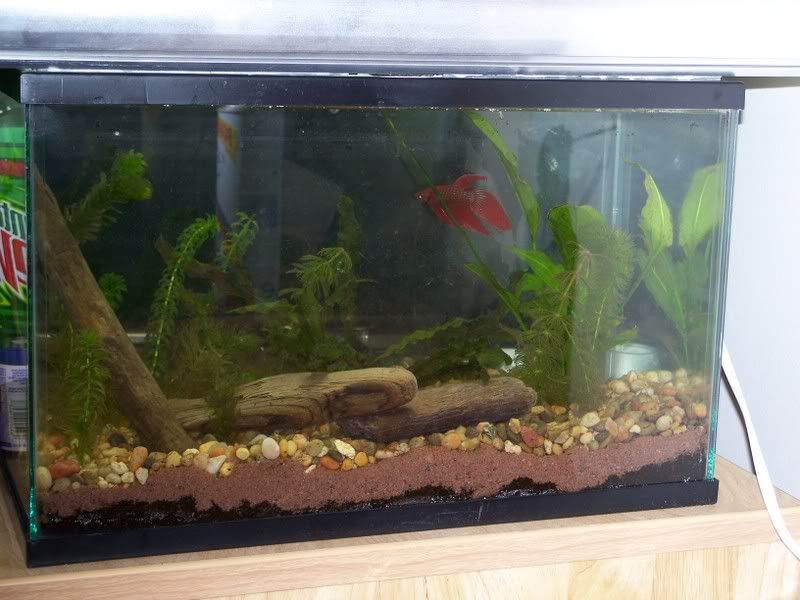 Larger version
The original leaves on the crispus and the sword all died, along with the old growth on the anarchis. I didn't get the dead leaves out of the water soon enough (rookie mistake), and ended up with a pretty bad outbreak of BGA. I cleaned this up, finished the light hood (the tank had been lit from a light bulb behind it for a while), and added three platies to the tank. I also tried reducing the photoperiod from 10 hours to 8. The BGA stayed away, but I ended up with some diatoms, so I've increased the lighting to 9 hours again. Now I have a bit of green spot algae on the glass, but I think things are starting to stabilize. The hornwort has started growing with the addition of the platies; presumably that raised the nitrate levels to the Hornwort's liking.
There has been a lot of new growth in the tank, and along the way, I got some dwarf hairgrass and some java moss (still very new). As soon as I can find a nice rock under the snow, I intend to put one in the front right of the aquarium with some java moss, but here's a picture of the tank now:
Larger version
Edit: I can't make images from Flickr work...? They work from other sites. Click the links I guess.
Edit2: I moved the images to photobucket