Discussion Starter
·
#1
·
Greetings,
I have started the set up of a 5.5 gallon planted tank for a betta for my 4 year old. Here's a picture: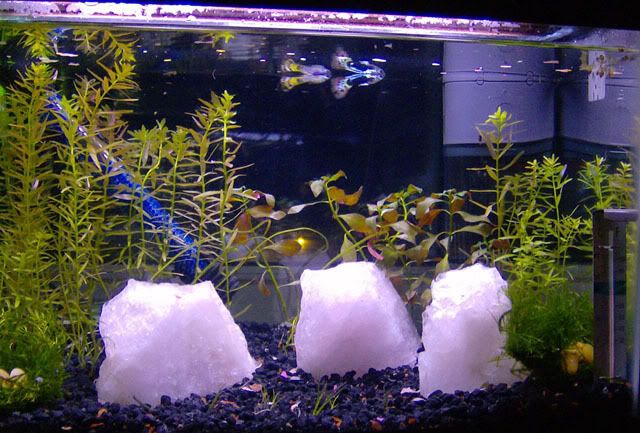 Plants are Rotala indica, Cryptocoryne retrospiralis, Ludwegia repens var Red, Dwarf Hairgrass (a little), and Java Moss.
Substrate is mixed black gravel and Fluorite, taken directly from two established planted tanks. Filter is a Duetto 50 with the carbon cartridge removed and with the outlet pointed at the glass; it has been running in a cycled tank for 2 months. Heater is a 50 watt set to 77ºF; ambient in my house is 64ºF in the winter, 80ºF in the summer. The light is a single All Glass 16" strip with a 14W Hg T12 (the one that came with - pink light). The light sits atop a well fitting versa top, bent up ever so lightly at the back corners for the cords.
Dosing 1/2 ml Flourish and 1 ml Flourish Excel weekly with a 50% water change, and 1/2 ml Flourish Excel daily. My tap water is 2 KH, 14 GH, ~7.2 pH and chock full of Chlorine, Fluoride, and Cholramines. I hit it with a double dose of each of NovAqua+ and AmQuel+ (that last to remove the heavy metals more than the ammonia - I realize that leaving the ammonia in would be optimum, but getting the metal ions out is the priority).
It's sited right in front of a window, so I will be putting a black background on it.
Planning on clearing the front left corner and putting in a spot of eco-complete (from an established tank) to replant the hairgrass, then stitching the java moss to a needlepoint grid weighted down with the 3 stones for a lawn in the middle and front left. I'm also going to get some planting tweezers and thicken up the Rotala from the trimmings from my other tanks.
Current occupants are 2 male guppies, there to make sure the cycle is complete (I'll test this weekend). They will be relocated when I add the betta. Also several tiny MTS, and some small pond snails. I'll hand pluck them for loaches and when they get out of hand.
Planned occupants: 1 male betta, 3 ottos (in August/September); 5 Corydoras pygmaeus, C. hasbrosus, or C. hastatus (or one of the rarer dwarfs if I can find them for a reasonable price) (in April/May). (Note that I have bail out solutions for the cories and ottos if the betta decides to be obstreperous.)
Could someone please point me at a good article on lighting a nano? I realize that 2.5 WPG is low light in a nano. (I've also got a 10 gallon setting up for dwarf puffers that needs better lighting for the plants I am planning.) I'd like the option of putting in HC or Glosso, and I would love to see pearling in a tank of my own.
What say you?