Hey all, happy to be back in this hobby!
With everything being so hectic, I needed something that will be a relaxing presence in my life.
I will keep this journal up to date full of new posts/pictures documenting my journey.
Feel free to extend any advice or questions you have. Please Enjoy!


Tank:
ADA Cube Garden 45-P Aquarium (Ultra High Clarity Glass) w/ ADA Garden Mat
Lighting:
Chihiros RGB II with "Acrylic" fixed leg design
Heater:
Archaea Mini Aquarium Heater (50W) Ultra Slim; Finnex Heater Controller
Filter:
Ultum Nature Systems DELTA 60 Aquarium Canister Filter w/ Coarse Sponge, Purigen, and Bio Balls; Stainless Jet Outlet and Surface Skimmer Inflow
CO2:
GLA MINI-DS Aquarium CO2 Regulator (Dual Stage) for Paintball Tanks; Milwaukee MC122 PH Controller; 24oz Paintball Tank; Qanvee CO2 Inline Atomizer
Substrate:
Tropica Aquarium Soil - Powder Granule - 6L
Flora:
Rotala Hra (Back Left), Limnophila Aromatica (Back Right), Ludwigia Natans Super Red (Center), Hemianthus Micranthemoides 'Pearl Weed' (Front/Mid Right), Hydrocotyle Tripartita 'Japan' (Front Left)
Fauna:
(TBD) - Boraras brigittae, Ramshorn Snails, Nerite Snails, Crystal Red Shrimp?
Parameters:
PH w/o CO2: 7.0
PH w/ CO2: 6.3
GH: 6 dGH
KH: 3 dGH
TDS: 220 (after WC)
Temp: 72 Deg. F
Ammonia: 0ppm
Nitrite: 0ppm
Nitrate: 20 - 30ppm
Photo Period: 4 hours
PAR at Substrate: 60
PAR at Surface: 75
RGB Ratio: 48:32:16
Jan 8th 2021
Dec 27th 2020
Dec 16th 2020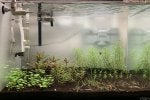 Dec 3rd 2020
Nov 10th 2020
Nov 4th 2020
Reduced the intensity of the light; GSA creeping in. Hopefully I can find a balance.
Oct 31st 2020
Oct 25th 2020 - Post Trim
Oct 25th 2020 - Pre trim
Oct 20th 2020
Moved the Ludwigia Repens to the back left of the tank and added Hemianthus Micranthemoides
in its place.
Awaiting the arrival of stainless lily pipes and a PH controller.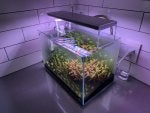 Oct 13th 2020
Oct 6th 2020
Good growth, DHG is melting back with some diatoms.
Oct 4th 2020
Plants adjusting well, half dose of micros, very little sign of algae.
50% water changes every other day for the first week.
Ludwigia Repens sending down roots from nodes.