I decided to get back into keeping a planted tank after a gap of 6 years. I got a SeaClear acrylic 40 gallon which is 36L x 15W x 16H. I have always kept my planted tanks below 18 inches high and like them longer than deeper.
- I have one 36 inch Finnex FugeRay and added 2835 SMD LEDs 600 in total divided in two parts of 3 rows each that sit on either side of the FugeRay. The 600 2835 LEDs are around the same brightness level as the FugeRay. (See the last image below)
- I am using Caribsea Eco-complete as the substrate, no dirt.
- Inserted some Flourish root tabs to give a kick start.
- I have DIY CO2 using citric acid and baking soda that is diffused in the tank using a CO2 ladder.
- For filteration I use an Ehiem 2213 cannister filter with sponge, plastic and glass bio media
Here is the plant list:
- Hygrophila angustifolia
- Telanthera Cardinalis
- Rotala rotundifolia
- Rotala Nanjenshan
- Ludwigia inclinata pantanal
- Cryptocoryne undulata
- Nymphaea lotus
- Anubias barteri
- Java fern
- Echinodorus tenellus
- Pogostemon Helferi
- Ranalisma rostrata
The plants have really taken off well as you can notice with the explosion of the Ludwigia in the back center.
Moved the spray bar to the left of the tank for better circulation. Its a pain working with a tank that has a broad frame attached to the top which makes it really difficult to attach filter intakes and outlets. You can also see the aluminium blinds on either sides of the FugeRay to which the LEDs are stuck on.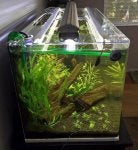 Cheers,
Hari