Like many others here, Ive been bitten by the shrimp bug and decided to set up a shrimp rack in my basement. So I figured theres no better time than now to start up a journal.
As of right now, Ive got 2 shrimp tanks running, one with CRS and the other with PFR's. Ill be moving the PFR's down to the rack but am still thinking about the CRS. I plan on doing 4 or 5 20g longs with each tank keeping a different type of shrimp.
It will be a staggered build with one tank going up at a time, easier on the wallet that way.
Current Set-Up
as of 5/28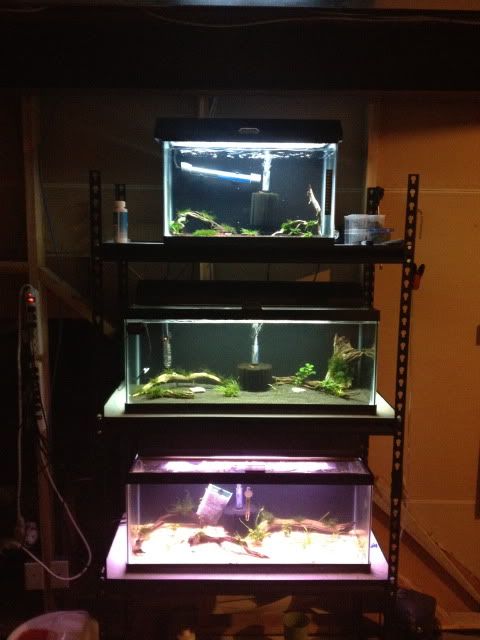 Equipment
Each tank will have its own sponge filter and heater. Heaters will be mainly for winter time since the basement is unfinished and gets kinda cold.
Sponge filters will be powered by a Coralife Super Luft Pump SL-38
Lighting
Looking for some cheap 30" Fluorescent light fixtures to go over each tank.
Substrate
My current tanks have Fluval Shrimp Stratum and its been great so far. But I think Im going to try something different with the new tanks. Probably Akadama or Aquasoil or both.
Driftwood
I really like the large stick look with moss growing on it, so Im gonna buy some Manzanita from Plantbrain this week.
Plants
Ill be doing what Ive done with my 2 current tanks where itll be 90% moss with a couple stems or something. But Im gonna do a different moss in each tank. Weeping, Peacock, Fissidens, Subwassertang are some the ones Im thinking. But am definitely open to suggestions.
Shrimp
Top 3 are my favorites but not totally decided yet,
CBS
[STRIKE]Tangerine Tigers[/STRIKE]
BTOE
OEBT
Wine Red
BKK