Discussion Starter
·
#1
·
This was my first tank. It started the addiction
when we moved into our house, the last people left this tank behind. The ballast went out and when I went to the pet store to get a new one, I ended up walking out with another tank lol. So this one has been neglected ever since cause I been focused on the new tank. Now that I finished the new tank, I came back to this one. It's in my bed room so I watch it every night as I fall asleep.
Before I started adding plants. I had driftwood soaking in it.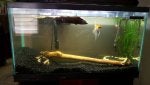 Laid out a few options I had laying around
My new betta I picked out last night to add to the tank
The hood, desperately needing cleaning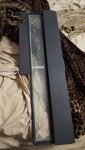 Attached my java fern to the rock
Added my plants
Attached some leds from my other tank to the hood
Cheap ballast from Walmart with a plant bulb.
Finished
Added the new betta
Angel fish is a little unsure about him
Sent from my SAMSUNG-SM-G920A using Tapatalk