Previous Layouts
FTS (1/29/2019)
FTS (3/3/18)
FTS (7/17)
FTS (3/10/17)
FTS (11/15/16)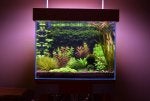 Initial Layout (7/1/16)
Original Tank Specs
Tank: 32 gallon Mr. Aqua Frameless Low Iron W24 x D18 x H18 (in)
Filtration: Eheim Pro 3 Ultra G 90; Eheim Pro 4+ 350
CO2: GLA PRO-SS CO2 System [Two Stage]; Two 18" Rex Grigg Reactors
Lighting: 24" T5 ATI Dimmable SunPower 6 x 24W
Heating: Hydor 200W Inline
Substrate: ADA Aqua Soil Amazonia
-------------------------------------------------------------------------
Going Dutch
Over the past year I have become more and more interested in the Dutch style of aquascaping, which I would not have expected, given that nature style scapes are big part of what pulled me into the planted side of the aquarium hobby. But for whatever reason, I've found that the most enjoyable aquariums for me recently are the Dutch styled ones. Probably has something to do with the fact that Dutch style emphasizes the plants, while nature style seems to have gravitated increasingly toward an emphasis on hardscape - the majority of contest nature scapes these days contain more rock than anything else. That's no dig on the nature style. I still love the nature style, and the hardscapes that people are creating are mind blowing. For me right now, it's about the plants.
So in the spring I decided to make the conversion to Dutch my summer project. The tank being converted was a 'tree'scape nature style established a little over a year ago (
32 gal Mr. Aqua
). I have spent the last few months now contemplating this project, growing out some of the ancillary elements for the tank (i.e., hardscape materials like moss covered branches and rocks and a moss wall), and sourcing plants - things are finally starting to take shape. At this point I have a plan and all of the plants/materials. Time to start executing. More details to come.