Started putting this together a couple weeks ago. Some of you may have seen this on another website. I am going to try to keep both threads updated!
Tank - 29g aquarium (probably my least favorite in respect to ratio but it is the biggest I can fit right now)
Stand - reinforced solid wood dresser (this will be upgraded in the near future)
Substrate - Flourite black sand w/ a little peat moss and Osmocote+
Lights - Beamswork EA 80 FSPEC 0.5 watt LED
Filter - Eheim 2213 w/ spraybar
Heater - None. The room stays between 70 and 76, if anything I need a chiller in summer.
Fauna - Red cherry shrimp, probably snails, maybe Otos or habrosus cories in the distant future
Flora - Moss, Java ferns, Anubias, Crypts and maybe Vals (never tried them)
Ferts and CO2 - No ferts, CO2 or liquid carbon intended once shrimp are added. I may add ferts and excel before adding shrimp just to get the plants going, since they are all slow growers.
On to the progress...
Had to squeeze the tank into my entertainment area
Built a base for the dresser because the floor is patched oddly here and very uneven
Started the dreaded hardscape arrangement (I stink at this) This was the 12th arrangement I tried before really liking something :|
Now obviously I had to remove the wood to add substrate and I should have been soaking it ahead of time but anyway...I added a few more pieces just to get a solid idea of what it should look like when I put it back in. It will have more rocks in the base and maybe a bunch of small pieces in the bottom left in front of the left most rock or I might leave it as a big "cave".
Took it all out! Found some flourite black sand in my vast storage of fish stuff. Added some peat moss and osmocote+.
Added black paper background, flourite and filled her up.
Had a small problem with water...long story but it is being worked out as I type.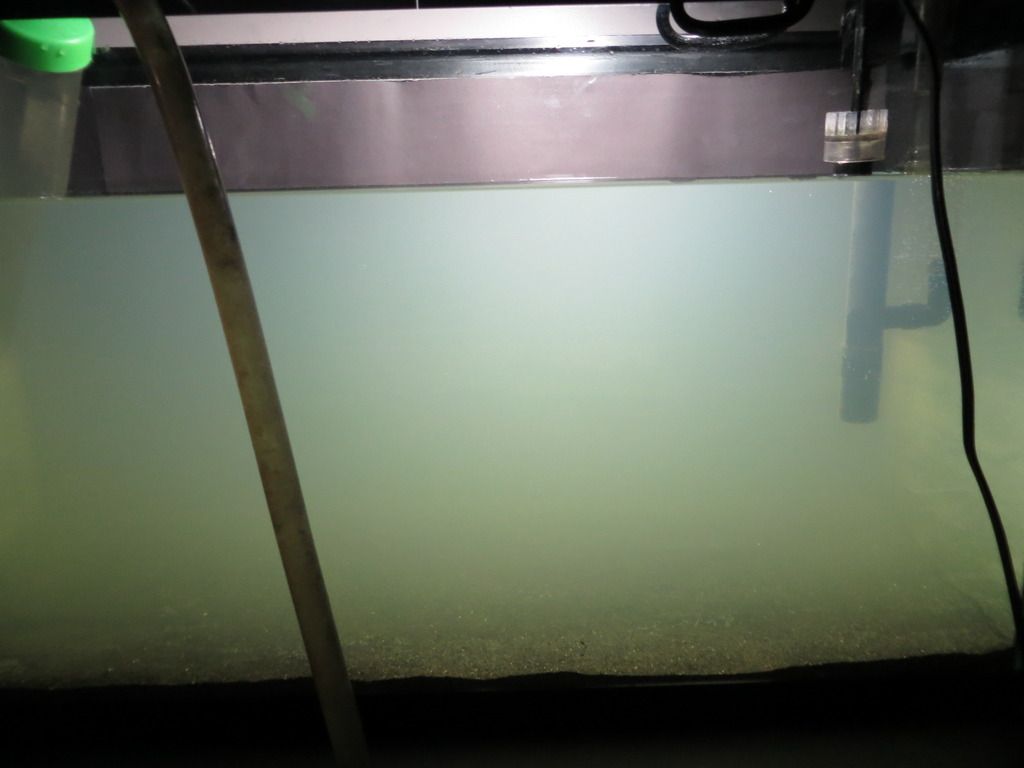 Drained it, wiped it, filled it back up! This picture shows the color difference in the background when empty and full, plus the patch job in the background is nearly invisible once wet.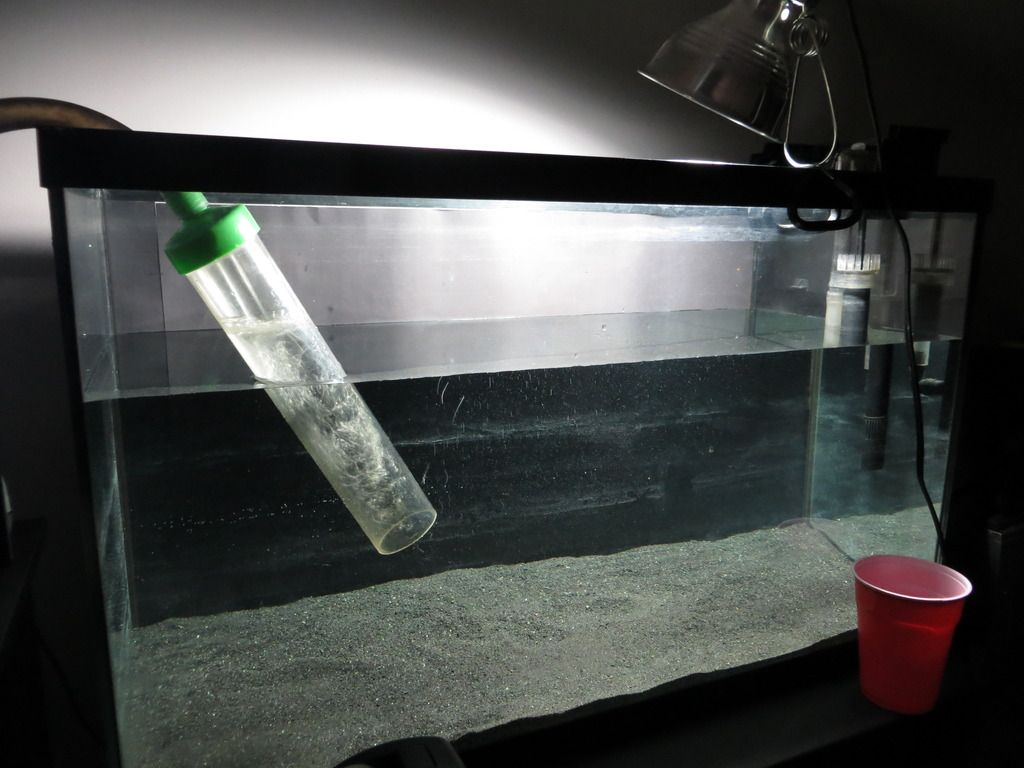 Moved my soaking wood into the tank. One main piece is not sinking. Threw in some extra pieces that I know have been used before just in case that one piece doesn't sink in time.
Light arrived! Quite purple but I'm enjoying it.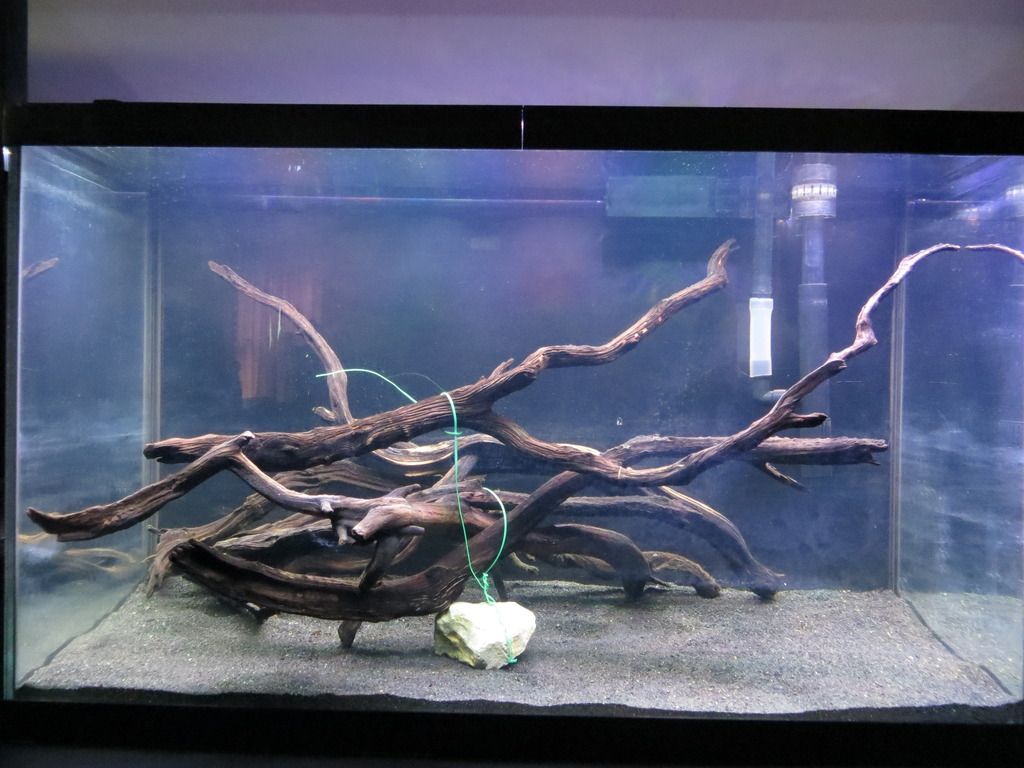 This is my view from the couch.
I hope to take a trip to PA to see MsJinkzd on Thursday for a big bunch of plants, including some fast growers and floaters to fill the tank for startup. In the meantime I think all I have left to do is repaint my eheim intake and spraybar and get this wood to sink! Then I can arrange it again.
My substrate is sloped from about 1" in the front to 2.5" in the back. Think I should slope it more?
Any feedback on the wood arrangement? I don't have the artists eye.
Anyone know if there is a way to cover, replace, adjust, remove the actinics from this fixture? I do not intend to use the night light feature at all and it is a bit too blue/purple for my taste. Plus the actinics don't do anything for the plants anyways.
Thanks for looking! Questions and comments encouraged!