Discussion Starter
·
#1
·
Hey everyone, new to the forum here... after doing quite a bit of research I've decided to start up my 25gal planted... it's been a wonderful learning experience, and thankfully I've had a pretty smooth ride so far.
I got this tank & geometrik stand from a local classified site around a month and a half ago, and I figured I would try something I've never done before - a planted tank... had an awesome start up cycle, no issues whatsoever... did end up having a minor ich outbreak and lost one platy (she was sick from the start, though), treatment with high heat and rid-ich plus killed it in only a few days... but other than that, no problems whatsoever.
it is extremely low-tech, far less than 1w/g (get quite a bit of natural light from a window), basic sand, nothing too fancy... fertilize only with flourish and flourish excel... but my plants and fish are all thriving and doing wonderfully! I have some massive java fern, amazon swords, red ludwigia, water wisteria, green cabomba, and some grassy stuff... looking to add more short foreground plants in the near future.
Fish are 2x dwarf gourami (honey f/cobalt m), 5x black skirt tetras, 1x red wag platy, 5x zebra danios, 2x otocinclus, and 1x rainbow shark (will rehome when he gets too big - only about 2" right now)
I have been heavily considering selling back all or most of the fish and going with nothing but a large school of neon or cardinal tetras and maybe a blue ram... I love my current fishies, but I find they just don't stand out enough against the heavy plants!
I hope to be able to track the growth and progress of my tank through this forum and share it with everyone else
(I will get better pictures soon, I promise!)
Before... eww... all the plastics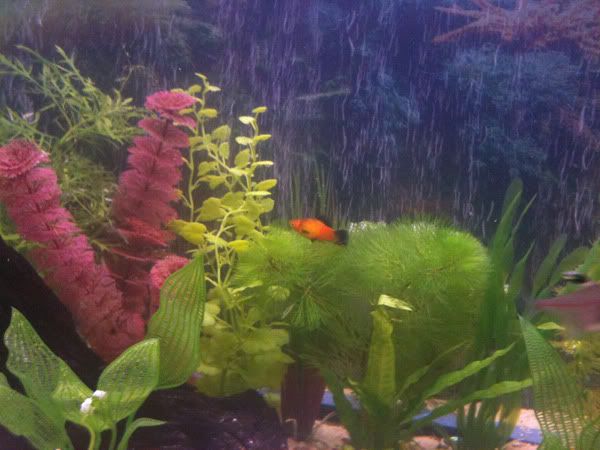 The sick platy resting on the cabomba (when it was just little)...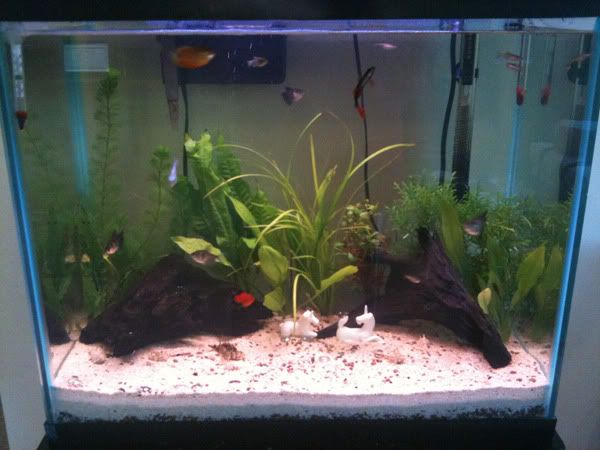 After... and the blue silicone :icon_frow
Look how big the cabomba got... high light my butt!
The centerpiece plants... java fern, sword, and grassy thing (help? lol)
my java fern plantlets tied down to a shell