(edit on January 19, 2014....Hi everyone...this is a rather long rambling thread of my first real attempts at trying to grow live plants. I made a lot of mistakes and grew a lot of algae in this first year...and have been having some fun too. If you are a beginner coming to this thread, I don't have much helpful advise as I am still very much a beginner myself. This Planted Tank forum has a lot of advanced folks...so read and study and don;t be afraid to make mistakes, ask questions and most of all, have fun and take your time and don't give up! Best Regards, Cathy).
Hi...I'm re-learning about live plants and I'm open to suggestions! :icon_smil Below are some photos of my meager attempts...not finished putting in plants...need something low tech and smallish to go in the left foreground. And something longer to go in the right background behind rocks to hide the heater...
It's not as good as most of the beautiful scapes on this forum...but please critique away...I'm here to learn!
In preparation for doing a low tech aquascape in a new 60 gallon, I'm trying to learn about the process first...especially how to maintain and keep the live plants as I have had such disasters in the past. I've kept fish with plastic plants and rocks for years...time to re-try live plants!
I thought I would start with a smaller tank and take the small steps there by adding plats. I researched on this forum for easy low light plants. Four weeks ago, I added Java fern, anubias barteri and the smaller anbias nana and also a clump of anarchais. Yesterday, I tried tying some Java fern with black cotton thread onto a small flat stone. The Java moss doesn't look to happy to me...kind of flat looking...will it 'puff up' in a few days?
Here is my beginner's attempt and organizing some data...not sure if I am using the correct terms yet...
20 gallon tank (older cycled tank converted to tropicsls 4 weeks ago)
temperature 79 degrees
Seachem tabs
Excell
substrate is natural gravel...some smaller some larger (I didn;t know about soil and Eco-complete until a few weeks ago...the 60G will have substrate specifically for plants)
rocks...river stone, slate, peacock rock (??? that's what the LFS called it... )
Equipment...
Lighting...T8 15w NO Daylight 8000k (it came with the canopy) white reflector
Marina heater
Topfin 20 (the old filter...kept it cycling to keep the bio-bacteria...)
Fish:
Aenius cory cats
otos
black neon tetras
I am going top purchase an API water testing kit in the next few days...embarressed to admit this :redface: :hihi: ...probably should have purchased this first!
below are some eggs that my aenius cory cats laid on an anubia leaf. (Sorry about the poor quality of the photo...I don't have a good camera right now)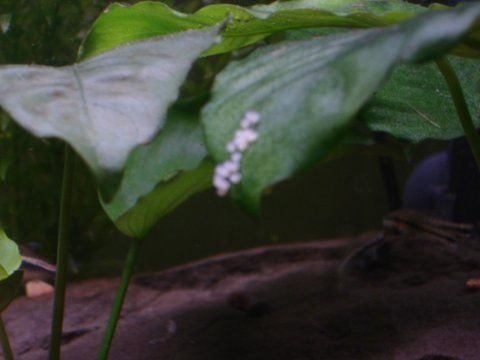 Thanks for looking and for your patience!!!!
Cathy