Change of plans! 2007.05.27 - was formerly 38G, now changing to 20G
Hello all. This is my first journal and my second planted tank ever. It's also the first time I've planned the layout so thoroughly, so I welcome any tips and suggestions you might have.
Tank specs:
38 gallons (US)
36" x 18" x 12"
temp: 75-78F
specific gravity: ~1.002
lights: 2x 96 watt 6500/10,000K compact fluorescents
Fish: a little over 2 dozen Balloon Molly fry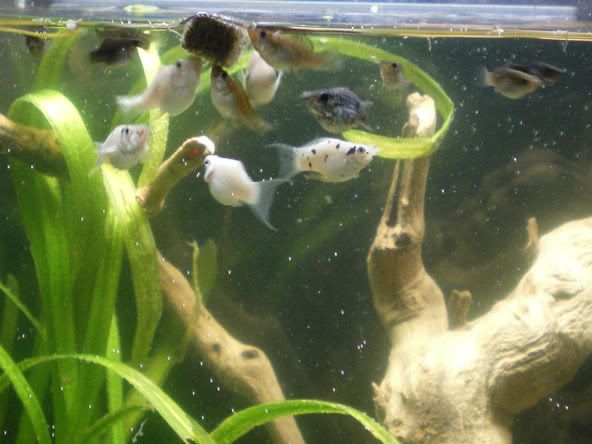 On to the scaping: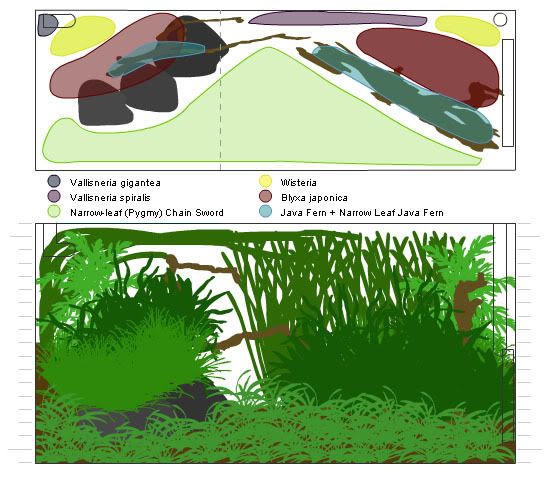 The black outlines inside the tank are the filter exhaust (upper left), filter intake (upper right), and heater (lower right.) The lines along the sides of the front view are 1" increments. The dotted line in the top view marks the golden ratio.
I didn't go all ocd and make this layout 100% accurate to dimensions and sizes, but I tried to keep it fairly close. I was also focusing mostly on area and color/texture contrast, so I didn't put a lot of effort into making things overlap and intermingle exactly as they will (i.e.: the wood won't be quite so covered up in actuality.)
The plants cover up the hardscape pretty completely in the original previs, so here it is with all of the plants removed:
The mound on the left won't be quite so high; maybe an inch or two lower. Those are the pieces of wood (Grapevine, fyi) that I'm planning on using. They've already been soaked and de-fungused.
I'm also planning on CO2, although I didn't mark any of the elements in the tank diagrams.
I do have some concerns about how the blyxa and wisteria will hold up in brackish conditions, even with such a low sg. Does anybody know their tolerances? I'm making backup plans for if they don't work out (right now I'm thinking rocks covered with moss to replace the blyxa.) Any other suggestions are very welcome.
Thanks for looking!