Discussion Starter
·
#1
·
Hey guys -- new to this forum, though I've used links from this forum, as well as the others, for years to learn about different things. I tried a planted 55 gallon a couple years ago as my first go at this, but didn't have enough knowledge to do well with it. My 55 is now back to a saltwater locally caught aquarium and I've had this 2 gallon Fluval Spec in my office for about two years now. Love this thing. It's all stock, with the addition of a little 25watt heater and the outflow dialed down a good bit. I had a Betta in it for a year and half but lost him a couple weeks ago (RIP Sashimi). I saw the opportunity to do a small re-scape, plant a couple more plants and play with shrimp!
Currently, I have a couple java ferns, java moss (recently took out most of it and attached just a few small pieces to my DW), anubias nana petite, and 5 newly planted little Crypt wendtii plants along the back wall that I'm hoping with thicken up the back! New also are my 5 red cherry shrimp, 1 yellow guy, and a nerite- they've been awesome so far!
I dose a small amount of Seachem Excel and am soon to start with Flourish after water changes also, since my substrate isn't ideal for the crypts (though they are already shooting new leaves with minimal melt after 5 days).
This little tank has been so great to have in my office and I'm happy to start with a shrimp tank -- I already want more! Sorry for the subpar quality photos - iPhone.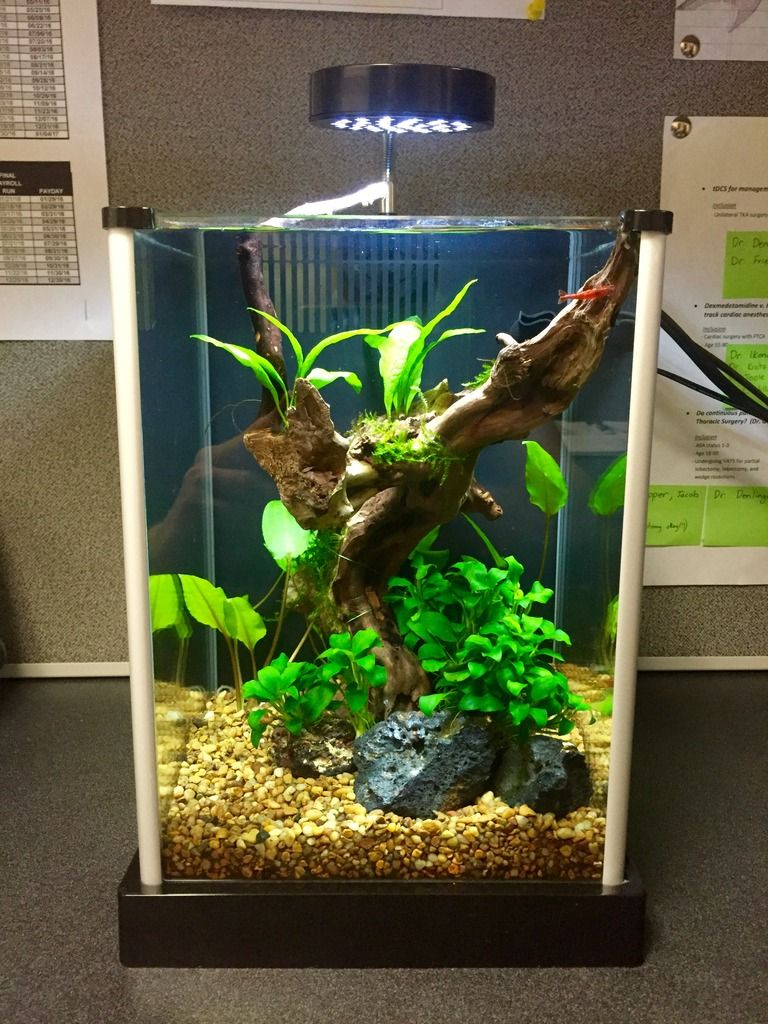 Four of my little fellas snackin' on some spinach this morning.
Let me know what you think! Suggestions very welcome.
-Erick