Discussion Starter
·
#1
·
Well I became a little lazy with the trimming in my 2.5 gallon and the HC got out of control. The whole carpet started lifting up in the corners of the tank. Coincidentally, I found a nice little light at Home Depot last week and I wound up thinking to myself, "why not just start all over again?"
Yesterday I ripped everything out, fixed up the horrible paint job I did with the black background, picked up some rocks and needle rotala at my LFS and now we have this: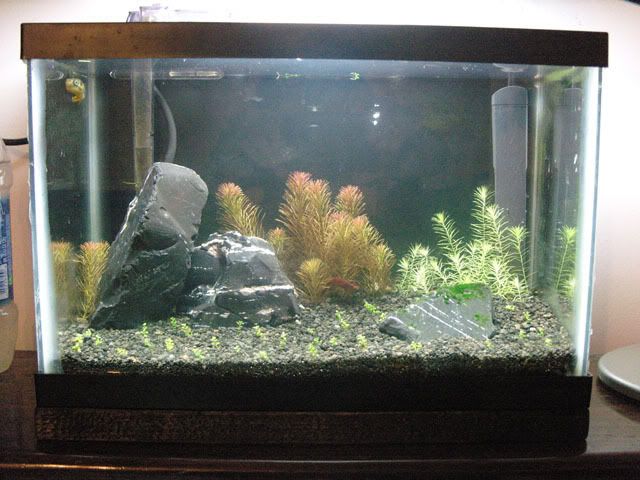 Here's the 27w light I bought for $20:
Shrimpy:
And Puffer, who was a little camera shy at the time:
Things that stayed same are the Eco-complete substrate, Red Sea nano filter, HC and my DIY CO2. The only inhabitants are still the one DP and two cherry shrimp which have gotten HUGE, they're actually bigger than the puffer now. The Marineland heater was reduced in price from my last LFS visit so I decided to pick it up along with the rocks and rotala.
I'll post some more pics once everything starts growing in. Also, if anyone knows what the plant in the back right corner is, I would like to know. It came out of my other tank and I have no idea what the name is, but it grows like mad. The needle rotala is the plant in the middle and on the left.