I got this little tank to entertain me while I was at home for the holidays. Since then it was set up and running with no fish, plants or well, anything. Inspired by the wonderful nano-scapes I have seen on this site, I have decided to try my hand at my own nano. I think I'll get one of the $8 desk lamps from Wal Mart and put a good plant light bulb in it. I have a small red sea filter on its way.
Day One (Feb 10, 2007): Setup and Indecision
I set it up with Schultz Aquatic Plant Soil that has been soaking in water for about 24 hours. I'm having some trouble deciding where to go from here. Looking in my other tanks I see some pearlgrass, small marimo balls, and a small crypt wendtii. A Java fern plantlet might be nice on a small piece of driftwood. Maybe a few stems of rotala rotundifolia. And, I could always use some Java moss.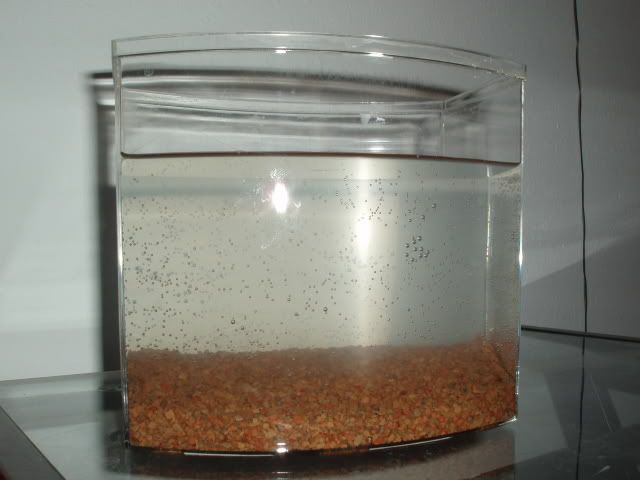 Day Two (Feb 11, 2007): A Few Plants
I put a few plants in it today. Still has a LONG way to go, but I need to figure out how well this substrate will actually hold the plants. I don't want to have to replant everytime I bump my desk, hehe. There's no way I could put any kind of filter in it right now. The tiny bit of water movement would knock the plants out of place.
As for the current lighting, I'm just using the hood that came with the tank. It claims to be 7 watt. I lined the inside of the hood with some aluminum foil to reduce the loss through the transparent hood.
Current Plants:
Rotala rotundifolia
- hopefully will fill out on its own over time. Don't think I can do too much more with this corner without disturbing everything.
Pearlgrass
- still not sure what the scientific name for this is. It's cute and delicate. It also seems likely to fill in on its own over time.
Crypt Wendtii 'Mi Oya'
- I'm sure this will quickly outgrow the tiny tank, but by then I'll probably be a little tired of it and want to redo the tank anyway.
Java Moss
- for good measure. Those three patches will fill out and thicken with careful trimming and shaping.
Marimo Balls
- These are little babies that I made by breaking up a larger one. They're cute and will (hopefully) combat unwanted algae. I'll probably take all but one or two out eventually.