I've had a 29 gallon tank now for almost 25 years and have let it go. I've decided to get serious again and do it right. I looked for a pre-built tank that would satisfy me but couldn't find one. I ended up deciding on a custom tank.
Tank Summary:
Tank:
60"x30"x24"
Tank Volume:
190 Gallon
Total Water Volume:
260 Gallon
Lighting:
3x FishNeedIt T5-ho 4ft / 2LAMP Aquarium lighting w/ 6500k bulbs
CO2:
20lb Bottle, Wiki dual stage, all stainless regulator (picked up from Tom Barr), Cerges' Reactor
Filtration:
75 gallon sump with 5 different types of media, 2x Eheim 1262 pumps
Substrate:
Eco Complete
Heating:
2x ViaAqua Titanium Aquarium Heater, 300-Watt (will add a third if needed)
Dosing:
PPS-Pro plus DIY Dynamite Select root tabs
Automation:
Apex Jr w/ temp probe, PM1 w/pH probe, 2x Tom's aqualifter dosing pumps
First decision was glass vs acrylic. I've only owned glass but worked at a LFS in high school and college and we used only acrylic so I'm very familiar with them. In the end I decided on acrylic because of its clarity and also for the weight (my wife and I can move a 190 gallon acrylic but not a glass).
I contacted 3 local builders and all three said I have to purchase through a LFS. I contacted 5 LFSs with requests and only 2 got back to me. One said they didn't get a response back from the builder and the other didn't contact the builder I wanted to go with but instead went with some crazy company in Florida who wanted $11k + shipping to build my tank. I was about to try different LFSs but found another option.
I contacted Jason Gregory at
Clear Fabrications Inc
. He was highly recommended at reeffrontiers. His price was extremely reasonable and well within my budget. The only problem was that he's in Washington and I'm in Texas. I bit the bullet and set up a deal with him even though the shipping costs put the total cost of the build higher than I had wanted. Based on all the feedback I read I knew that the tank would be nice. So far I've been very impressed with his knowledge. He helped me with the final design of the tank, kept me informed with pictures along the way, and always was responsive to my (often stupid) questions.
He created a
build thread
at RF. The tank is 60x30x24, has a continuous overflow box along the back, has 3x 1.5" overflows, 2x 3/4" returns, and 2x 1.5" holes to run wires/etc. Here is a pic of the finished tank:
It shipped today and should arrive around Tuesday of next week. I am dying of anticipation.
I built a custom stand for the tank. The room it's going in has a sloping floor (1" difference over the 5' that the tank is going on) since it's an enclosed patio. The stand came out very nice and perfectly level. I wasn't able to get a picture that shows off the stand properly. It's stained very evenly but for some reason the pictures make it seem uneven.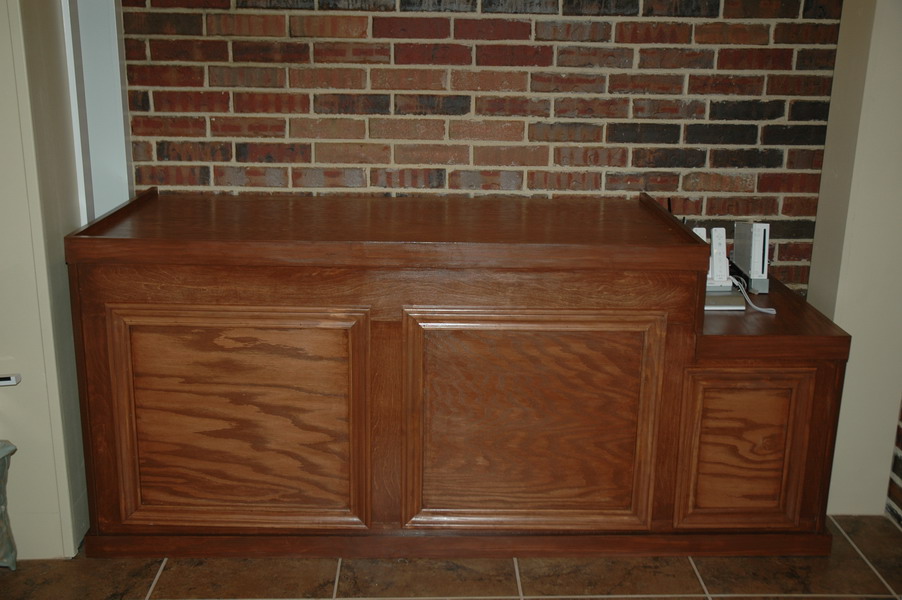 I'm using a 75 gallon glass aquarium for a sump. It has 5 media compartments plus a wet/dry area for bio balls. I cycled it using a fishless cycle so once the tank is in I can add fish immediately. I went with a sump because I want as little equipment as possible in the tank and I love having virtually unlimited filtration media as I like fish-heavy tanks.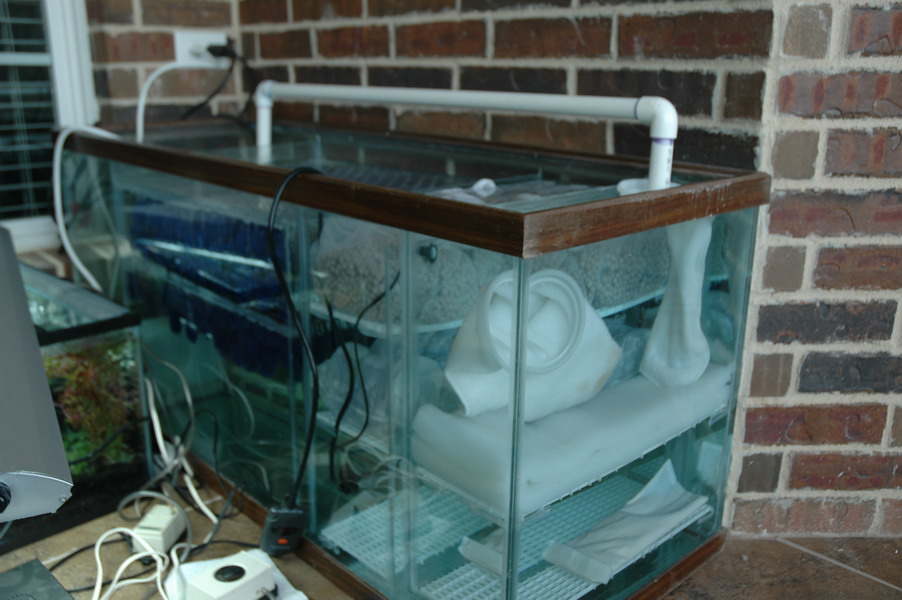 I'll upload better pics once I have it in place.
I also bought a 10 gallon quarantine tank that I went ahead and set up to help add bacteria to some of my substrate (Eco Complete). I found a great deal on some plants and couldn't wait so I threw them in the 10 until the big tank is ready next week.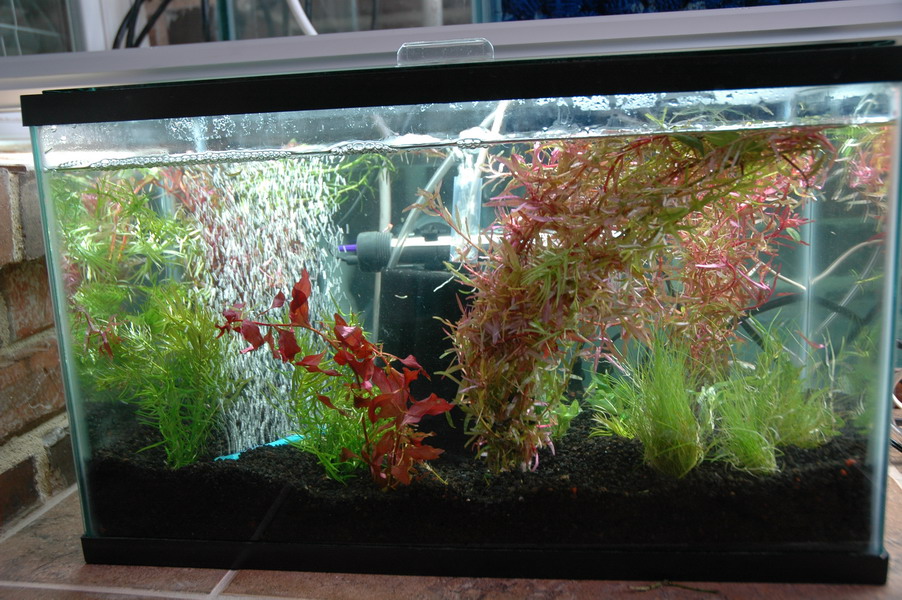 I'm planning on using the PPS-Pro dosing method with pressurized CO2. I'm using Excel until I get my CO2 rig finalized.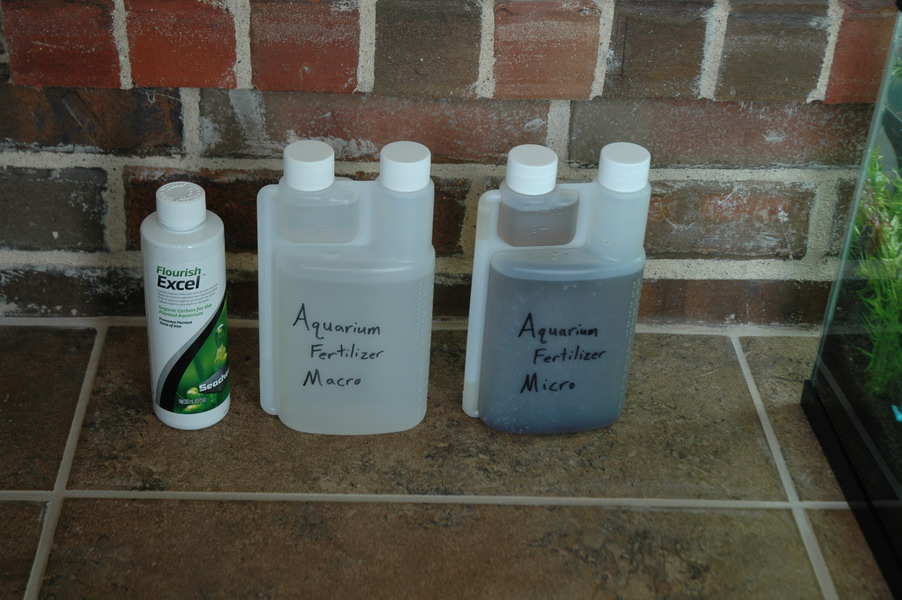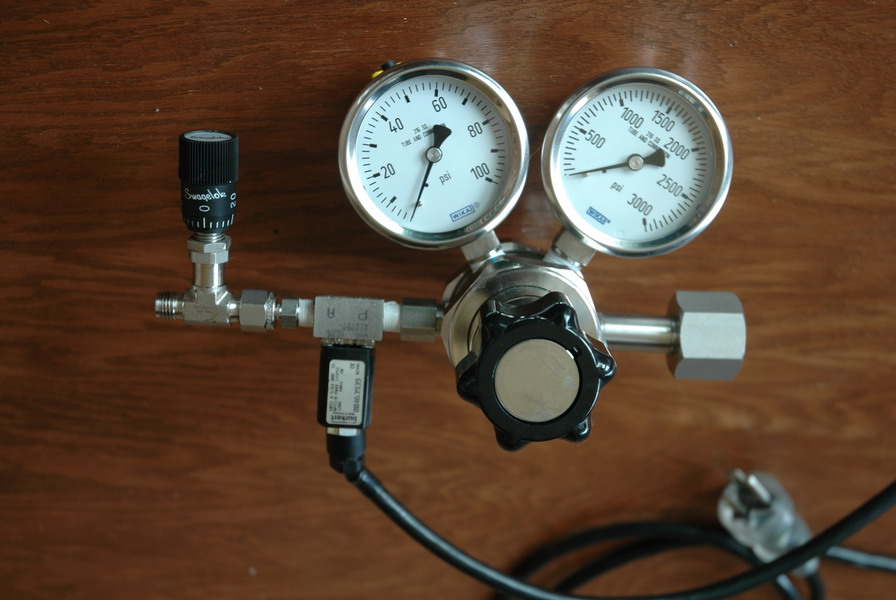 The CO2 will be injected using a DIY reactor: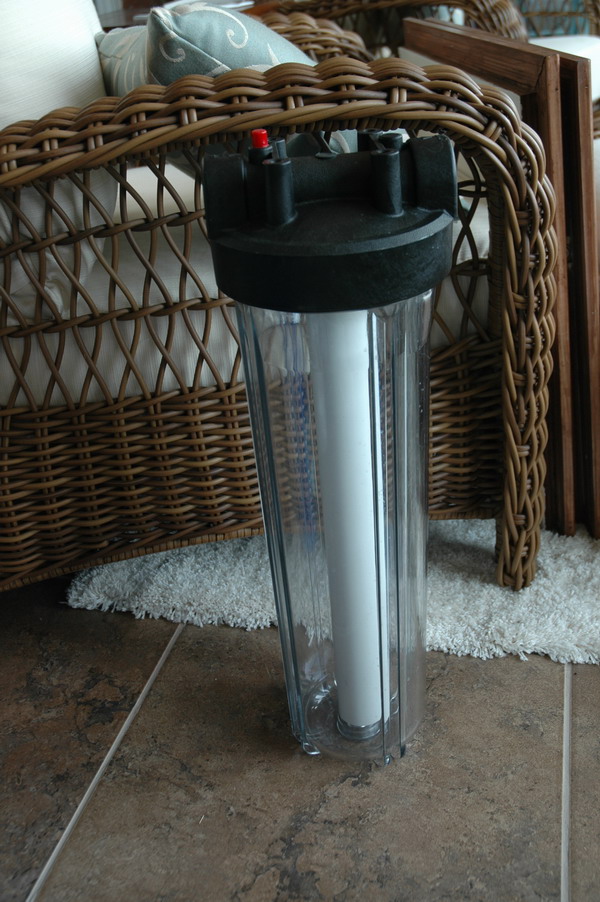 10 gallons of PVC parts for the set up: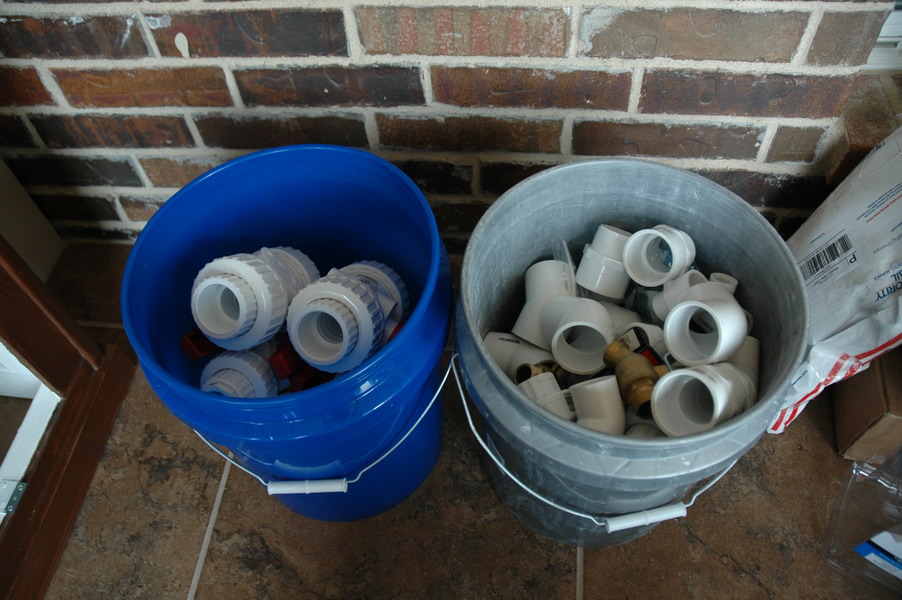 I'll also be using a custom 3D, internal background from atg-scape which is the main reason for the continuous overflow.
Hopefully this time next week it will be up and running. It's been about 2.5 months in planning and building. It's these last few days that are the hardest!