Hello. I'm new to forum after being a long time watcher. I keep mostly small nano tanks as of right now. I'm still quite new to aquascaping. Tips are appreciated.
I'm currently setting up a 2.25 gallon tall glass vase for some shrimp after being inspired by this thread:
http://www.plantedtank.net/forums/planted-nano-tanks/148229-4-gallon-cylindrical-nano-forest.html
I need some advice on plants and lighting. I need a light to keep some low to medium light plants healthy. Not really looking for growth, but just to keep them alive and happy. I think I may add one more branch for some moss.
Tank:
Glass Vase - 18" deep/tall and 8.5" across.
Filter
Elite Mini
Potential plants I'm debating:
I think I want a tall plant that won't take up a lot of room.
Vallisneria...
Echinodorus...
Moss (weeping?) for the wood.
For sure...
Anubias nana
Java fern
Maybe Bacopa.
Light
I'm looking at this light on ebay:
[Ebay Link Removed]
or some sort of desk lamp from Ikea might work, which is what I am using currently.
JANSJÖ Work lamp - IKEA
This is where I'm at right now. It's not much to look at.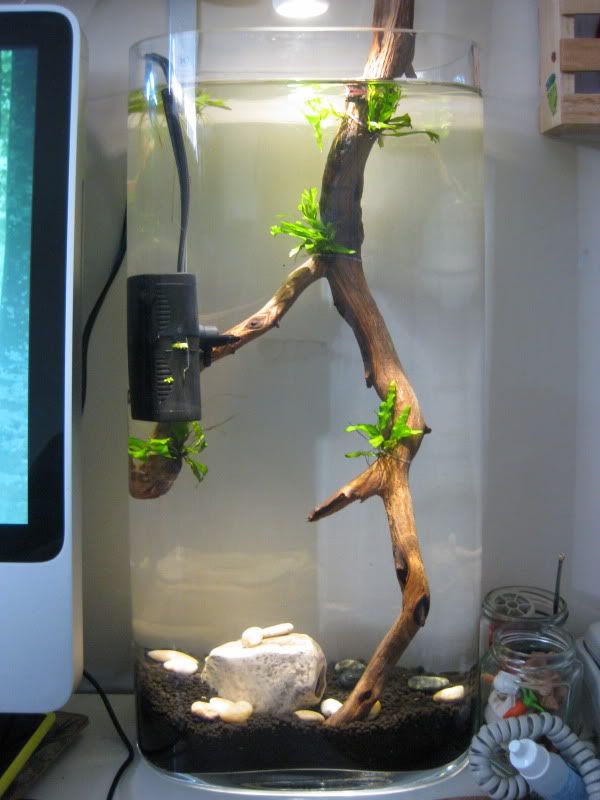 Suggestions are appreciated. Cheers!