I have 40 tanks all plants grown submerged in my tanks except for a couple emersed grown( where noted, very high humidity).
Cold packs and insulation available
Free shipping with 55$ plus order
Thermal bag 2$ each , some large orders may require 2.
Cold packs 1$ this is a small 3oz size
Shipping is $8 for USPS Priority, a 10$ minimum would be appreciated, Paypal only. I will include my paypal information and ordering instructions when you order, if you do not follow those instructions it will delay shipping. I always make sure you feel like you have been treated right. May be snails and or a little dust algae present do my best to clean
Every item offered is grown in my tanks and is grown submersed unless noted , does make a difference so ask how their plants are grown before you purchase from others.
Thanks for looking and i might be interested in a trade for Specials so let me know. Mind your weather and no guarrenties on plants that arrive after three days from ship time
****************************************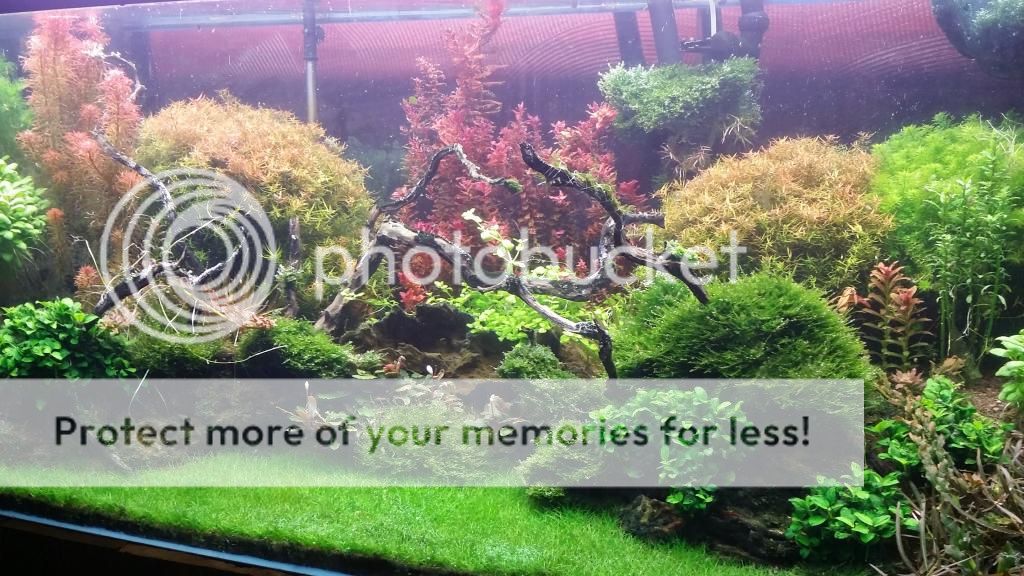 ****************************************
carpet plant specials
DHG belem 2x2 10$ or 3/28$
UG 2x2 15$ 3/38$
Marsilea Creanta 2x2 10$
Glosso 2x2 8$
***************************************
Special Deals
16 - Tonnia Fluviatilis 4$ each 6/20$
20 - Wave Moss 1x1 portion 3$ (no SS) - this is half price - best aquascape moss -
20 - Ludwigia Senegalensis 3$ each 3/8$
18 - Anubias nana petite 6/15$
2 - Anubias pinto 25$ each or 3/55$ (5-6 leaf portion, some may have less white leaves)
60 - Microsorum Narrow leaf 1.50 inch sale 10"/10$
****************************************
SUPER SPECIALS
12 - Rotala Magenta 3$ each 6/12$
100- Bylxa Japonica 1$ each 10/8$ (limit 10)
LOBELIA CARDINALIS 'SMALL FORM' 6/8$ (great fore-midground plant, easy scape plant)
1- 1/2 sandwich bag red root floaters 8$
********************************************************
New crypts in stock
4 - Fusca Brown 18$ each sold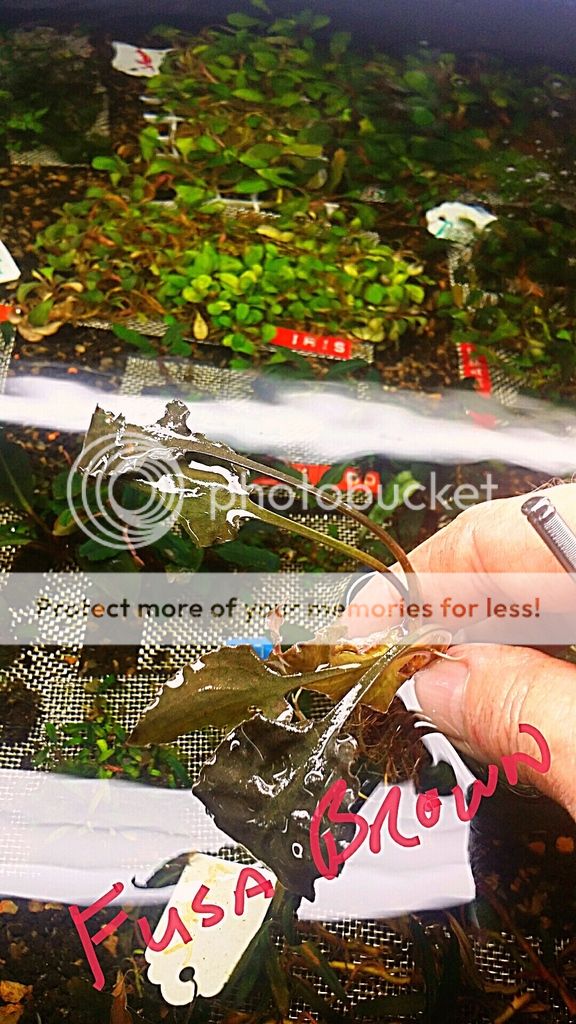 8 - becketii 10$ each (emersed grown) (pic below is submersed growth) this is an easy crypt and beautiful
6 - Striolata mini 25$ each sold
4 - Striolata 18$ each sold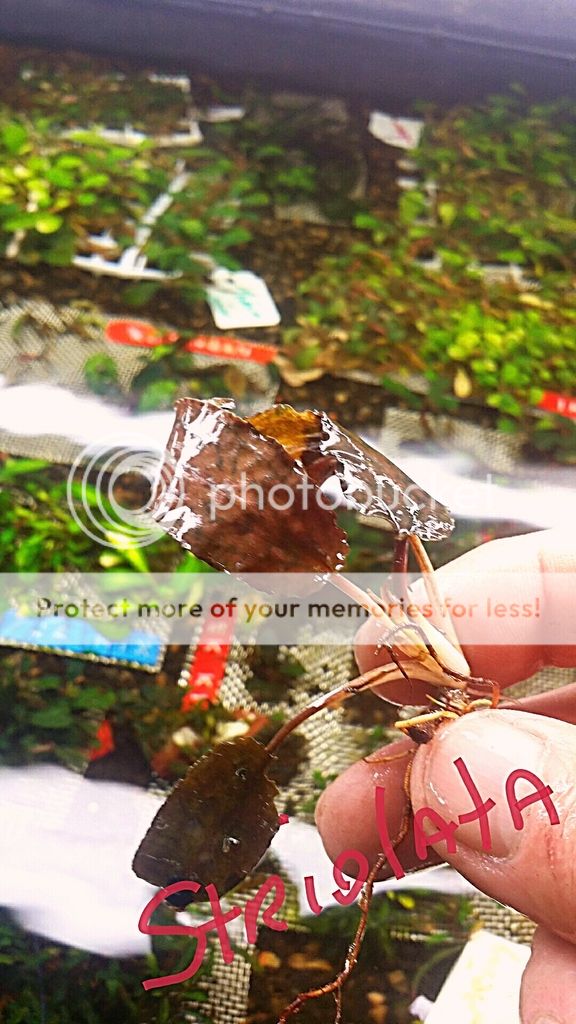 10 - Mini Homalomena 15$ each or 3/40$ sold
sold
****************************************
Substrate Tabs
All Tabs 00 size
10/1$ with plant order limit 2 of each
Osmocote + 10/2$
Red Clay 10/2$
Iron Chelate 10% DTPA 10/2$
***************************************
Eriocaulon specials
14- Eriocaulon Aquaticum 6$ each 6/15$
Eriocaulon Anson River (Polaris) 20$ each or 3/35$ (not a hard erio and beautiful)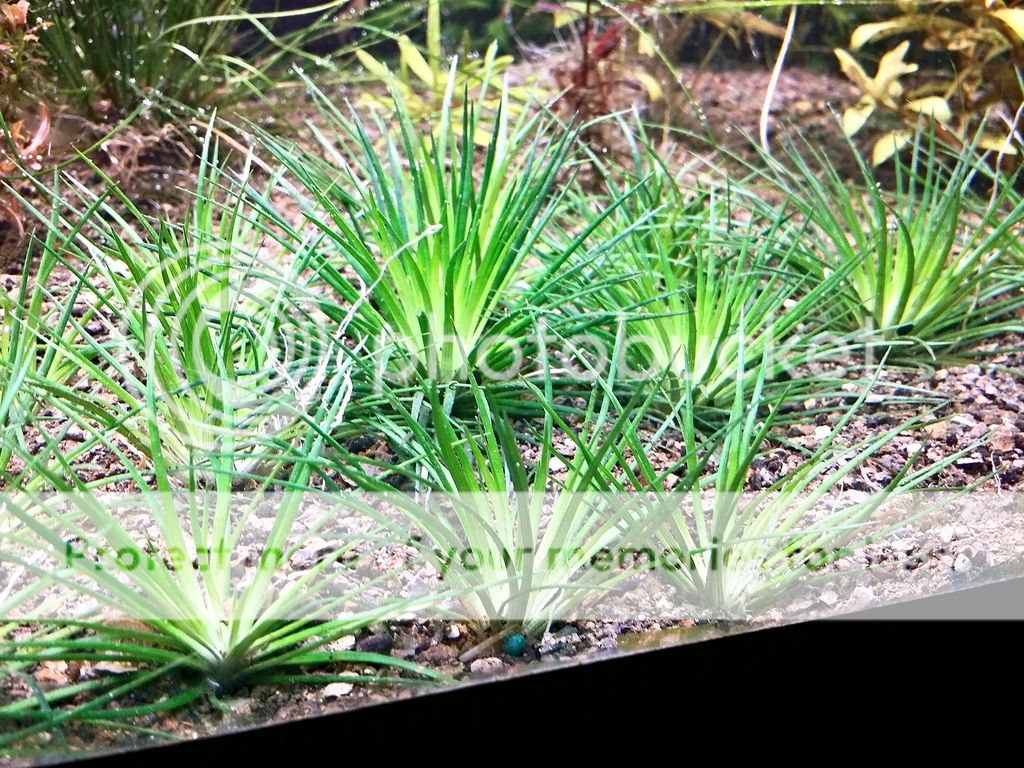 COLOR="red"] Trithuria Sp. Blood Vomit 5/45$ or 10/75$[/COLOR]
This is one plant, gorgeous plant by the way, so 5 of these for 45$
20- Eriocaulon H'ra 20$ each 3/45$
15- Euriocaulon Cinereum 20$ each or 3/40$( best deal ever)
1 - Eriocaulon Parkeri 4$ each 6/15$ ( my best price)
***************************************
**************************************
NEW
14- Hedyotis sp. Borneo Orange 5$ each 6/20$ ( u need thus one)
6 - Rotala sp. Wayanad (smallest Rotala Sp.) 5$ each 6/20$ (one little tough plant)
7 - Crassula Australian 5$ each
************************************************
GREAT PLANTS AT A LOWER PRICE
6 - Pogostemon Red Helferi (red downoi) 18$ each medium plant only
12 - Limnophila mini Aromatica (really not id yet but looks just like it only small and no smell) 6$ each stem sold
Size difference both full grown stems
6 - Pogostemon Kimberly 6$ each
___________________________________________________
Carpet plants
18 - Littorella uniflora 2$ a node
4 - Micranthemum Tweedei 8$ 2x2 portion sold
10 - Elatine Triandra 8$ portion 2x2 3/20$
20 - Rotala Mexicana Goais 1.50 each
20 - Lilaeopsis Novae-zelandiae 1.50 node (1.5" tall)
20-Lilaeopsis Chinensis Maryland 1.50 each node (Low Tech, 1")
10 -Cryptocoryne parva 1.50 each
8 - UG * Utricularia Graminifolia 2x2 portions 15$ each
40 - DHG belem 2x2 12$ 3/30$
5 - Staurogyne Repens 1.50 each sold
6 - Sagittaria subulata (true) 3$ only 1.5" tall (growing low medium light)
12 -Helanthium tenellum 1$
20 -Ranalisma Rostrata 1$ a node or 2x2 6$
20- Glosso 5/1$
50 - Marsilea minuta 2/1$ nodes or
10 - Marsilea Creanta 3/1$ smallest 2x2 10$
Eriocaulon
1 - Eriocaulon Malayatoor 25$ each (baby's 15$ each 4 ready)
20- Eriocaulon H'ra 20$ each 3/45$
1- Eriocaulon An Son (very new) easy erio 20$ 2/35$
Eriocaulon Father Duster 15$ each or 3/30$( tall slender erio)this erio is easy and so pretty when you let it grow large, very attractive, elegant plant
6 - Euriocaulon Compressum 10$ each
15- Euriocaulon Cinereum 20$ each or 2/35$
1 - Eriocaulon Parkeri 4$ each 3/7$
4- Eriocaulon Aquaticum 6$ each
4 - Eriocaulon SETACEUM 4$ each
7 - Eriocaulaceae sp. 'type 2' 3$ each
****************************************
STAINLESS STEEL
316 ss
. 18" wire thickness
12" x12" 12$
6" x 6" 4$
2" x 2" 10/5$
1" x 1" 10/3$
1 " x 1" pillow pad 1$ each 6/5$
2" x 2" pillow pad 1.95 each 6/10$
Moss
1 - 610 moss 1x1 flat 18$
6- true Weeping moss 2x2 flat 12$
6 - mini pellia 1x1 flat portion 6$
8 - wave Moss 1x1 portion 6$
Notocyphus Lutescens (NL moss) golf ball $8
Spikey moss 2x2 portion( flat) 8$
Vesicularia Thai 1x1 8$ sold
Vesicularia Triangle 2x2 (flat) 12$
Mini Christmas 2x2 (flat) 12$
Calliciocostella sp Pancuraji 1x1 8$
2-Fissidens fox 9$ portion close to golfball size
3- willow moss 6$ each golfball size portion
2 - Peacock moss 6$ each large portion (golfball)
6- Heteroscyphus zollingeri (mini pearl moss) ping ball size 7$ (very uncommon moss)sold
Crypts, Ferns, Bucephalandra
Furtadoa Sumatreensis 35$ 5-6 leaf Rhizome (pic soon
3- aridarum narrow leaf 18$ (grown high humidity)
1- sg. Durin Besar - Sibu Sarawak
2- narrow k
3- Narrow leaf
4- Lanjak Entimau
5- Dwarf fern
6- Fern from india
7- found growing side of needle leaf it now has babys (noname, google search nothing)
8- thors hammer
9- Thread leaf
10- Java fern
11- Ishikawa Island fern
12- M. Sp Thamarassery
13- not shown needle leaf
****************************************
6 - Microsorum sg. Durin Besar - Sibu Sarawak 10$ per inch
4 - Microsorum narrow k (rare) 18$ per inch
6 - Microsorum Narrow K plant-let 10$ each
8 - Microsorum Lanjak Entimau 10$ per inch
6 - Microsorum from india 8$ per inch
8 - Microsorum Thors Hammer 6$ per inch
4 - Microsorum Java fern 1$ per inch
8 - Microsorum Ishikawa Island 15$ per inch
8 - Microsorum Sp Thamarassery 10$ per inch
6 - Microsorum dwarf 10$ per inch
5 - Microsorum thread leaf 5$ each inch
10- Microsorum Needle leaf 2.75$ per inch
30 - Microsorum narrow leaf 1.50$ per inch
40- anubias nana petite 4$ each 6/15$
12- Anubias pinto 25$ each or 3/55$ (5-6 leaf portion, some may have less white leaves)
1 - Anubias minima 6$ 5 + leaves sold
2 - Anubias Nana Narrow 5$ each 5 + leaves sold
1- Cryptocoryne nurii Rosen maiden 25$ each
6 -Cryptocoryne nurii, "Luminous Green" 30$ each
3 - crypt Affinis Bt Simpur 25$ sold
2 - crypt . affins metallic red - 9$ each
3 - Crypt green Gecko 6$
Stem Plants
2- Acmella repens 2$ each
5 - ACIOTIS ACUMINIFOLIA 5$ each sold
5 - Alternanthera reineckii Variegated 5$ sold
10-Alternanthera reineckii mini 2$ each
6- Ammania Pedicellata (Golden) 4$ each sold
6 - Bacopa monnieri 1$ each
8 -Bacopa Salzmannii 1$ each (great color)
6-Bacopa sp Japan 1$ each
4 - bacopa australis 1$ each
6 -Bacopa Caroliniana 1$ each
3 - Bacopa colorata 6$ each ( very nice color slow grower) smaller leaves
12 -Bylxa Japonica 1$ each
8 - Bylxa Aubertii 5$ each
3- Bylxa Alternifolia 3$ each
20- Cabomba Purple 1$ each
10- Cabomba Red Belem 5$ each
8 -Cuphea Anagalloidea 4$ each
8- Didiplis diandra 1$ each
8 - Echinodorus angustifolia 'Vesuvius' 1.50$ each sold
4 - - Eichhornia Diversifolia 2$ each
6- gratola viscidula 2$ each
16-Hemianthus glomeratus (Pearl Grass, Medium Baby Tears) 1$
10- Hyptis lorentziana 6$ each
4 -Hydrocotyle verticillata 1$ each node sold
6 -Hydrocotyle Sp Japan (Trip) 3$/12 nodes
6 -HYDROCOTYLE LEUCOCEPHALA 6" stem 1$ each
6 -Hygrophila Lancea $4 each
1- Hygrophila Pinnafida 2$ each
2 - Hygrophila sp. Araguaia 2$ each
4 -Hygrophila Corymbosa Compacta 2$ each (nice rooted plant)
6-Limnophila Aromatica 1$ each
10 - LIMNOPHILA SP. 'GUINEA BROAD-LEAF'1$ each
10-Limnophila Sp. Wavy 2$ each
5-Limnophila indica ( Ambulia) 1$ each
5- Limnophila Sp. Dwarf Bonsai 5$ each
2 -Limnophila Rugosa 2$ each
10 - Limnophila mini Vietnam 2$ each
3- Limnophila Belem 8$ each
8 - -Limnophila Repens Mini 1$ each
8 - Lindernia sp. India 1$ each
3 - LINDERNIA ROTUNDIFOLIA 'VARIEGATED' 1$ each
15-LOBELIA CARDINALIS 'SMALL FORM' 2$ each
3 - ludwigia Arcuata 1$ each
2 - Ludwigia Atlantis 2$ each
6 - Ludwigia Sp. Rubin 2$ each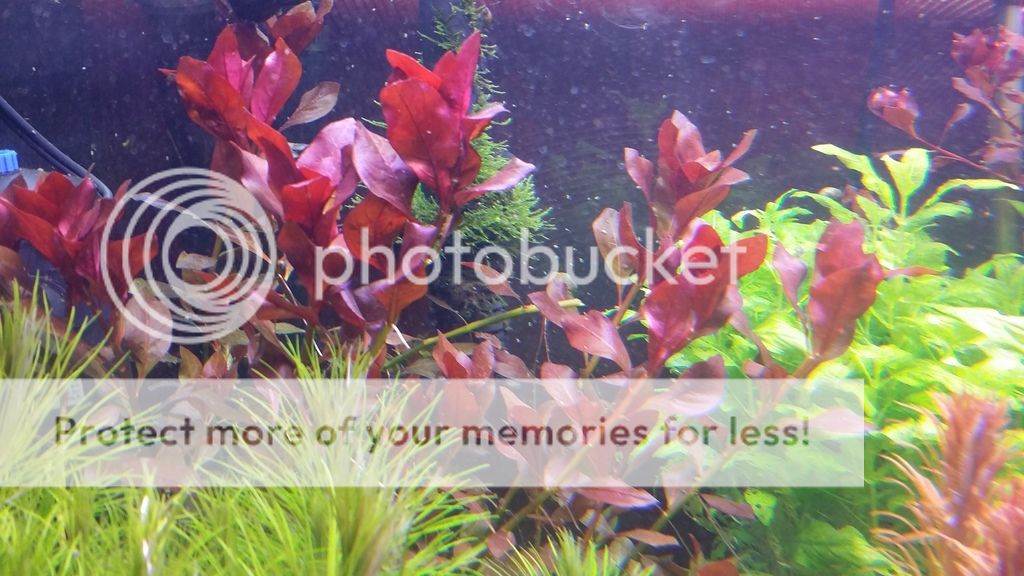 6- Ludwigia Inclinata Red 2$ each
8- Ludwigia Pantanal 5$ each 5/20$ sold
1 - Ludwigia sphaerocarpa red 15$ each sold
4- Ludwigia Sphaerocarpa 10$
15 - Ludwigia - Sp. Red 2$ each 10/15$
3- Ludwigia Glandulosa 3$ each
20 - Ludwigia Senegalensis 3$ each 3/7$
8-Ludwigia x lacustris 1$ each sold
8- Ludwigia Sp Cuba regular 2$ each
8 -Ludwigia simpsonii 2$ each
9- ludwigia inclinata (Tornado)Curly 6$ 3/12$
8- mini myriophyllum (Guyana) 1$ each
8 - Mayaca fluviatilis 1$ each 8/6$
4 - Murdannia Sp. Red 2.50$ each
6 - Persicaria sp Sao Paulo 3$ each
12 -Persicaria sp. Kawagoeanum $2 Each (orange)
5-Proserpinaca Palustris (Mermaid Weed) 2$ each
8-Pogostemon Erectus 1.50 each sokd
Pogostemon Sri Lanka 8$ each
6 -Pogostemon stellatus "type 2( narrow Leaf) 5$ each
8 - Pogostemon yatabeanus 2$
6- Ranunculus inundatus 2$ each node
15- Rotala Indica(true, Ammannia sp. 'Bonsai') 2$ each
20 - Rotala H'ra 1.50
6 - Rotala Macrandra Japan Red 4$ each
10-Rotala Wallichii 1$ each
10- Rotala pearl type 2 3$ each 3/8$
10 - Rotala sp Enie 2$ Each
10-Rotala Nanjenshan 1$ each
6 -Rotala Mini Butterfly 3$ each
12 - Rotala Magenta 3$ each
6-Rotala Macarandra Green 1$ each
6 - Rotala sp. Colorata $1 a stem
10 - Rotala caterpillar 1$ each (nice smaller green leaf) sold
10-Rotala Vietnam 1$ each
4 - Rotala Sp Green 1$ each
6 -Staurogyne Bihar $2 each
2- Staurogyne purple 5$ each sold
10 - staurogyne repens 49 1.50 each
10 - staurogyne low grow 2$ each
10- Sphaerocaryum Malaccense 1.50 each
8 - Synogonanthus Belem 2$ each sold
6 - Synogonanthus Lago Grande 8$ each
2 - Synogonanthus Twisted 8$ each
4 - Synogonanthus Maderia 10$ each
6 - Tonnia Fluviatilis 4$ each
8 - Tonnia lotus blossom 7$ each