Discussion Starter
·
#1
·
I have a 10 gallon planted tank. Sadly enough, that's the largest I have room for (I have set up a 5 gallon shrimp/fry grow-out tank, though :hihi
.
I use two 10W "mini-flourescent" bulbs at 6500K. My substrate is plain gravel. This tank has been set up since early October 2010. I'm using a HOB filter that's older than I am so I don't know the specifics about it. I've covered the intake with the toe of an pair of pantyhose and a sponge for the shrimps' sake. At the suggestion of some members of aquatic plant central, I put some lava rock in the filter and took out the filter media. This is an experiment that I started yesterday. We'll see if it works. I try to dose twice weekly with Seachem Flourish.
The fish in this tank are chosen by their size and hardiness. For the plants, I chose plants that were hardy but also that I liked the looks of.
Fish: 3 White Cloud Mountain Minnows, 2 leopard danios and 1 zebra danio. I'll be adding some fry from my fry grow-out tank shortly.
Invertebrates: ~10 Red Cherry Shrimp, 5 Pomacea diffusa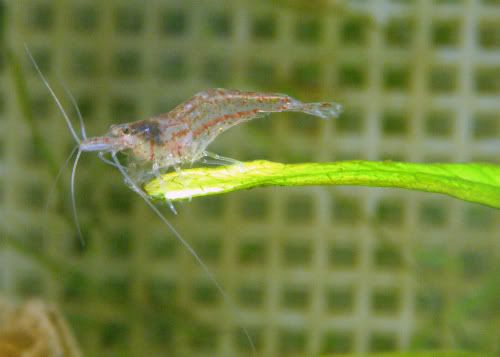 Plants: Marimo Moss Ball, Java moss in the in-progress moss wall, Java Fern 'Narrow Leaf', Java Fern 'Needle Leaf', Java Fern 'Windelov', Rotala Rotundifolia, Anubias Barteri var. Nana, Anubias Barteri var. Nana 'Petite', 3 different kinds of dwarf water lily, Saggitaria subulata, 5 aponogetons of 3 different species, Brazilian Pennywort, Bolbitis Heudelotti, and a Banana Plant.
Any suggestions on how I could re-arrange the tank to make it look better?