Introduction:

I have quite a lot of plants growing quite well in our 40 gallon long, but I wanted to try my hand at a pre planned, planted tank. My first attempt looked pretty bad. So I took a deep breathe, and tried to rescue everything to the best of my ability.
4/14/2014:

-Had a yeast overflow into tank, so did massive water change and last time I checked it's almost clear.
-Picked up a HUGE wad of willow moss (I'm having my doubts....), and due to underlying circumstances, it stayed in a bag within a brown paper bag for a few days. BF threw it in the tank for me because I didn't want it to die. Now I got what I believe to be MTS. Very tiny ones at that.
-Attached moss to the driftwood trees, and for now just scattered extra branches in the water. I also used extra mesh left over from the ceramic bio media that came with the filter to force moss onto rocks.
Tank as of 4/14/2014
I want to eventually run a creek through the middle of the tank. Tried sand, poorly colored gravel. Need better ideas lol. I might try sand again now that I've learned to fill the tank with floating paper plate, but still very messy. Would gray river stones work?
Looking at everything, I wish the driftwood reached the top of the water, but will have to do for now. Everything was simply tied on with fishing line, though the driftwood on the left, and a few other older pieces were done with super glue. I need to smooth out the gravel, as well as better define the creek edge. Organize the extra pieces of wood I have or remove them, and overall organize it better.
Questions I got: Should I let the MTS be? Or wipe them out now... I have the start of brown algae and string algae as well. My tank is still cycling btw, and also got a major yeast dump. Will they do anything? I do know my substrate is pretty deep towards the back right, so it really wouldn't hurt for them to move it around, but don't want to have hundreds of them.
My anubias nana petite has some brown/black spots on its leaves. It didn't feel very slimy. My plant book doesn't give any examples. I wanted to snap a picture, but tank isn't THAT clear yet. The rhizome is above the substrate, though roots are buried with a root tab next to it.
Current Setup:
10g Aqueon Tank Kit with Incandescent hood
2 13watt CFL bulbs
Aquaclear 30

ViaAqua 50-Watt Quartz Glass Submersible Heater
DIY CO2 (until tank is ready for shrimp)
Eco Complete
Dosing liquid fertilizers (Seachem Aquavitro line): 1ml of Propel/Iron 3x a week, .25ml of Activate/phosphates 2x a week, and .25 ml of Synthesis/nitrates 2x a week
Plants:
Willow Moss
What I thought was more willow moss.
Anubias Nana Petite
Planning to add these plants:
Anubias Nana Petite x2 (total 3)
Fissidens Fontanus
hydrocotyle tripartita
And that's about it for now. I'm going for a foresty, overgrown with moss sort of look. Future inhabitants will be Tiger Shrimp :icon_smil
Tank Update: 4/17/2014
(first photo is retouched because my hands shake and take crappy photos. sorry lol.)
WE GOT ALGAEEE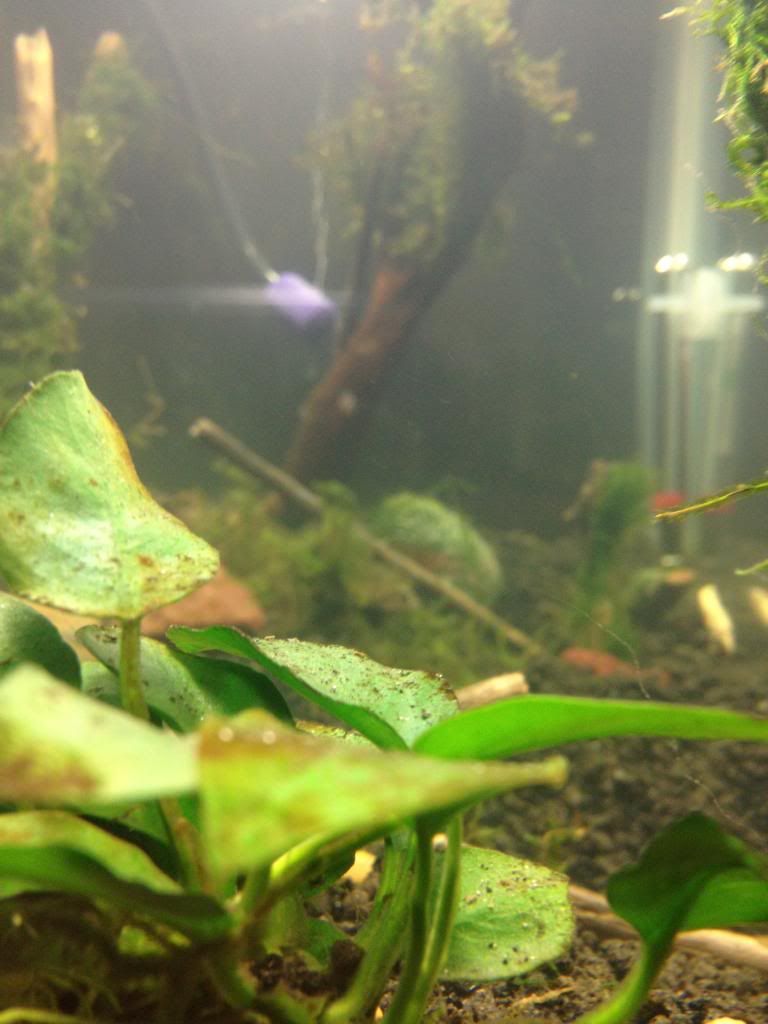 And my beautiful MS Paint rendition of my plan:
I am going to be adding the Hydrocotlye Tripartita/Pennywort as ground cover for most of the tank. I'm going to be trying to find some smaller driftwood pieces to create a couple of smaller spindlier tress to add some depth, and make it look less uniform. Some of these I might add some Christmas Moss too or just more willow moss. On the trunk of the tree on the right, the one in the front left, some of the newer ones, and other scattered driftwood pieces, I plan on gluing or attaching fissidens fontanus. I want to add two more Anubias Nana Petite, but they are so freaking hard to find gah. There will eventually be two more. I am going to be a river rock creek going to the back and winding behind the hill on the right. The substrate is ready for it, and the path is there, just need to find said river rocks. Have a bunch, but not in preferable colors.
My algae growth is pretty insane right now, especially on the moss tree. I do, however, have new growth! My moss is bright green coming out of the algae mess its in. Makes me excited to know its not dying or dead, just algae covered.
I am dosing with Seachem's Aquavitro line, the same dosing regimen I use on my 40g long. I love the line, and the simplicity behind it. The cost is pretty reasonable, and it's easy for a beginner.
But anyway, I'm hoping to get somewhat of an overgrown forest look along the creek. It's a work in progress, especially saving up for and finding my plants, but it should be worth it.
Update 4/21/14 Did a rescape, liking it more.
The brown lines are where I plan to add additional driftwood trees, and hope to get pieces that extend past the water line.
Hoping to add some moss when I get more of it, to the left wall as well, though not as intensely as on the right. Went with gravel, kind of like it.
Attached my Anubias to a small driftwood clipping I had to ensure the rhyzome stays above the substrate. This plant has very long roots, and was getting fairly difficult to plant. The rhyzome is exposed to the water, and only the stick is buried.
And photo bomb from the 40Gallon Long. Got two flowers from a plant whose identity I don't know, but they are BEAUTIFUL. This tank needs a ton of work lol.
Going to the Lake next weekend hopefully so I can find a handful more trees. It needs more I think, and taller ones at that. Want to make it more dense when it comes to that, and get some more moss as the tree lost some during the rescape. My hydrocotyle tripartita is going to be coming into the LFS sometime this week, and another anubias nana petite or two. I love them even though they don't entirely fit. I have another piece of driftwood that was planted but floated back to the top of the tank, so I'm just letting it sit in there near the light, I had it sunk two weeks ago, but never put it in, it's a pretty straight piece of driftwood, but it's tall so can extend out of the tank. Hope to put it in somewhere on the far right side of the tank.... maybe. I told myself that I could add some driftwood trees and plants but that I'm not going to mess around anymore with the current setup, and just let it grow in.
4/22/14
So I lied. I redid my scape, and I'm much more satisfied. You can follow my struggle here:
http://www.plantedtank.net/forums/showthread.php?t=610386
Redoing hardscape
Placed driftwood and mosses.
Filled in.
Close up.
5/9/2014 Update
Hello again! My temporary inhabitant has moved out to the pond, so my tank has 0 inhabitants. He did an awesome job of eating all the little white worms (I believe planaria but had no triangle head, just tiny little white worms), and my tank has a solid biofilm going. It's fully cycled and he helped to increased the amount of BB in the filter.
My moss has been showing new growth and my small anubias has put out a new leaf every 4-5 days. Both Anubias are suffering from diatoms pretty badly, but aside from the diatoms and green algae it's not too bad right now. I've been leaving the algae on the back wall for now, though as you can see in the pictures it's started to grow on the bottom of the sides again. When trying to catch the koi I knocked almost all of the moss off the tree in the back, but otherwise the tank is doing pretty well. I made myself not touch it for two weeks, and tomorrow I plan on going to the park (there's a swampy area in it), and grabbing more if not the rest of my driftwood. I am going to stick to ones that will reach above the waterline, and I hope to find some relatively straight sticks, along with very thin ones I can place in the back to hopefully force some perspective to the tank as I feel it looks rather flat still. The left side has shifted a little bit, but the slope is holding up well.
The purple CO2 airstone looks horrid where it is, but the bubbles get caught in the filter spillway flow and get circulated. Otherwise the tank is doing pretty well right now, and I'm happy to see new growth on all of the moss I put in. I hope to pick up some more when I get the rest of the driftwood, though some trees I'm going to leave bare. I need to cover the big superglue spotted piece with something. I found hydrocotyle tripartita but I'm wondering if it would really fit in at this point with the rest of the tank. I was looking at s.repens, but I think maybe using more moss variations might be easier especially with the shaded areas created from the driftwood.
Any suggestions to better complete a forest look? I still am considering finding a darker gravel for the creek area but have left it for now. I also hope to cut up some small pieces of wood to use to litter the floor as downed branches as I only have a few small pieces. I also want to try and find Anubias Nana Micro though I've never seen it anyplace locally.
Pictures: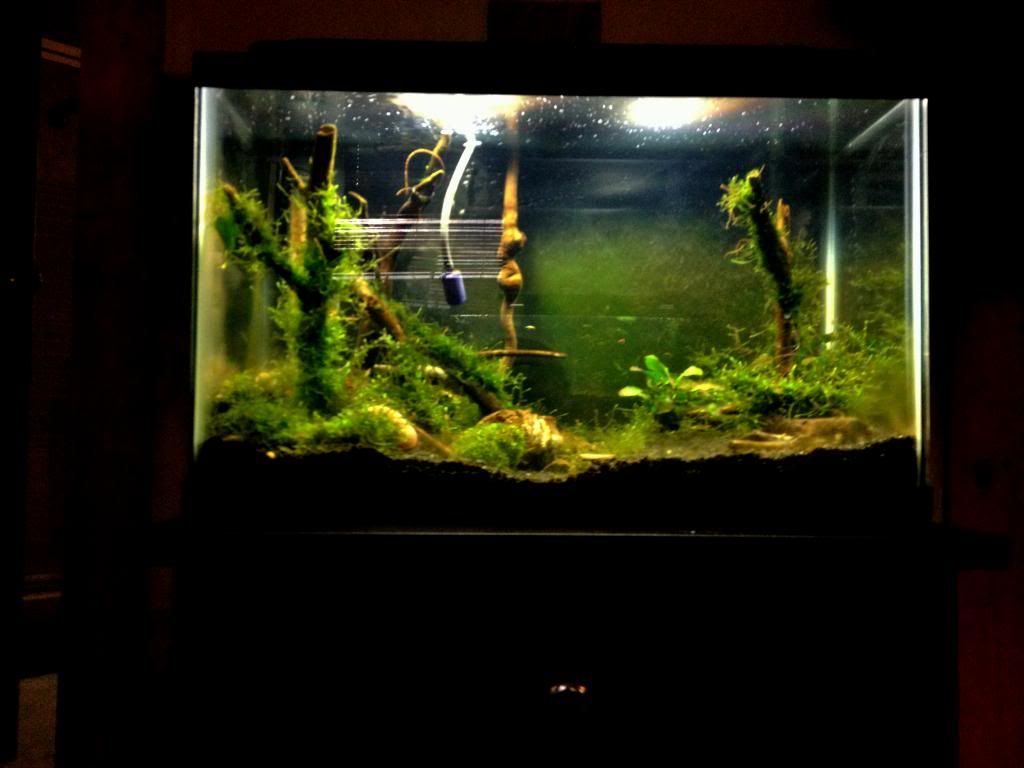 From above: You can see where the substrate on the left collapsed a bit and moved the big driftwood piece over quite a bit. I might just give in and invest in another bag of eco complete, but I think that would end up being more of a hassle trying to move everything and get it right again. Hopefully if I get some more growth in the flat area, it will look better. Possibly with a better system for the river bank on the left side.
Left side:
The moss needs to be trimmed down the center, but I'm trying to let it all grow out more before I go in and prune it.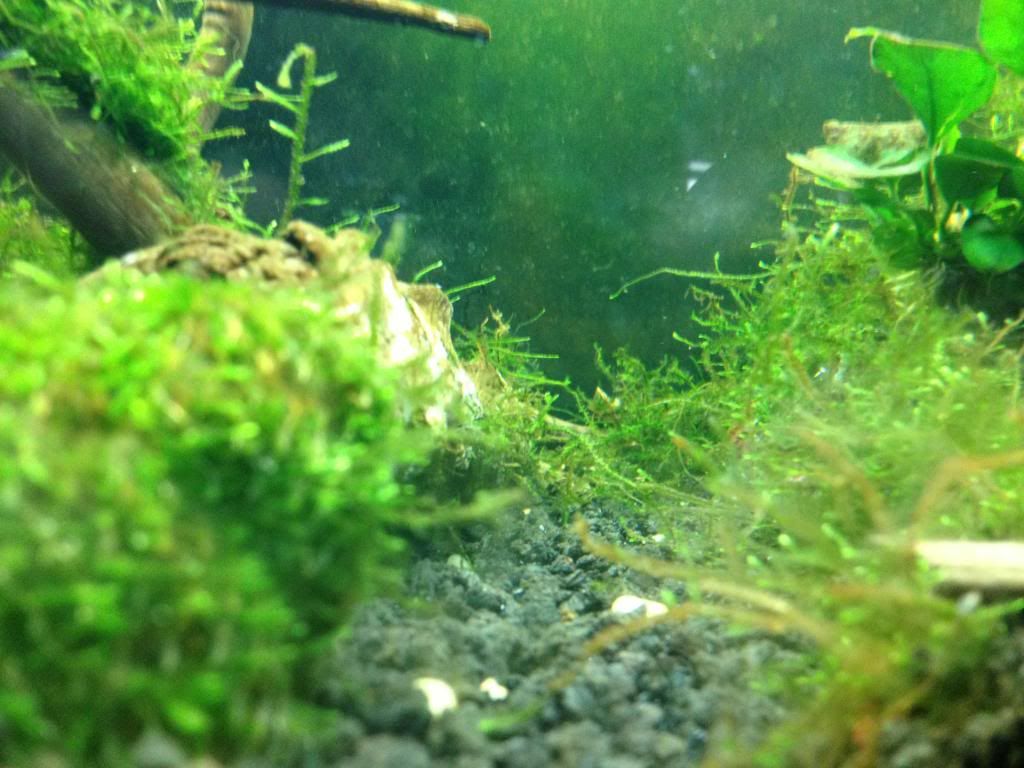 FTS. Sorry about the glare from the window, can't reach it to shut the blinds, though it's far enough away the tank is not effected by it in the slightest. Got my stand as a bedside table from Meijers. It's made of real wood and weighs a lot. Very sturdy and solid too. No particle board! $50 bucks too. It's a little short, but I'm short so it makes it easier to work on the tank.