Hey all, I loved watching the progression of people's journals on the forum, so I thought I'd start my own. I am converting my 10 Gallon Dwarf Puffer tank from plastic to planted. This forum is a great source of info and I appreciate the reviews of equipment, you guys determined my purchases! I'm really excited how things will turn out!
Tank: AGA 10 Gallon
Filter: Eheim Classic 2213
Heater: Hydor 50w Heater
CO2: DIY CO2, Cheap Glass Diffusor
Lighting: Incandescent Hood with 2x26 Watt Spiral Compact Flourescents
Substrate: ADA Aquasoil Amazonia II (9 liters)
Hardscape: 3 Pieces of Mopani Wood
Dosing: EI Method, Dry ferts for Macros, Flourish/Flourish Iron for Micros
Backdrop: Black Background
Fish: 3 Dwarf Puffers (Named Sploink, Bloink, and Doink!)
Plant Plans: HC, HM, Moss in wood, other plants to be determined.
Ignore the random plants right now, the Anacharis and Wisteria are coming out for sure once ammonia levels go down and I have the plants I want.
Yay packages!
I bought 2 9 liter bags incase I needed more down the line. I got 12 free issues of Aqua Journal and The Style of ADA catalog as well! The free extras from ADGShop are awesome, I am taking Japanese in college so maybe I can read them a little.
Here is the tank before it was converted to planted. Poor DPs gotta go in the 6 gallon until it's safe! Theres tons of snails though, so they should be occupied.
Draining the tank wasn't too bad, I removed all decorations, then gravel, then drained the water into a bucket and put 50% back in.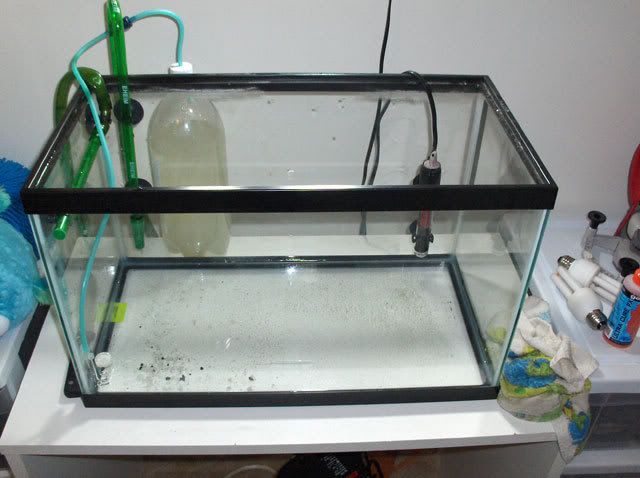 Ludwigia Repens and some type of moss from a forum member, moss might be Peacock... or maybe just Java Moss... not sure yet!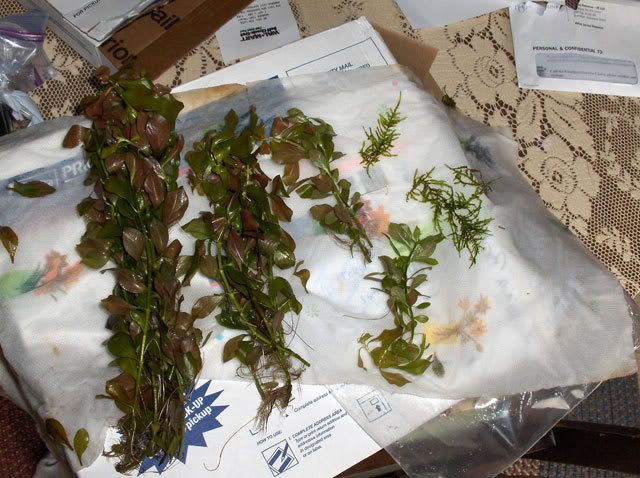 Almost all 9 liters of Aquasoil are in place, filled slowly, tied moss to wood, and some random plants are thrown in for now. The Aquasoil II is supposed to be less cloudy, and compared to some pictures on the forums, or it could be the 100 ml bag of purigen I threw in prior to takedown, nevertheless this isn't too bad for the first fill!
I tried to slope it, but I think I'll need to spread the AS around some more towards the back or add more. There's about 2-2.5" in the front.
That's it for day 1!