My first actual aquarium ever was this ten gallon I got for my brother for his tenth birthday that he eventually started to ignore. It was filled with bright blue gravel and two plastic plants and contained the death of many a fish. But while the fish keeping has always gotten better, I've never been quite happy with it after discovering planted tanks and decided to redo it (especially since I've had some mysterious shrimp deaths and was worried that the nasty gravel was leaching something).
I started with adding Flourite black sand, but despite rinsing until the water ran clear, tank was still fairly cloudy until today (and even not totally clear), but the little five gallon bucket was not supposed to last for almost a week, so fish are going to have to be plopped back in.
The only trouble is that I'm not sure how to place the wood. You can see a couple of different arrangements I was sort of thinking about in the pictures below. I kind of like the second arrangement better, with the stick like wood at the right so I can place my crypts at one side. In the last photo you can kinda of see what I think is stargrass at the far right (either way, grows like a weed), and I'm not sure if it'll go there in the end.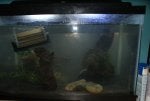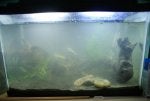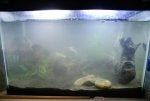 Also, the lighting in the actual tank is more of a mix between the extremes. Seems the camera can't figure out how to take a picture of cloudy water.
Flora:
Crypt wendtii "Florida Sunset"
Crypt lutea
Stargrass (?)
Bucephalandra "Brownie Brown"
Hygrophilia angustifolia
Dwarf sagittaria
Fauna
x3 Chili Rasbora
x5 Otocinculus
x1 Bamboo Shrimp