I'm gonna start my journal to track the progress of my tanks.
Story:
My wife bought a betta last summer, 1 gallon tank, plastic decoration, etc. I didn't know anything about fish keeping, but I soon learned that what she had purchased was insufficient. BOOM. I'm hooked. Got a 15 gallon tank with a bunch of plastic plants and a rock for a decoration. That one is currently in my kitchen.
I bought a 6g edge with the hopes of growing a nice HC carpet, but the light is just poor plus I had purchased a fluval CO2 mini kit and it just didn't work.
Fast forward to some proper planning this time. I am tearing down the 15 gallon and the edge and setting up a 10 gallon and a 20L to replace the two. I'm gonna sell the 15 gallon, but I'm gonna convert the edge to a saltwater tank to put in the kitchen.
The 10 gallon has been planned a lot more than the 20L at this time minus a few things
10 gallon Aqueon tank
Finnex Fugeray 20"
Aqueon 50W pro heater
Seiryu stones
Flora-max, flourite mix with soil gro tabs from hydrophyte (sp?) capped with black sand
Fluval AC30 (I have two AC30's on my 15g. I'm gonna take one unit and put it on the 10g, and then set up the AC70 [for the 20L] on the 15 to get all the bacteria going before I set up the 20L)
Bettatail CO2 regulator with 20# tank (dual tank setup to supply both the 10g and 20L)
Plans for fauna/inverts:
Schooling fish, probably a tetra of some sort or potentially Harlequin Rasbora's.
RCS's (currently in my edge, and I'll add them once the tank is cycled completely).
Oto's
Plans for plants:
HC on the right and up the "mountain"
Anubius nana on the "mountain"
Onto the pics of where I'm at thus far:
Frosted spray paint:
Final resting place: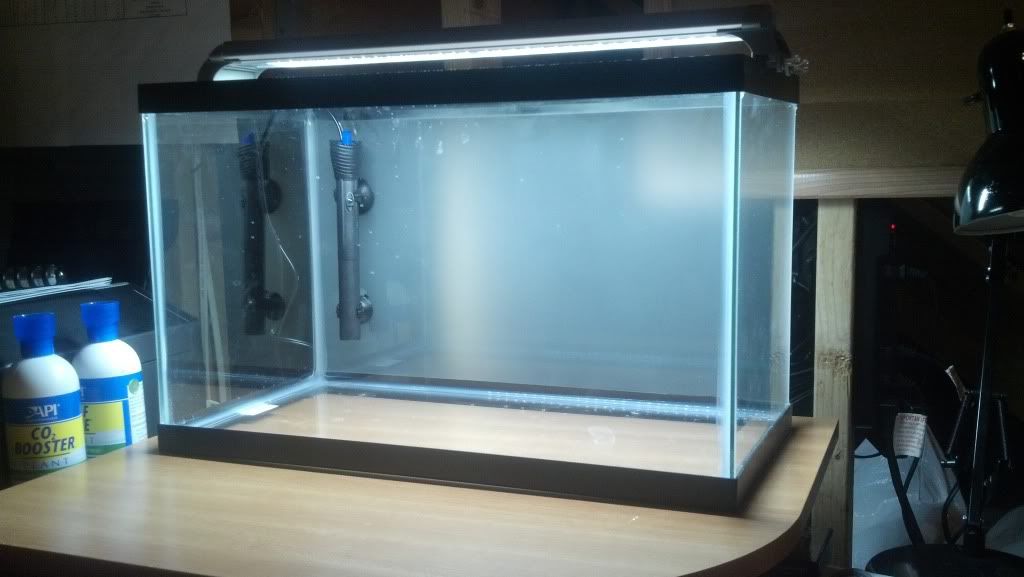 First layout:
Didn't like that set up. It's on my desk to the left of my computer, so from where I sit I'm looking to the left at it and I didn't want 4-5 inches of substrate blocking my view, so I changed it to slope from the front right corner (low) to the back left corner (high) to draw my attention through the tank and not just stop in front.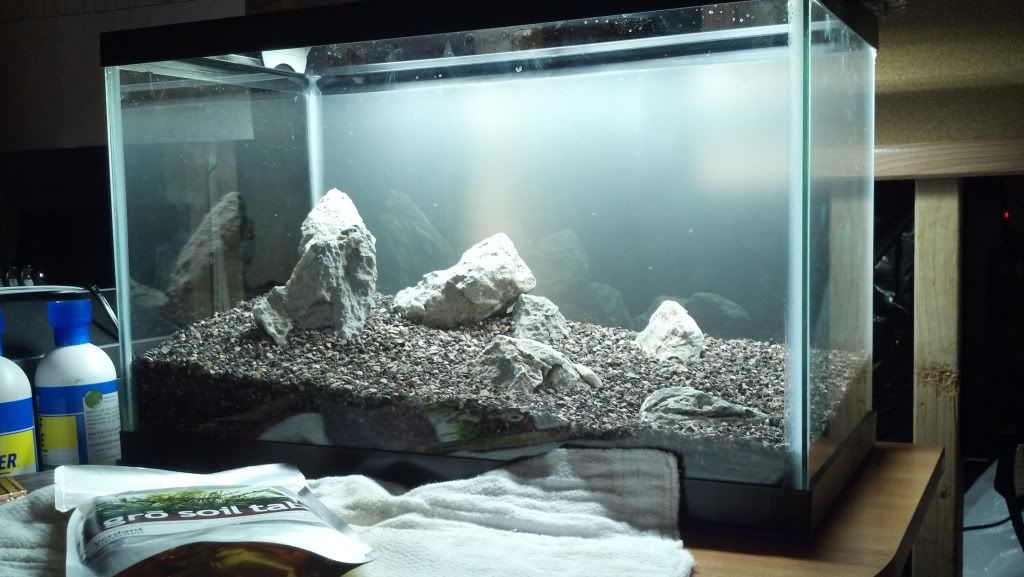 Wasn't thrilled with that layout either, so I changed it to this: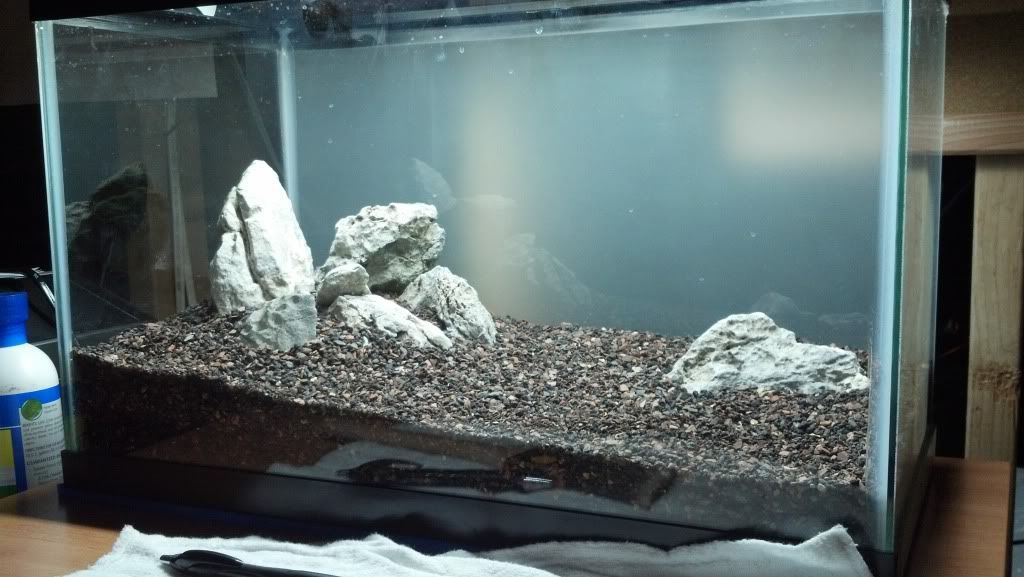 Doesn't look great because of the substrate and rock with little contrast, but I liked the placement of the rocks. I then added the black sand and holy cow what a difference (picture doesn't show it's true potential, but it looks GREAT)
I had ordered two co2 diffusers from e bay, but e bay "overstocked" the person and they didn't have any left so I ordered them (along with the drop checkers from nilocg). I'm gonna wait for those to come in and then I'm going to order the plants. That's where I stand now. I hope it turns out well.
Thanks for looking.
-Andrew