Discussion Starter
·
#1
·
I suppose I wanted to contribute something more to the community than questions, and I really didn't have anything to do today anyways, so…
This is more of an old diary entry than a journal. I wanted to share my experiences with my 29 gallon that will hopefully bring you up to speed on where I am now in the hobby. I will be posting journals in the near future as I upgrade my set-ups, but this should give you an idea on where my interest came from and provide some background so that you may understand the direction I will ultimately take this.
My interest in fish-keeping started in college. I was a math and econ double major. By my third year, the classes got sufficiently hard that I had to venture away from the 4th floor of the library. The 4th floor of UCSB's library is where people go to be seen, more than study. I'm not ashamed to say that during my stay there I spent more time talking and gawking than studying. Well, difficult classes led me back to the elevator and up a few floors. I spent every day of midterm and finals weeks sitting at a long table facing a bookcase. When I took breathers I would read the spines of the books: agricultural sustainability, the green revolution, homesteading, and finally aquaculture. My interest was sparked. I would read excerpts between studying from each of the more interesting titles. To be fair, before I picked up the book, I had no idea what aquaculture was, or to the extent that it is used in factory-like food production.
Well, after graduation, a rough job search, and many hours of Wikipedia binges, I was led to aquaponics.
This is where my involvement really started. I was more interested in the ability to "manufacture" my own greens and meat, than in the aesthetic appeal of a well aquascaped and well maintained tank. I had no idea that fish were responsive creatures with personality. My only previous experience with fish was a family goldfish bowl as a toddler, where one goldfish (rocky) eventually ate all the other goldfish and choked to death on the last one.
I went to a lfs with the intention of setting up a goldfish tank to run on a recirculating aquaponics system in conjunction with the hydroponic growing beds I had picked up from a local hydroponics supply store. I spent some time talking to the employees at the lfs. It didn't take much convincing to get me to change my plans to include tropical fish rather than goldfish. They told me that tropical are actually less maintenance, and only required a heater. The colors of the fish and their more athletically streamlined forms didn't hurt the sales pitch.
I did a whole lot of experimentation, re-arranged the tank and other equipment about a million times, spent way too much of my paycheck on way too much equipment, and did a ton of primary research before I ended up with a set-up that I let run long enough to produce real results. It's kind of funny that you have to make some mistakes before you even know what questions to ask, and without questions to ask, you'll never do enough research to launch over the top of the steep learning curve.
I finally settled on a deep water culture recirculating system. I was able to grow spinach, lettuce, and starts of peppers, broccoli, tomatoes, and cucumbers. The cucumbers did not survive the transplant to outdoors. I ditched the broccoli because it had too much mold on the roots.
This is a pic of what it used to look like. the whole thing is on a 4ft shelf. there is 1x 2 bulb T8 shoplight powering the tank, and 2x 2bulb T8 shop lights powering the growing bed. it had stages of being CO2 injected or not. i'm not sure if it was at this point or not. It is recirculating via a cascade 500 canister pulling from the tank into the 44"x24" growing tray then draining back into the tank. it also has an aqueon HOB filter on it for added circulation.
This is a picture of the grow bed with the seedlings started. ~2 weeks
This is a picture of the planted bed before transplanting the tomatoes, peppers and cucumbers. unfortunately, all the research i did was on the aquaponics/hydroponics piece so not all of them survived. ~6 weeks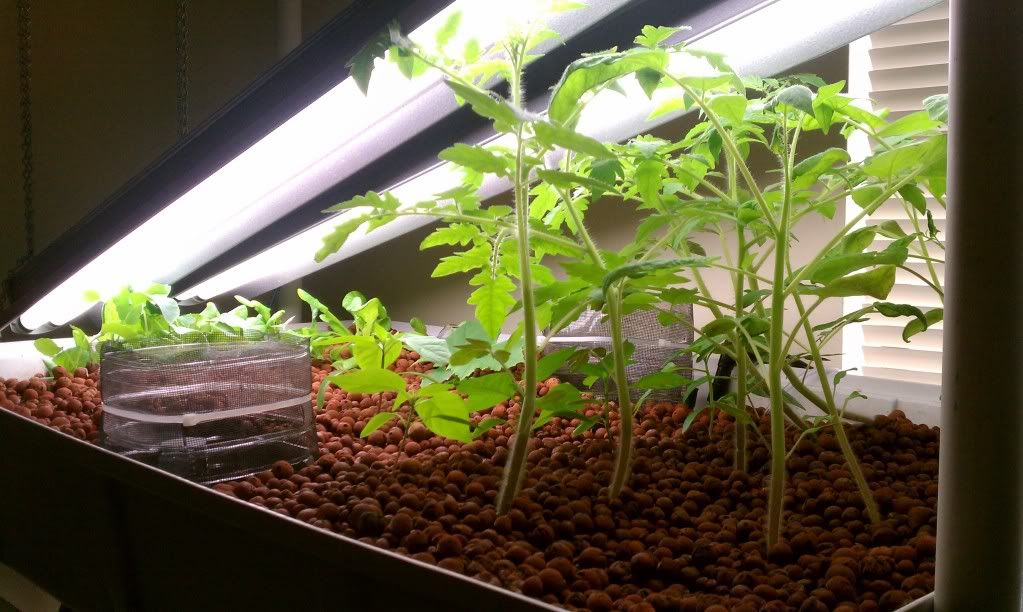 At 10-12weeks i harvested the remaining spinach and lettuce. this was sub optimal, its actually better to just continuously harvest lettuce and spinach leaves until they get bitter and bolt to seed. then pull them and replant. there is a regular produce bag from the grocery store that is packed full, and the bedroom sized trashcan next to it is full of roots, and anything that didn't look quite as good as what i chose to keep. nothing wrong with it, i just had too much.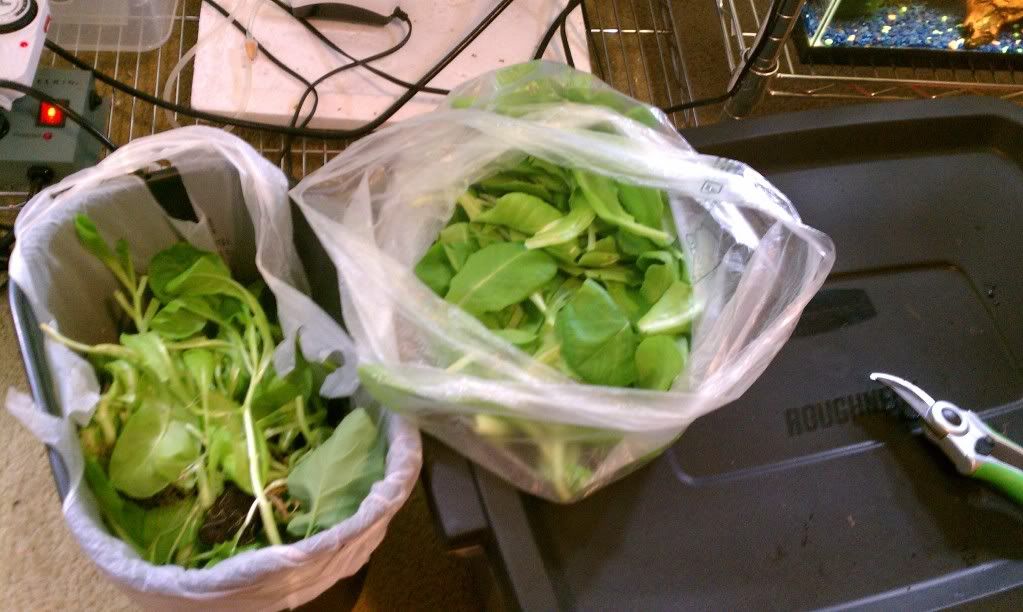 this is a pic of the tank at its most overgrown. the pattern in the stems was caused by the two circulating sources and grew that way naturally. 1 is the return from the grow bed, the other is from the HOB.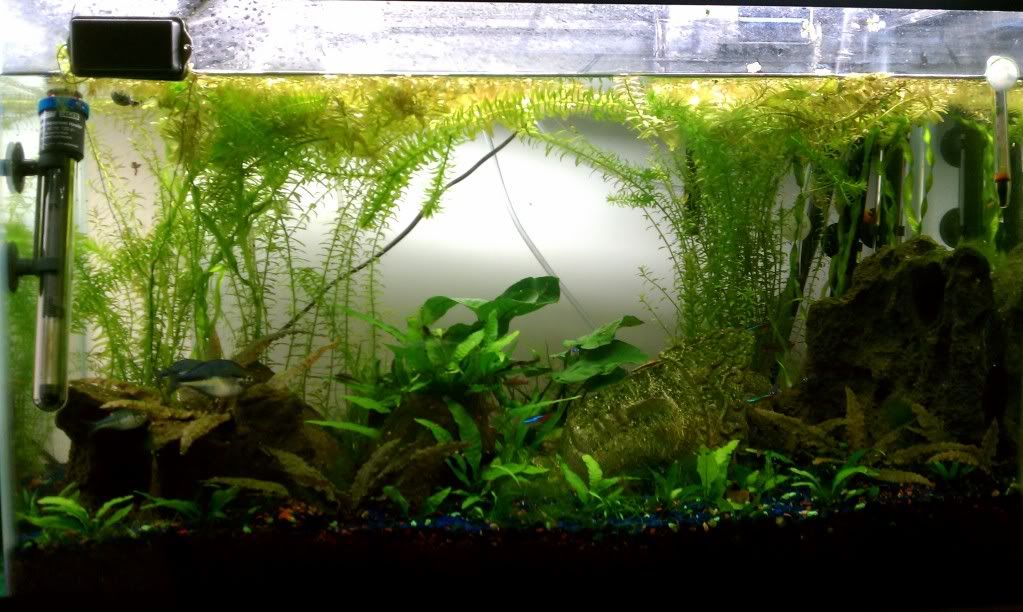 this next pic should give you an idea of what the tank looks like now. i switched to a "normal" high tech, high light, set up, and it has been way more trouble. before all i was doing was topping off with RO water. now i'm weekly 50% water changes and other maintenance.
if there is any interest in this i am willing to answer questions. I've experienced alot of pitfalls that you don't really need to, its better to learn from someone elses mistakes. But right now i'm hungry.
soon things will be changing. i have limited myself to 3 tanks. 1 shrimp tank/themed aquascape, 1 main display all about the fish and aquatic plants, and 1 recirculating aquaponics. i will post journals of them as i go, and hopefully cover most of the bases of what I've learned along the way.
Enjoy!
Best,
Panda