Discussion Starter
·
#1
·
Its time for the journal of the next phase of my planted fish tank. I'll start off with a brief history of my aquarium keeping and then get on to the building of this tank.
思い出 Memories:
I started keeping fish when I was about 12. I started with a few tetras, fake plants, a pirate ship and a good old HOB filter. It was then that I received the family 20 gallon, passed down from my father haha.
For my birthday that year, I really wanted a bigger tank. Already I had my sights on glory. So I got a 75 gallon tank and stand and went through an African cichlid phase for the next few years. It was a grand ole time and I thoroughly enjoyed keeping them, but after a while I wanted for something more. That was when I began dabbling in planted tanks.
My first planted tank was a lowtech 75 gallon, basic t5 lighting, flourite black sand with Mineralized Topsoil Substrate. What I learned from this experience is that in order for plants to adequately grow, I really needed higher lighting or else the plants just slowly decayed over time. Not really growing but just barely surviving. Thus my planted tank phase dwindled... as did my plants...
It was at this time that I was about to graduate from highschool and I was getting tired of fish tanks at the time, so I sold my prized 75 gallon and all my tank supplies....
This was a dark time... a whole year without fish tanks. But alas good times were to come.
I then entered college and went through several crazy phases of spending lots of my graduation money. Big lesson learned. However, one of the better options of me spending my money was on a full high tech planted tank setup.
Bringing back my families now 20 year old 20 gallon. I bought a 20# co2 tank, regulator, cerges reactor, and eheim 2217 classic, and I was good to go.
I started off with a Cryptocoryne only tank. They are and will always be my planted tank first love. I went nuts for crypts and had just about every common variety and several uncommon varieties of crypts. Growing in super fertile Mineralized topsoil blend with added root tabs. It was also at this time that I began dosing EI fertilizers.
This was a huge learning experience for me. It is where I first experimented with high tech setups, and learned how to persevere in my hobby. And trust me, after having diatoms for a steady 2 months, you learn to perservere. Having to muck out the tank every other day, and do 30% water changes.... It was rough, very rough. But my tank got through it and bam, took a turn for the better. There was not a crypt that I tried that I couldn't grow.
Ever so slowly, I began having a desire for a larger variety of plants, so I began incorporating stem plants into the mix. From there I had a phase of collectoritis, and eventually ended up with a nice blended tank.
From here, I began a new phase in my tank keeping, with the uprising popularity and availability of Bucephalandras, I started taking a mighty liking to them. My second planted tank love. Beautiful plants with a high price and low demands, what more could a college student looking for a buck ask for.
I loaded up, and eventually upgraded my tank to a 30 gallon long, and stocked up on as many buces as I could afford.
Throughout this entire experience I learned so much. It is amazing the back of the hand knowledge that I now have after keeping this tank. How to best grow and trim stem plants, how to effectively grow Cryptocorynes, how to efficiently deliver co2 to plants, which plants needs co2, which plants need more fertilizers, how to judge a plant's needs based on leaf quality, and a plethora more of valuable planted tanker concepts.
As time would have it, I once again began slacking this summer with my tank and it started to go downhill. Black Beard Algae everywhere. Alot of my Buces melted, and I was just in a depressed tank state. I had no desire to work on the tank in its current state, and to be honest, I really had a hard time looking at it. One day I found the gumption to actually spend the 5 hours on the tank that it needed. I took out all the hard scape and excel blasted each plant. I retied everything to individual lava rocks and completely rescaped the entire tank. Farm mode was established and I planted alot more stems to balance out the tank.
Everything started to get on the rebound.... Then I gassed my fish. Killed over half of my fish. Longfin plecos gone. Brand new Stiphodon Elegans trio Gone! Half of my Green Neon tetras Gone! Half of every other fish gone! I did a major cleanup and well, my planted tank spirit had about had it. My desire to funnel more money into the tank was waning, and I was in the position where I needed to be saving more than I was spending. So I made the decision to tear down my planted tank and sell all the plants. Have no fear! My aquascaping experiences are not over!
大河 River Tank in the Making
At the same time, this summer (2014) I began falling in love with Stiphodon Gobies. These beautiful fish primarily hail from Asian countries and are captivating creatures to behold. A plan began to hatch within me and I began researching Stiphodons as well as Hillstream Loaches. Starting with Stiphodons I looked up their habitats as well as their food supplies, and they along with Hillstream loaches had very similar requirements. Flowing water, high oxygen content, loads of light for loads of algae. All in all, not a terrible set of demands. So I proceeded to learn all about River tanks, and how one can best simulate the environments of these two types of fish.
The Build:
Substrate- River gravel - Nice small smooth river stones. Perfect for stiphodons to burrow through
Lighting- Tek 4 bulb t5ho 24"
Filtration- Eheim 2217 classic plumbed into River Manifold
Powerheads- 2x aquaclear 50 powerheads (270 GPH each)
Optional - Koralia nano 425 powerhead.
Filter Intakes - 30 ppi poret filter foam from SwissTropicals
Heater- Inline Hydor 200w
River Manifold- Explained below.
Hardscape- Lava rocks from my man Mike(Ebi). Manzanita from Tom Barr
Tank- 30 gallon long (36" L X 12" W X 16" H)
Flora:
-Anubias Nana
-Fissidens Fontanus
-Algae
Future Fauna:
- 2 male Stiphodon atropurpureus, 3 females
- 2 male Stiphodon percnopterygionus, 3 females
- 5 Sewelia Lineolata
- my surviving cory habrosus
- my surviving trio of rosy loaches
This is my current build setup.
Now let me explain the River Manifold build.
This build stems from Loachesonline forum's design. Essentially, our goal is to make a unidirectional flowing system emulating the environments of stiphodons and hillstream loaches. The way to achieve this is through the use of powerheads in conjuction with pvc pipes that travel underneath the substrate with intakes on the opposite end of the powerheads. Here is a picture of the most common setup.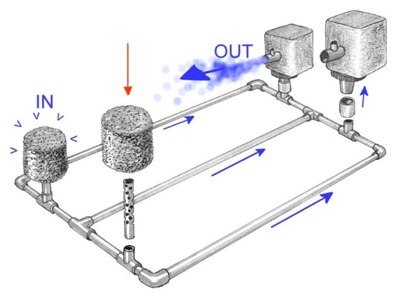 My design has deviated slightly for a few reasons. First change is that I have 4 intakes instead of 2. I changed out each corner pvc piece with a 3 way corner. Giving me 4 intakes. This was done primarily because I also swapped out one of the corners on the opposite side for a 3 way corner in order to plumb my canister filter into the manifold. I did this so that all water must flow through the manifold in a much more uniform type of way.
Here is the design illustrated in pen. Pretty straightforward. Everything was built using 3/4" PVC pipe. I did not glue anything as all the joints will be underwater and are rather snug. I did have to cut the fittings down in order to get everything to fit. I also did end up glueing the PVC intake for the eheim as those fittings would be out of the water.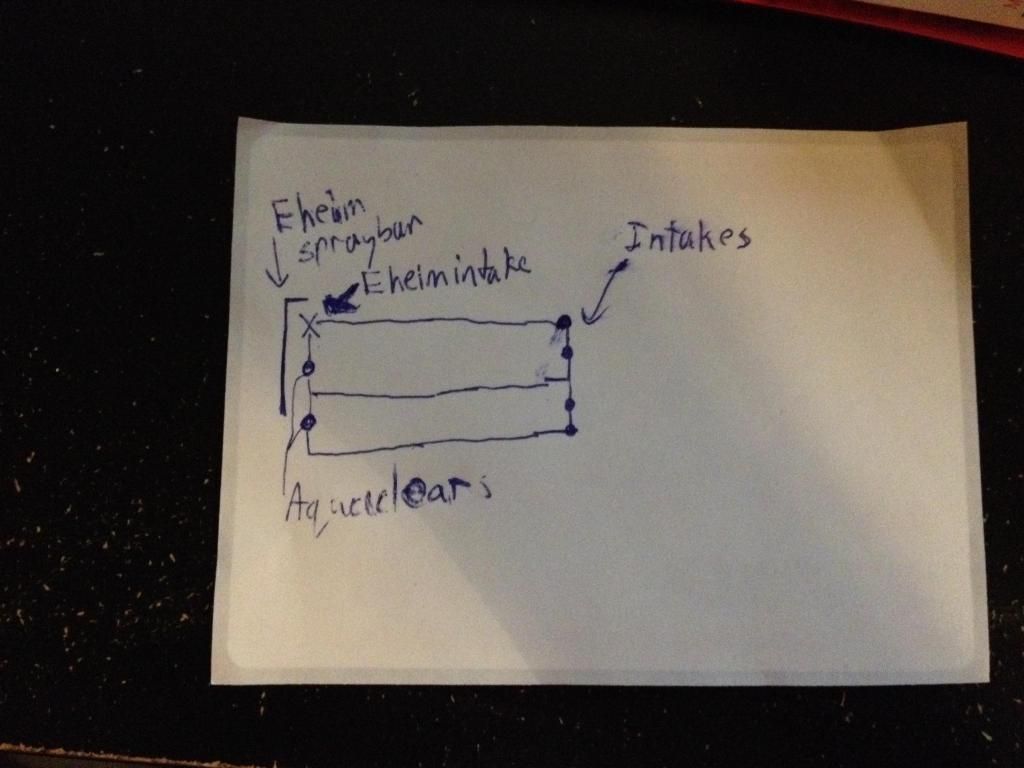 Here is how the eheim will be plumbed to the manifold. The intake of the eheim will go on this pvc nipple. The other two pipes will be the intake pipes for each powerhead. I'm waiting on the Krylon Black plastic fusion spray paint to cure before completely plumbing everything up.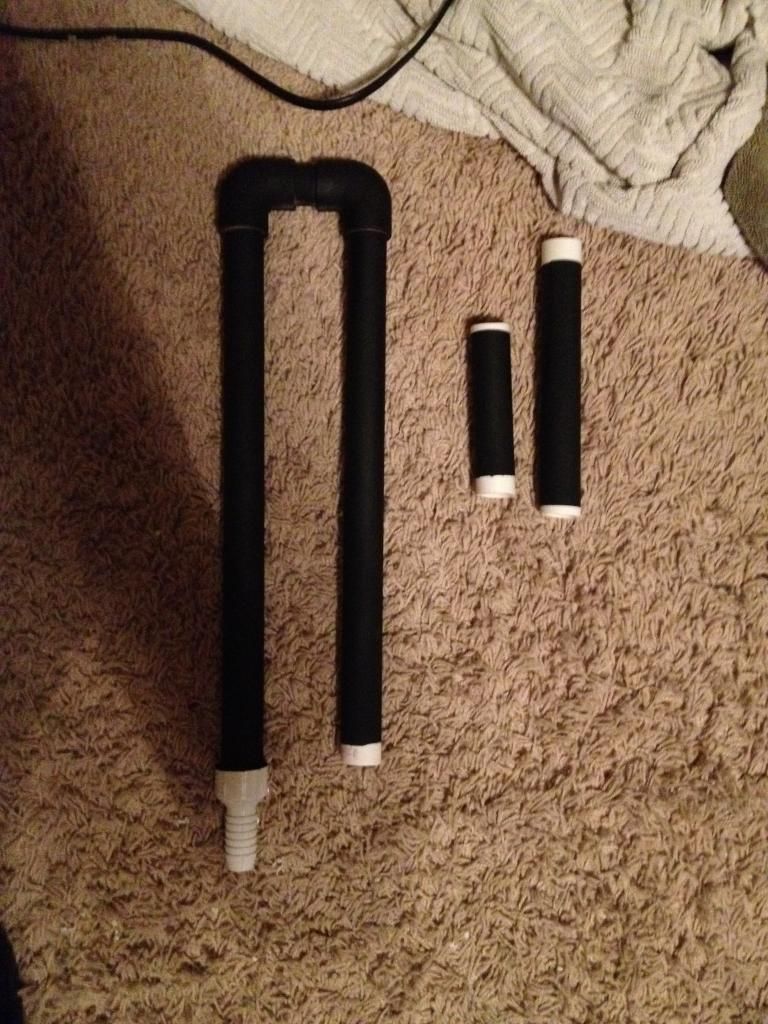 So that is the basic premise of this tank. Next I wanted to come up with a hardscape to distract the viewer from the plumbing as much as possible. This also had to fulfill the requirement to be a natural habitat for hillstreams and stiphodons. Now I'll let the pictures speak for themselves.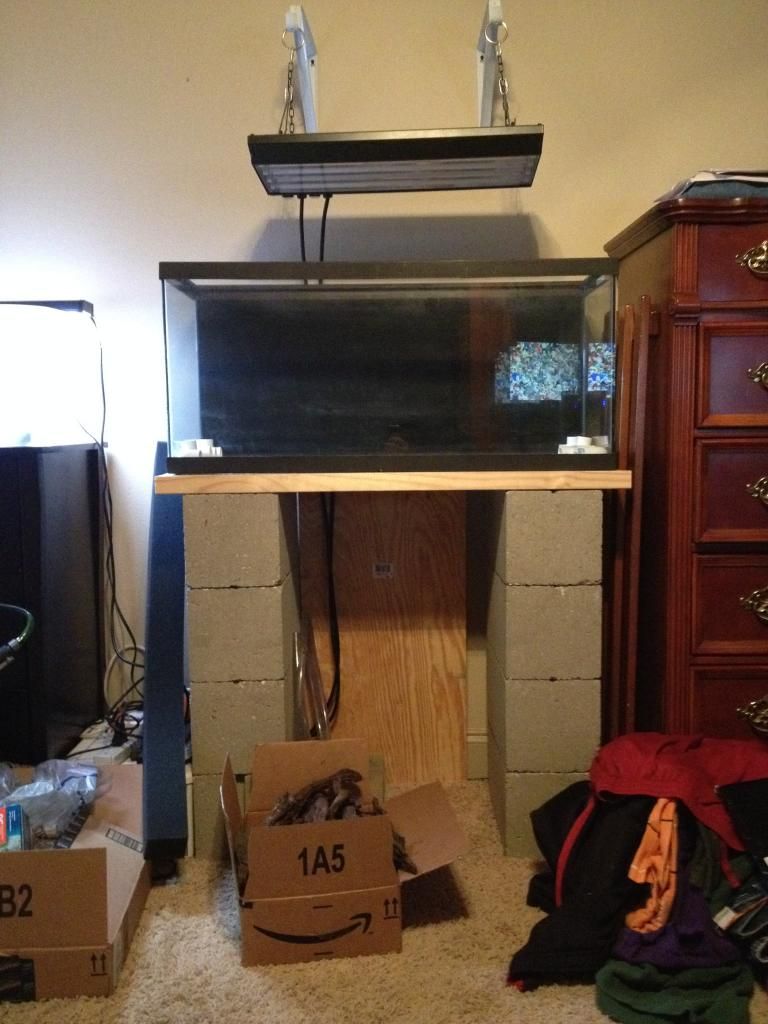 I replaced the bottom right corner joint with a 3 way.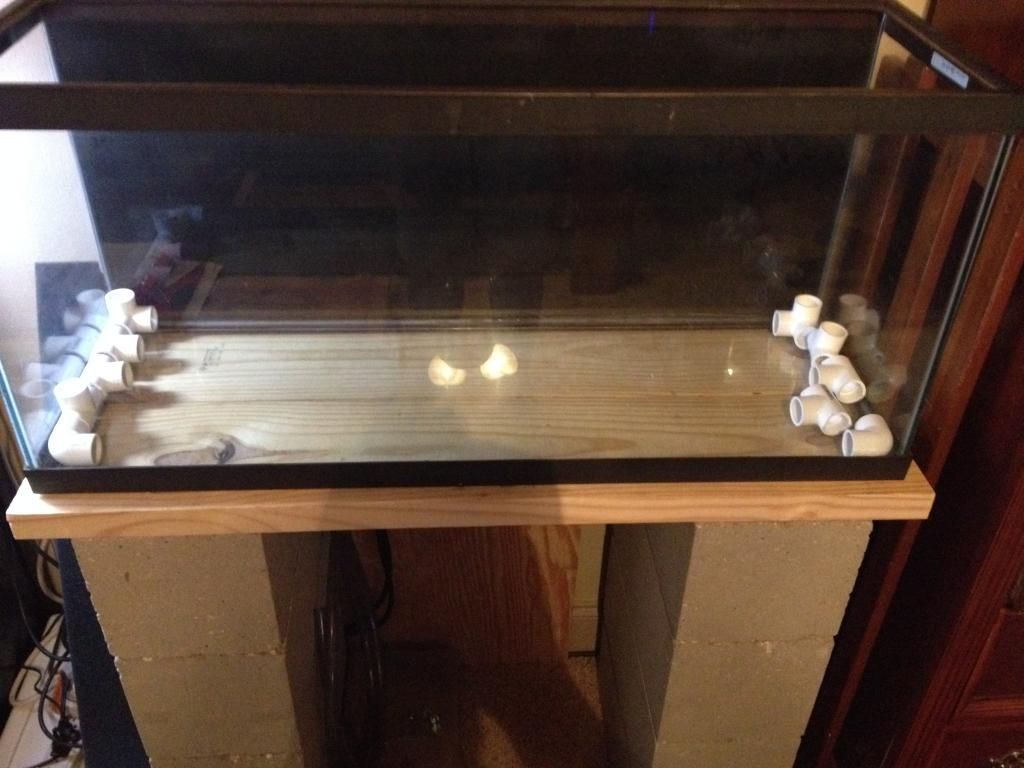 Beginning hardscape trials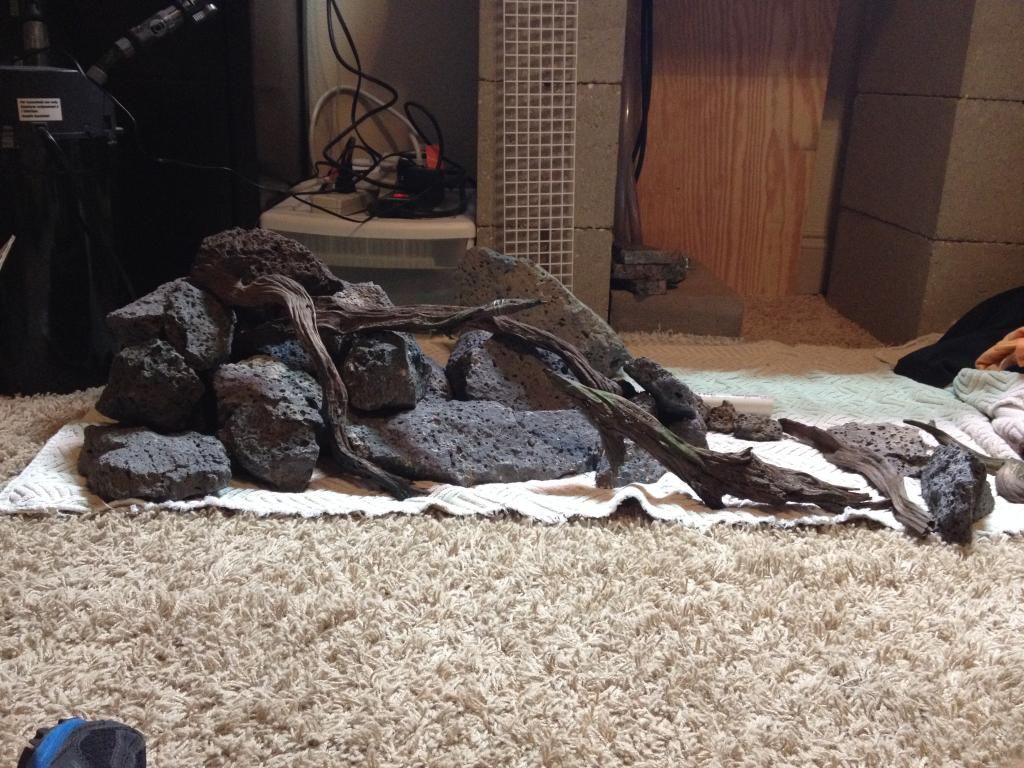 All of the actual plumbing in place not yet painted. All the intakes still need to be drilled.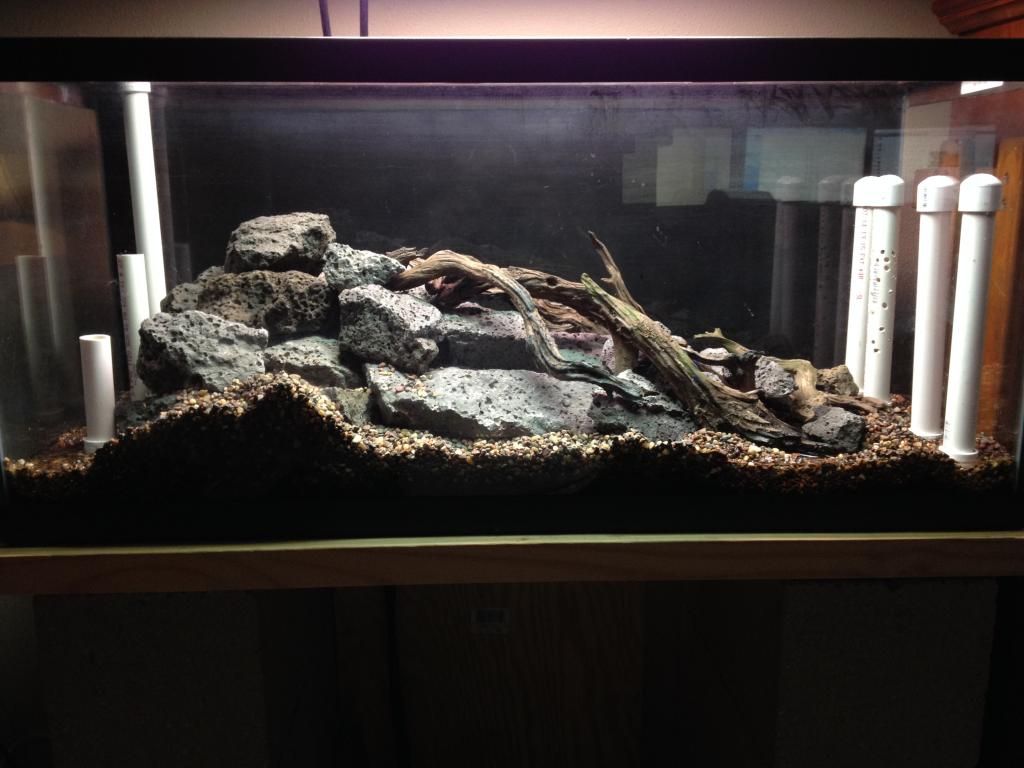 31 Anubias Nana plants from TPT user, csf. Thanks buddy! Plants are great!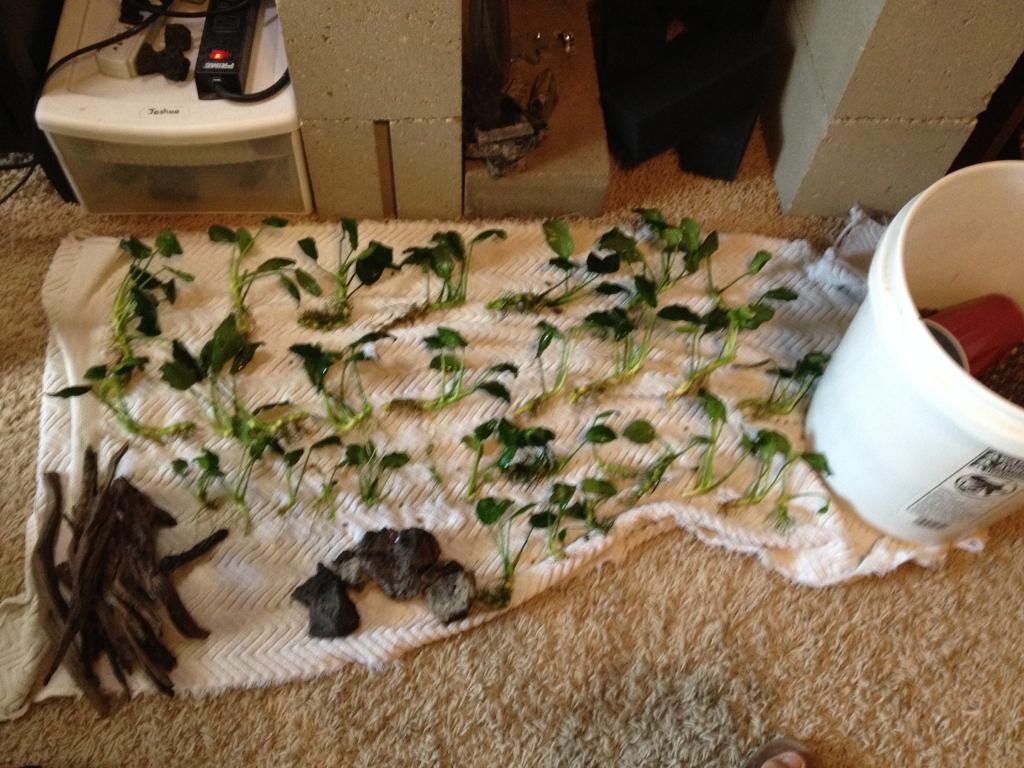 Setup preplanted with replacement pipes while the paint dries on the real pipes.
Post planted full tank shot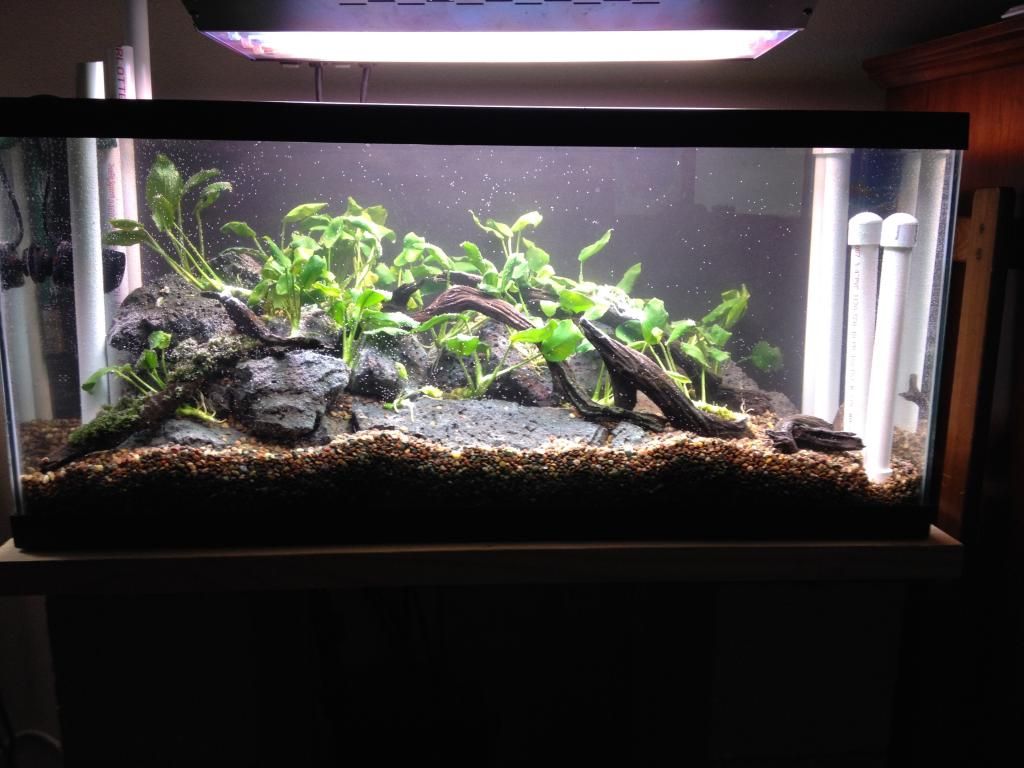 I temporarily plumbed up the eheim normally and added in the koralia nano just to get the bacteria started in the tank. The eheim is already adequately seeded, so I'll probably add my few rosy loaches and cory into the tank in the next couple of days.
With this build a few interesting things are also happening with my life. Junior year of college in Electrical Engineering. I'm also currently learning Japanese as a second language studying 1-2 hours everyday. Hence the few Japanese references in the titles. I also just broke and fractured my big toe this weekend. As such, this tank was a good thing at a good time as it will be super duper low maintenance.
The main goal of this tank is to grow algae as much as possible, preferably soft grean algaes, GDA, GSA, anything that my hillstreams and gobies can feast on. This means 14 hour photoperiods if not 16 hours. In order to achieve this type of tank, I'll have to let it mature for a while before adding any of the prospective inhabitants.
I'm very optimistic about this tank and look forward to the fish and plant adventures that await!
Please let me know what you think about the build.
さようなら
Joshua