So, I gave up on the whole shrimp thing, which is fine honestly, I'd rather do a dedicated shrimp tank right from the get go. This tank comes with me to school and more people like looking at fish than at shrimp, and I'm better with fish, so I figure I'll stick with fish.
This is a rebirth, I REFUSE to let this tank sit at my house for weeks at a time with my folks, it is mine and will come with me to school.
Here's what this tank is rocking right now
Current Fish/Inverts
o Paracheirodon simulans – "Green Neon Tetra" x7 (lost one in first day, expected since they were new to the stoer)
o Brachygobius doriae – "Bumblebee Goby" x3 (kinda might get 3 more maybe)
o Planorbis arnoldi – "Mini Ramshorn Snail" x#
o Planorbarius corneus ¬– "Ramshorn Snail" x#
o Melanoides tuberculata - "Trumpet Snail" x#
• Foreground
o Eleocharis belem - " Dwarf Hairgrass"
• Mid-Ground
o Nymphaea zenkeri – "Tiger Lotus"
o Hygrophila sp. 'Brown'
o Cryptocoryne becketii petchii
• Background
o Rotala rotundifolia var. 'H'ra'
o Persecaria sp. 'Kawagoeanum'
o Rotala sp. 'Nanjenshan'
o Rotala sp. 'Vietnam'
• Surface
o Phyllanthus fluitans – "Red Root Floater"
o Ricciocarpus natans – "Purple Root Floater"
o Spirodela polyrrhiza – "Giant Duckweed"
• Hardscape - Fissidens fontanus – Fissidens
• Riparium - Fittonia albivenis
• Dirt capped with Sand
• Some cheap but reliable nano heater
• Ray2 Ultra Slim 16" DS
• Whisper 2 Power Filter
• Fertilizers - PPS-Pro
Surprisingly simple list given my other tanks. And I like it with just these few species…I just want the Hairgrass to spread more and the Nanjenshan and Vietnam to bush out and it will all be good. Might even add some of that Madagascar stem that's a weed in my 10 gallon to this tank. Otherwise I just need the Fissidens to spread, and the floaters to spread. Fun fact, my PAR at the substrate is still like 50+ but I'm not getting algae issues (knocks on wood furiously)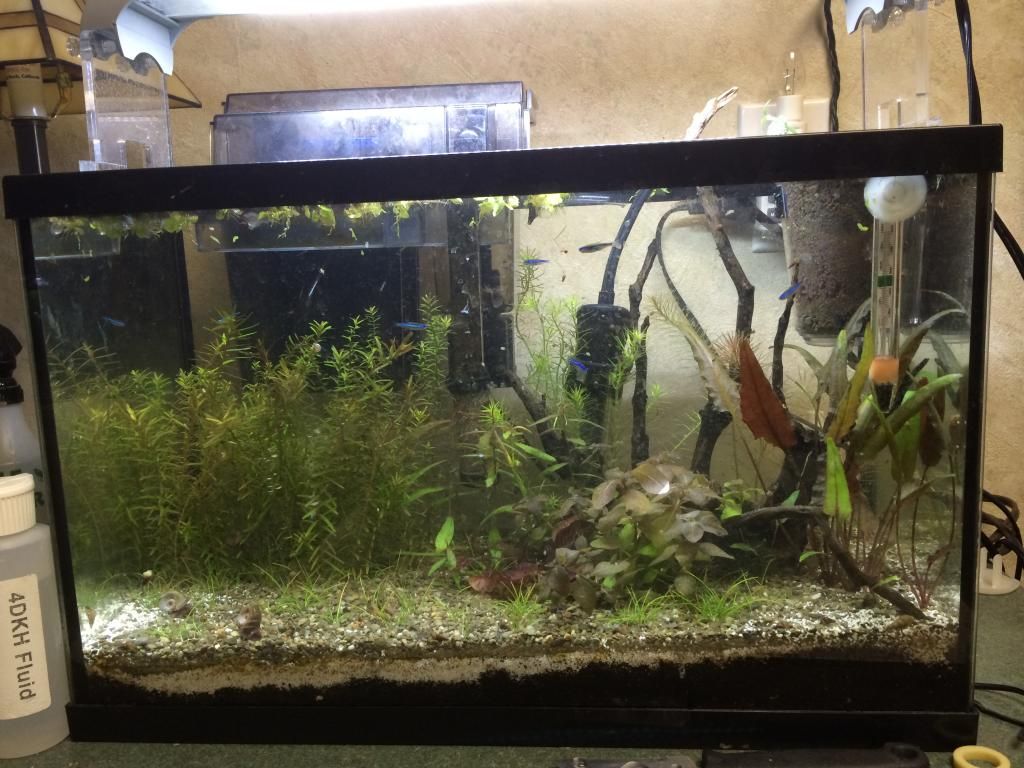 I do like how this tank is shaping up though. It's a cute little piece if I do say so myself.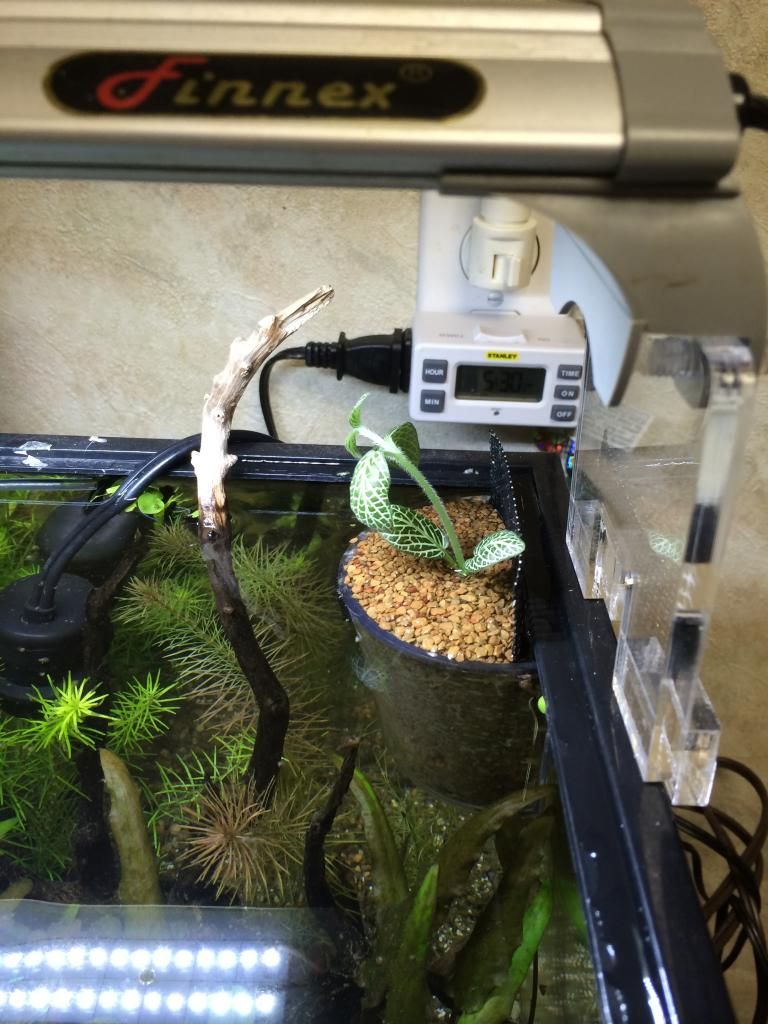 This was right after I added the plant, it started drooping. Its now completely fine and erect and I'm hoping it bushes up. I might add the pink veined variant as well, my mom has this and the pink one in a little terrarium in the living room so I can always clip a top and see what it does. However I was feeling the white vein for this tank instead of the pink on green.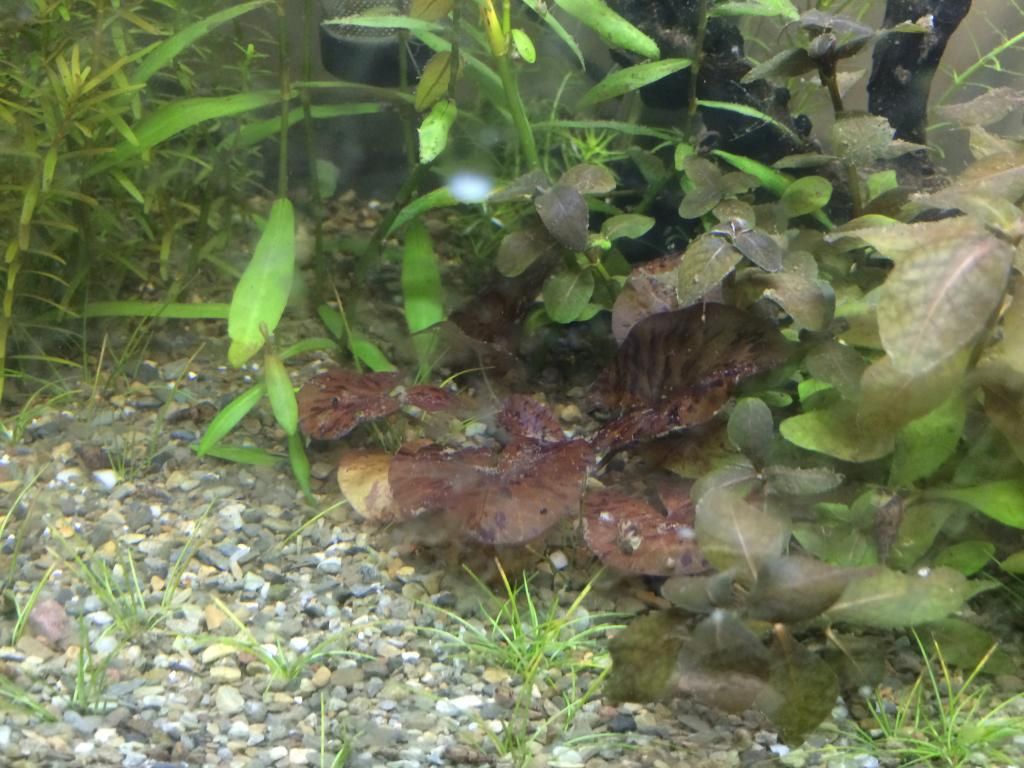 Surprisingly well behavied. I will eventually regret this I know but on that day, I will replace the lotus with a micranthra. I just figured that the red tiger lotus deserved some love in one of my scapes. It'll be great if it stayed this size for me though, so far its been.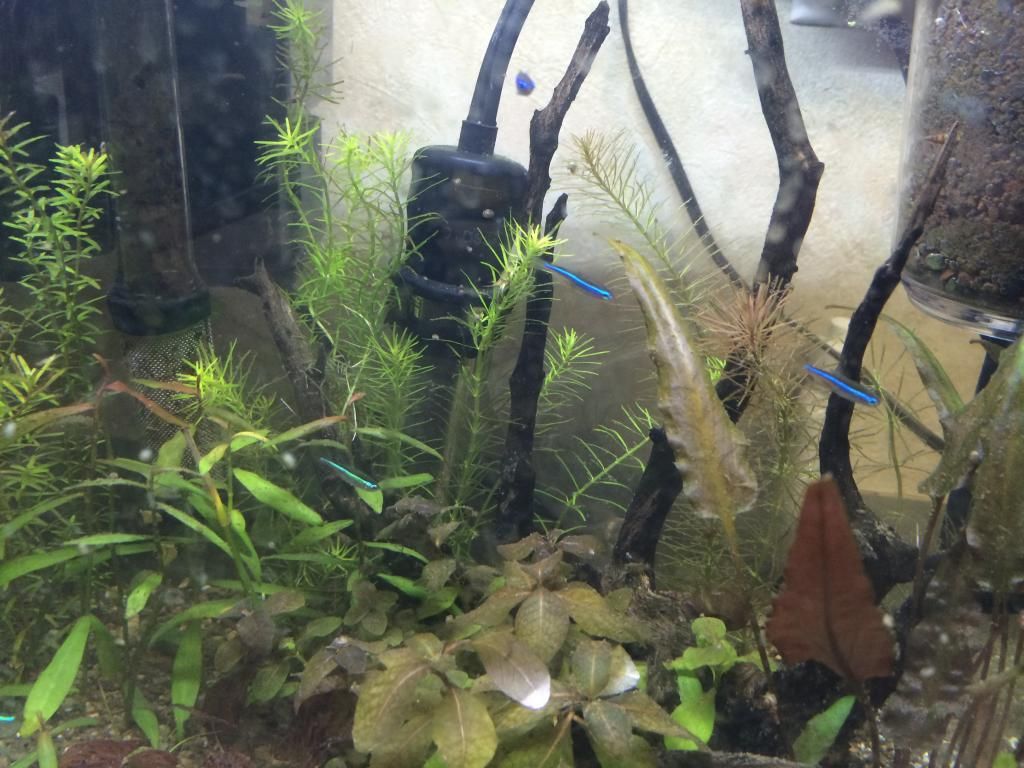 Green neons are one of my favorite nano fish. If I upgrade my high tech 10 ever and make it into like a 20 or a 30 I'd want to put these guys with my embers because I think that would be one SICK looking fish combination. Both school great and are vibrant and hardy.
Ugh, these guys are quickly stealing my heart though. I've done my research and am experimenting with these a little but I'm very confident that this will work. I feed the tank and saw them eat their fill so I'm not concerned about food. Monster Aquarium in Flushing has had these guys for some time now so these guys are sturdy for sure. The green neons also came from that store as well.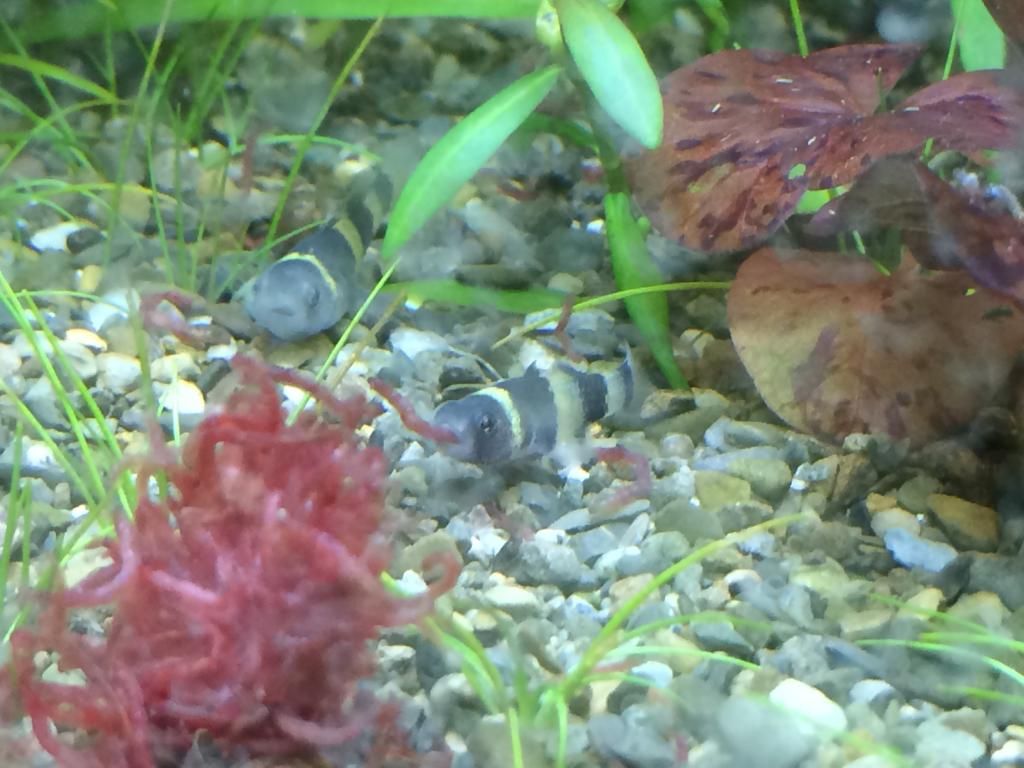 Ugh, stop, fish, you cute. I might one day have to do a species only on these guys and breed them since it doesn't seem too hard with a large enough group. I am considering getting 3 more though since they are so small and they provide a bit of extra movement but not quite as much as I was hoping for on their own.