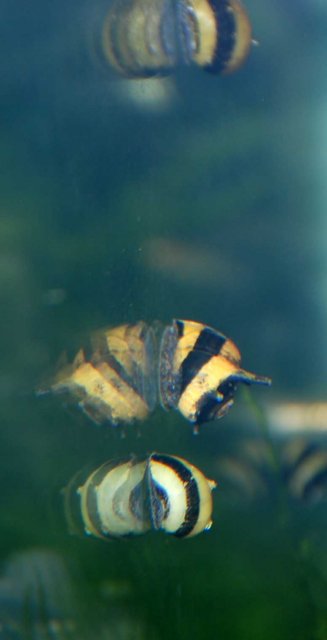 Clithon diadema
Common names: Spiky nerite, bumble bee nerite
Distribution: Indonesia, Philipines
Size: to ~1" diameter
pH/hardness- Harder water is ideal to preserve shell integrity
Suitable tankmates- any non-snail eating species; peaceful fish/invertebrates
Tank setup/stocking density- 1 per 5-10 gallons of tank space. Great in planted tanks. Mature tank is a necessity so they don't starve.
Breeding: Lays sesame seed shaped eggs which do NOT develop into snails.
Diet: Algae (sheet, spot types); can occasionally be supplemented with blanched vegetables or vegetable pellets
Behavior: Totally peaceful staying on glass or hardscape, grazing on algae and biofilm
Anecdotal: These are often called clithon corona as well, classification has been confusing.
Further links:
http://neritopsine.lifedesks.org/pages/524