Some people have asked over the past few years how I came up with this type of tank...."why a square system? Where'd you get the idea?," and so on. The truth is that there really is no direct answer. I started this hobby right out of college...some time ago.....when the only cell phone available were the "flip" kind, or the "heavy" kind, it cost $1 for a text message. Some of you "youngin's" out there in this hobby now probably don't even remember such a time. "Your cell phone weighed HOW MUCH?!?!?" they would exclaim. Ugh. I did this to simply spite my folks who never would let me have one growing up. "It'll be too messy!" Yeah, right, Ma....and the cat hairballs from Mittens weren't?
Anyhow, yes, out of college, I bought myself a nice 55 gallon tank with one of those thick wrought iron stands that are open on the bottom. A couple of nice Whisper HOB's, black and white gravel, and BLAMMO, I owned a nifty cichlid set up that did surprising well. I lost a Venustus. I probably had 25 fish in that thing, too. ENORMOUS Tin Foil Barbs too! Had a Gold Severum that would eat out of my hand, which was neat. Eventually, I had to dismantle it because I lost my job, and no longer had the money to spend on it. I was out of the hobby for about a year. I call this my "Fish Phase"; the phase where I bought and kept fish, learned whatever I could about the species I had in the tank, and success was simply measured by what stayed alive and what did not. It was a horrid mish-mash of whatever looked neat at the shop found it's way into my tank. A mix of SA and African cichlids with Giant Danio as dither fish.
Finally, I was hired on at a automotive supplier near Detroit, north of town, so after I moved up to be closer to work and had the funds, I re-started the system. However, I had become interested in planted tanks, so I settled with species I knew weren't going to eat the crap out of my plants. (My first foray into the planted realm ended when I cautiously planted some Anachris and some ludwigia into my aforementioned cichlid tank, and kept wondering why they always ended up floating at the top every morning. Until I watch the Tin Foil barbs munching them down and the ciclids digging them up.) I think that I settled on a nice shoal of tiger barbs and a few Kribs. I also bought another strip light and was amazed when I was able to grow Anachris, Swords, and Hornwort. I also remember using Root Tabs for the first time for a source of nutrients. This is significant because it symbolized the fact that I could "care" about the well-being of a plant. And the fish, if anything, just picked at the leaves instead of eating them. Success! The first step in Planted Tankery was taken....but, you need to start somewhere, yes?
A WHOLE YEAR later, I moved again into a bit of a nicer place, even closer to work....by about a few blocks. But, I had grown tired of the Burger King-related riff-raff a block away from my house, and how I could hear the drive thru speaker late at night and early in the morning. A person needs his beauty sleep. So, a tear down and re-start later, I had really gotten into this "plant thing." I also started to work part-time at a LFS as well, which was the greatest-worst thing that could have happened. I took the position to make extra income to pay off my credit cards. However, as I got 50% off all livestock and plants, I simply couldn't let those good deals go to waste! Most shifts, I left with a new plant, new food to try, or new fish. They got half of their pay to me right back.
So, those credit cards MAY not have gotten paid as quickly as I had wanted them to be. But, I sure learned plenty! I started buying my aquatic plant books....probably a new one every week and just read and studied. I tried the bulk of what is considered to be "common" species nowadays: anubia, java fern, a few Ludwigia, vals, sags, crypts, different swords, some Hygros, and so on. As well as the "Purple Krinkle Leaf" that, as I found out and scolded my boss, isn't a true aquatic plant. Neither is "Pineapple Plant." Good grief. I call this my "Basics Phase." I really leaned and gained my foundation during these few years. I was also able to try out additional lighting, different types of lighting, generic CO2 fluids (a poor man's Excel) and ferts, different root tabs, different substrates, and so on. The 55 gallon would actually look marginally decent during this "era."
Sadly, I got engaged (haha!) and I gave my 55 gallon tank to my buddy, and moved into an apartment. However, my fiance was down with me getting a few tanks....upgrades, even! I wisely figured out that I should start taking pictures sometimes. This is where it really starts becoming clear why I started angling towards the 200G tank, from what I can tell.
100G tank: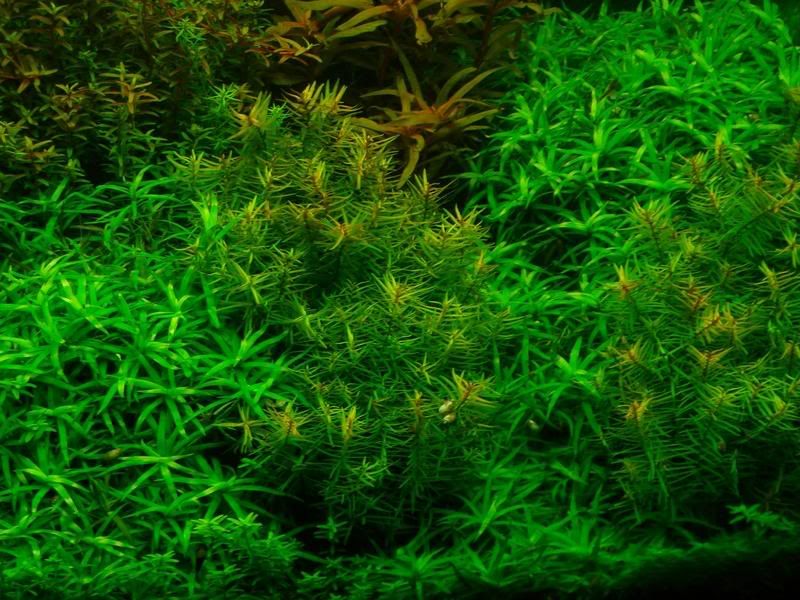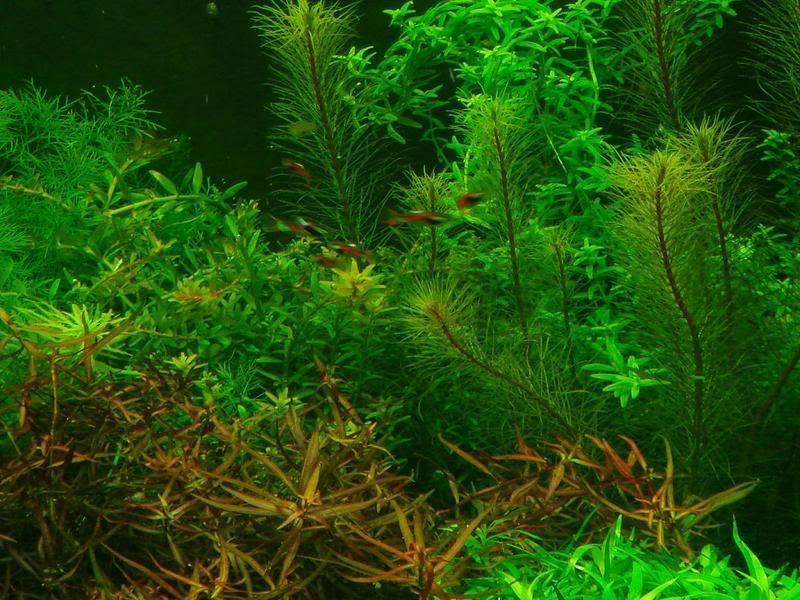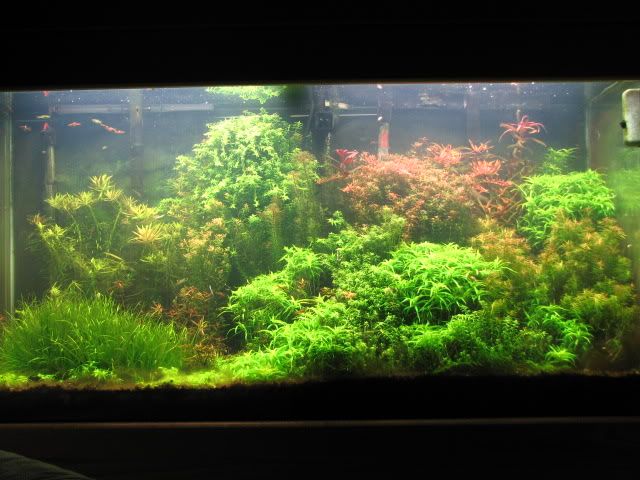 Later pics, I think: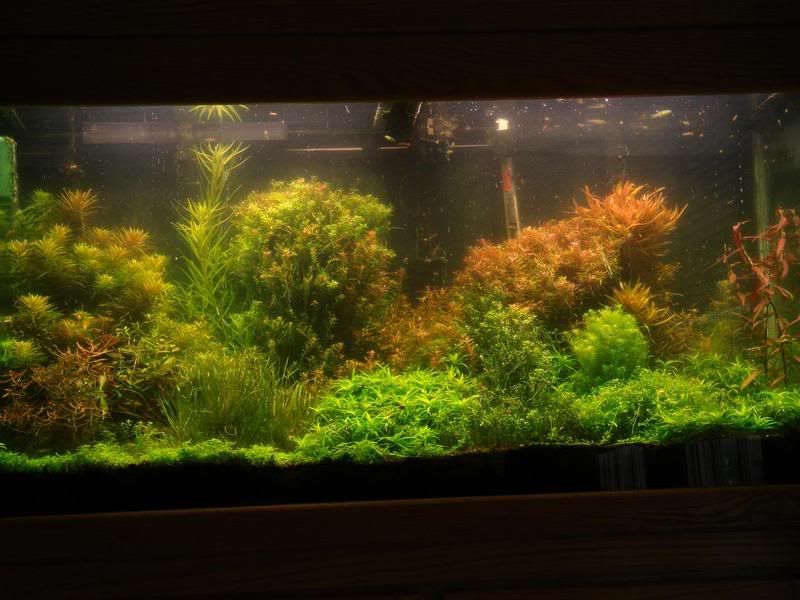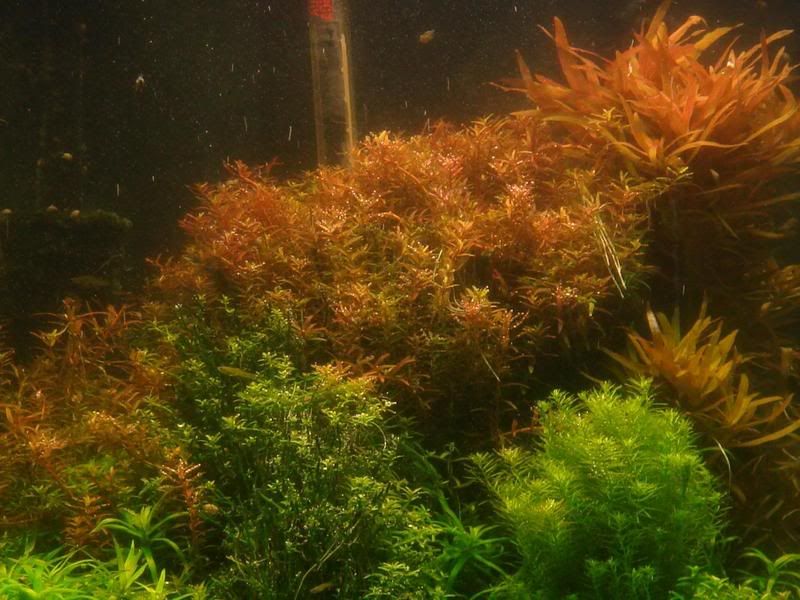 Yup. Nothing impressive here. You can see the two HOB Whispers, and how I decided that it was a WONDERFUL idea to run my pressurized CO2 into my canister filter, which was a Magnum. But, hey, it worked! I can tell that this system really helped give me practice to properly plant and trim different groups, how to grow a nice foreground, how to use CO2, how to fertilize, etc. under HIGH LIGHTING!! This had four HO T5's and one MH as well. I also learned how to get the best colors out of the plants with this system. Perhaps, this was the introductory tank to high light/high tech systems, and learning all about the pro's and con's that accompany such a system. I also learned that high light makes some rotalas creep, which was essential for my last set up where I made Rotala colorata creep for part of my foreground/midground. I decided then that I hated the black bracing around the top of an aquarium as well; too distracting! But, I could see aspects of my tank in some of the other ones that I had admired on "other" websites, so I knew I was able to create "Depth" in something that was only viewable on one side. It was a CONFIDENCE BUILDER: where risk-taking, hard work, determination, research, common sense all come together to result in something unexpectedly positive.
The 40G Cube:
Quite possibly my favorite tank of all time. It was taking what I had learned from the large 100G system, and applying it on a smaller scale, but with comparatively more physical depth to work with. This was the tank where I could "fine tune" some of my skills, and was able to work with Manzy branches and such for hardscape.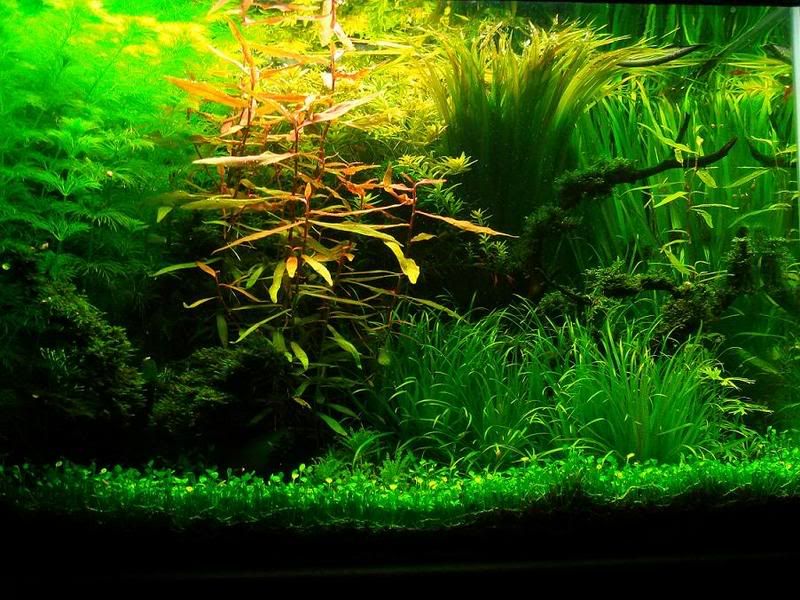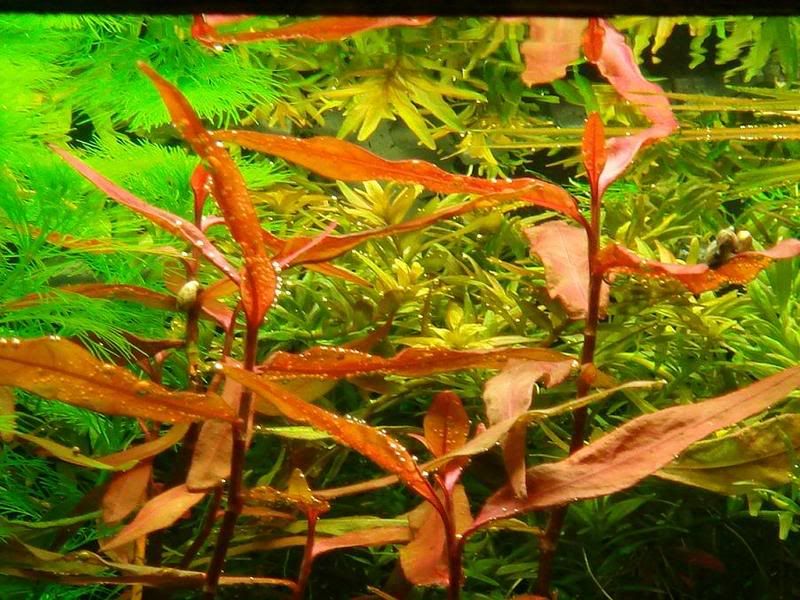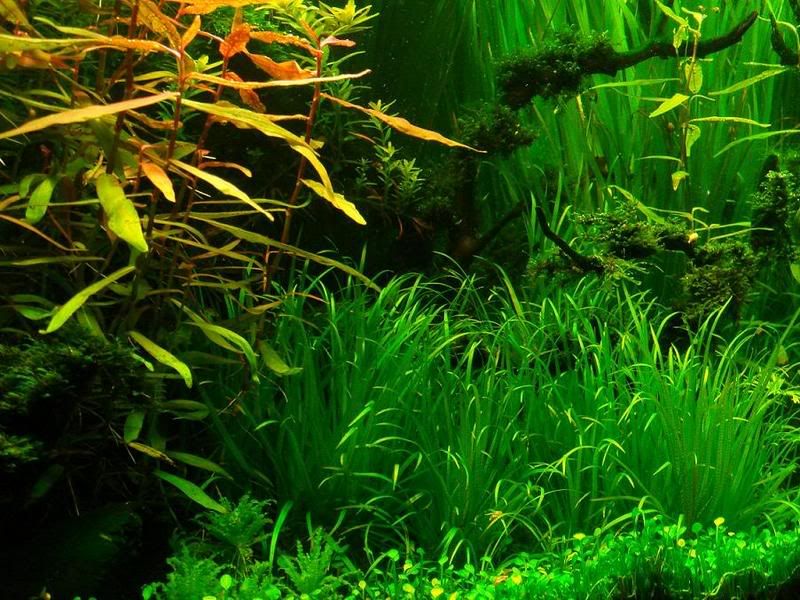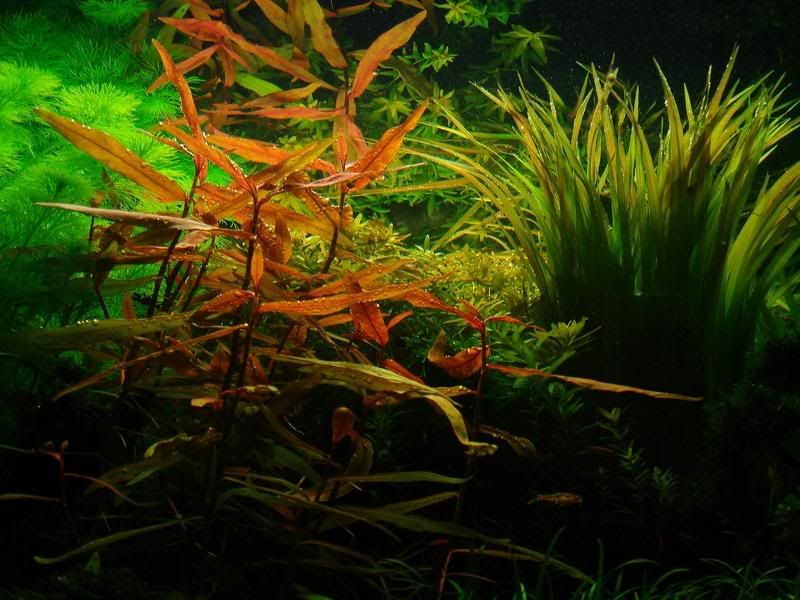 This tank had six T5 bulbs (3 dual Coralife fixtures); the light wasn't terrific, and they weren't High Output bulbs. But, it was really nice to have the extra depth in that tank. Had a great Marselia minuta mat from Ghanzafar Ghori in there, and the Blyxa aubertii constantly flowered. IT wasn't as deep as it may have appeared; there was a built in sump which ate up a lot of space in the back. The cool thing was that the Persicarias (then called Polygonum!) would grow out of the water and flower! I thought that was the neatest thing! But, with the top lid on, you never could see that unless you were doing maintenance. What a waste of a neat aspect of a planted tank!!
So, alas, my wife finished Grad School, and we decided to go to St. Louis from the Detroit suburbs so she could attend Washington University Med School for her post-doctoral studies. But, before we left, I had my square 200G tank built, along with a customize pedestal and pendant lighting from a buddy of mine (I don't know if you are still on here or not, Riley!
) I wanted the size of a 100G tank but with the dimensions of a cube. I wanted to be able to view a large tank from multiple sides, essentially giving me three views of the 100G tank that I had come to enjoy, one from each side, with the back of the tank against the wall. I thought of the square shape from that. I loved that 40G cube, but wanted something more unique than a cube. The added advantage of a square is that I didn't have to worry nearly as much about physical depth for light penetration. And, with my aversion to the black top bracing running around the top of a traditional tank, I specified corner bracing instead for less of an eyesore, and a more seamless transition between "above" and "below" the water line.
YES! Part of this tank was based on laziness and practicality. It IS DIFFICULT to scape three sides of a tank. HOWEVER, post-substrate addition, there are about 17" of water for light to penetrate. The pendent light was designed to hold 12 HO T5 bulbs. Ergo, I would NEVER again have to worry about adding light in order to "get enough light" to grow a plant specie. They would all grow now. It negated that problem. Having three sides to work from allowed me to reach just about anywhere I needed to in the tank as well; no more rolling up my sleeve to stretching my arms in impossible angles and directions to do maintenance either. Just tip the light UP a bit, and presto! Instant access to just about anywhere in the tank I wanted to go. And with a pendent light, I could have that open top and have things sticking out of the water or have plants grow out of the water if I wanted to.
Here is the tank after about three months of being set up in St. Louis: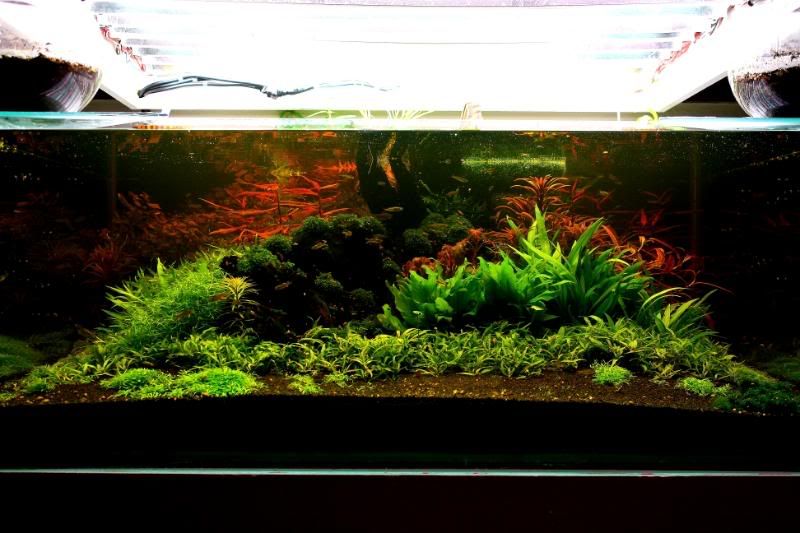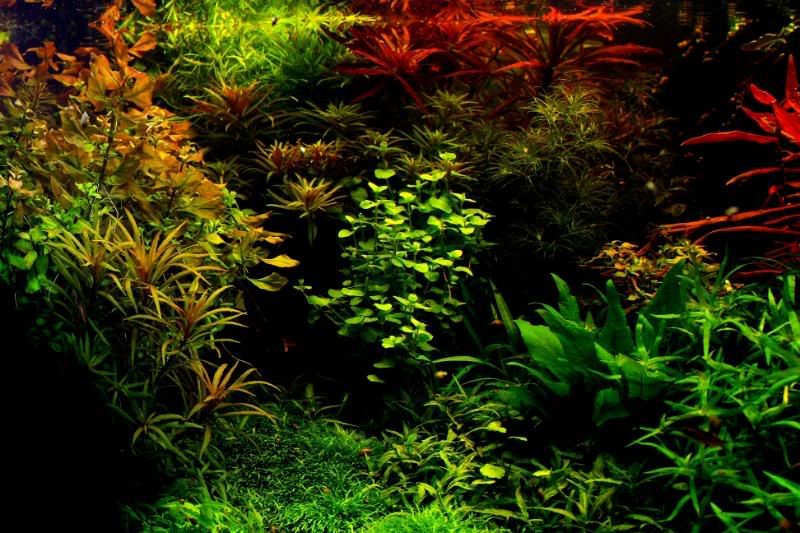 Check out this color of red: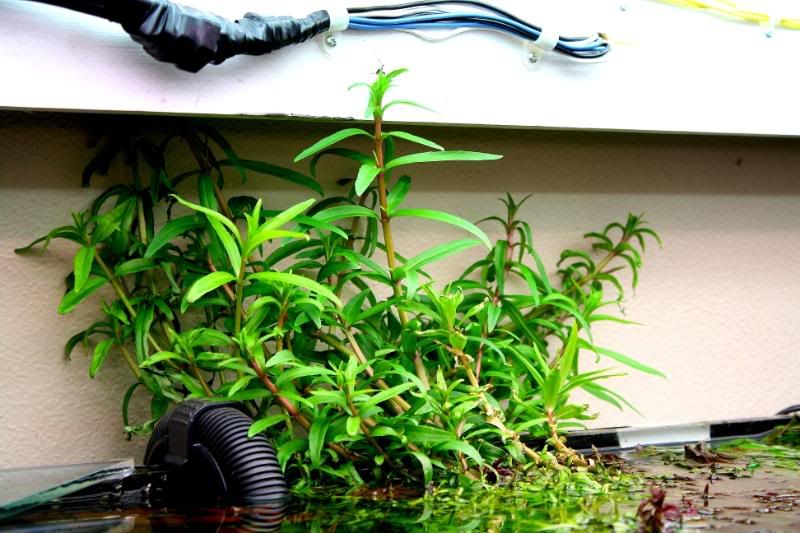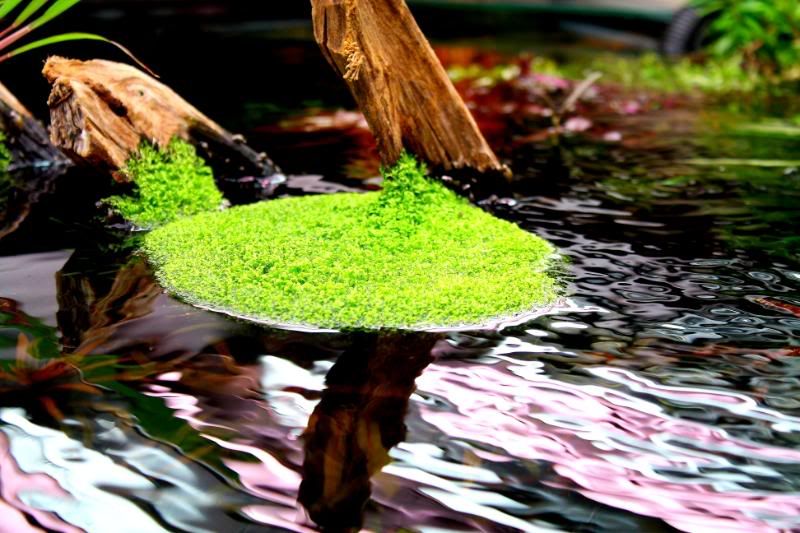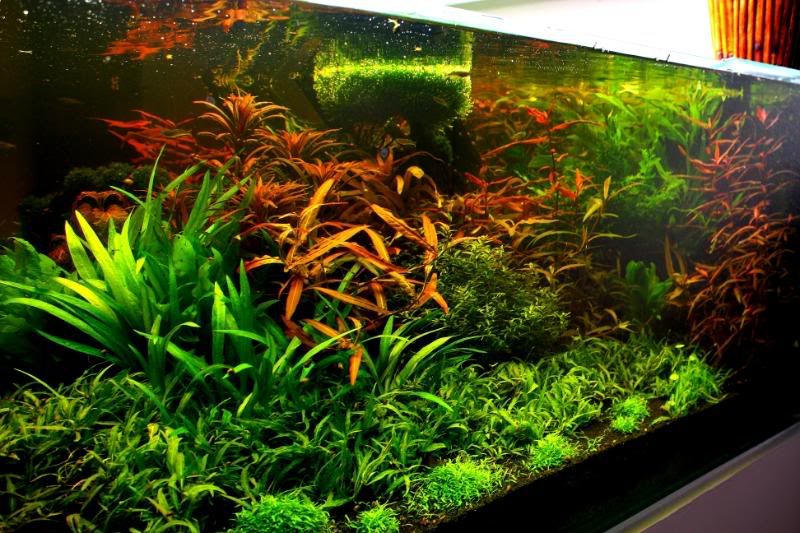 This was some sort of grass that had grown into my driftwood: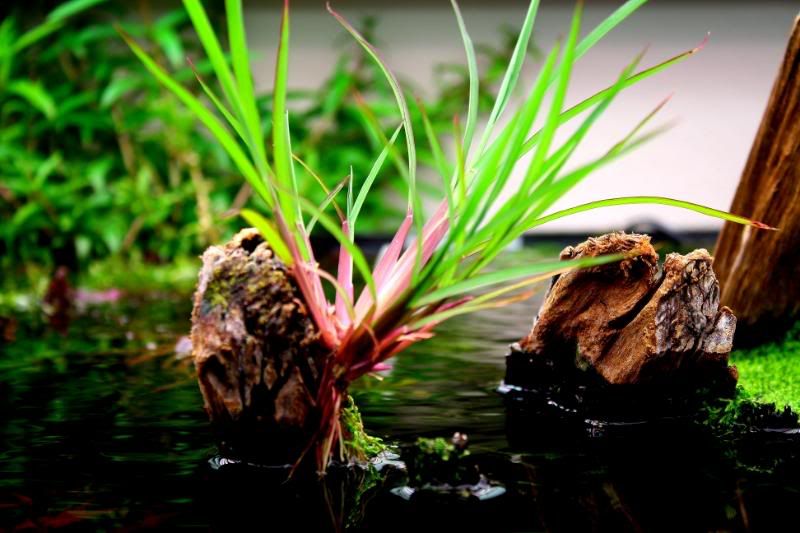 This tank was on it's way to be something really cool. Then, I dosed too much nitrogen and killed my Utricularia lawn. Then my back went out on me a few months after that; it was physically impossible to do any maintenance on the tank for about two months. During which time, everything died. It was incredibly depressing, and I quit the hobby for two years. I didn't even go onto the sites anymore. Blah, blah, and etc. AGAIN, what I proved to myself, though, was that the tank, while it was up and running, had the potential to look unique and spectacular, and that it could be done well. It is also VERY VERY time consuming, as I quickly learned, to keep a tank like this looking nice; maintenance had to be done religiously twice per week and could take a few hours each time--not always, but it could.
Anyhow, the tank sat there for two years until my back recovered, and we learned that I was to be transferred from St. Louis to Nashville for my job. Which brings us to the first two pics in this journal, taken about a 4-6 weeks before it's last tear down and final move to our new home: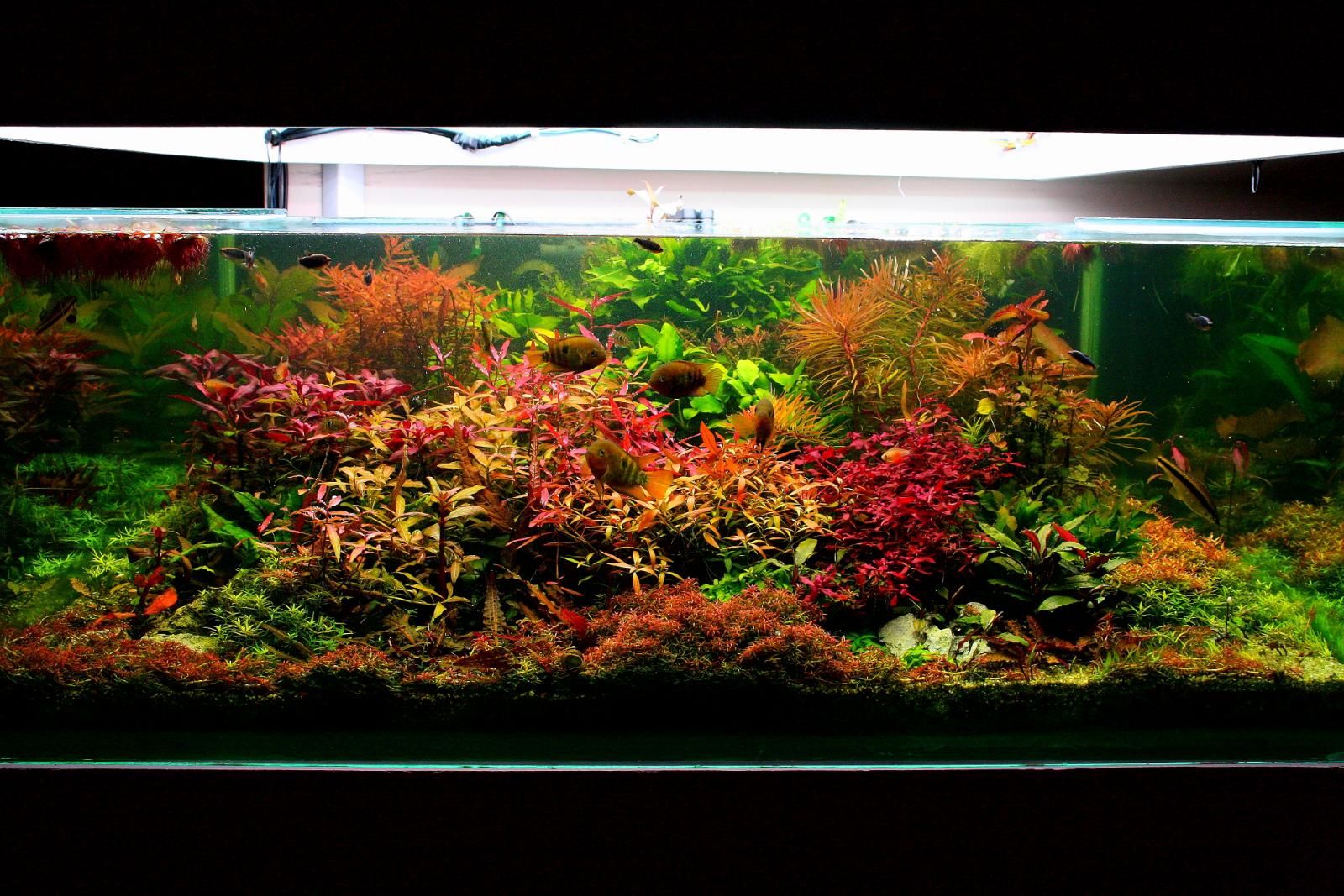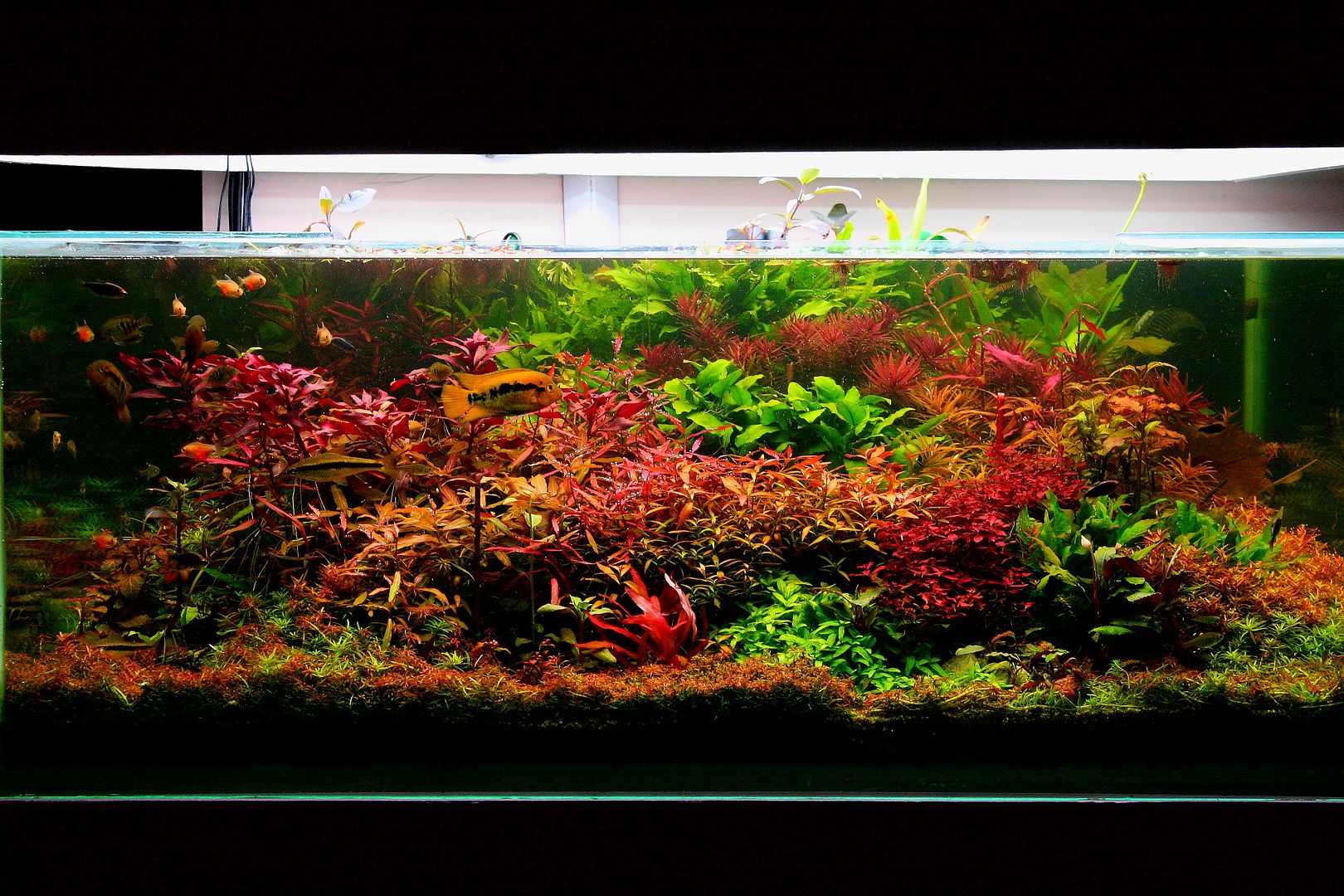 ....to where we are now, which focuses more on the hardscape and draws more attention to one of the strengths of the system (open top) than I have before; the bottom is filled with slow growing plants, mostly, because I am tired of doing so darned much pruning.
Well, thanks for reading, if you bothered to. LOL!!! I had fun going back and comparing how some of my older set ups have caused me to evolve to my current system. Feel free to comment or ask questions!