Algae Grower
Join Date: Jan 2012
Location: Billings, MT
Posts: 48
will this stand work for a rimless tank?
---
Hello everyone. I figured this sit has the most rimless "ADA" style tanks so you might be able to help me out. I am trying to set up a very minimalist ranchu goldfish setup. I am going with a Mr. Aqua 48 gallon (90 P) tank and I do not really want to spend $500+ for an ada garden stand. What do you guys think of this $75 one from drsfosterandsmith? I am still planning on using the garden mat (or is there a cheaper substitute). I show the ada stand (silver one) too to show the difference in the bracing at the top, it goes lengthwise vs the front to back mid span on the black stand.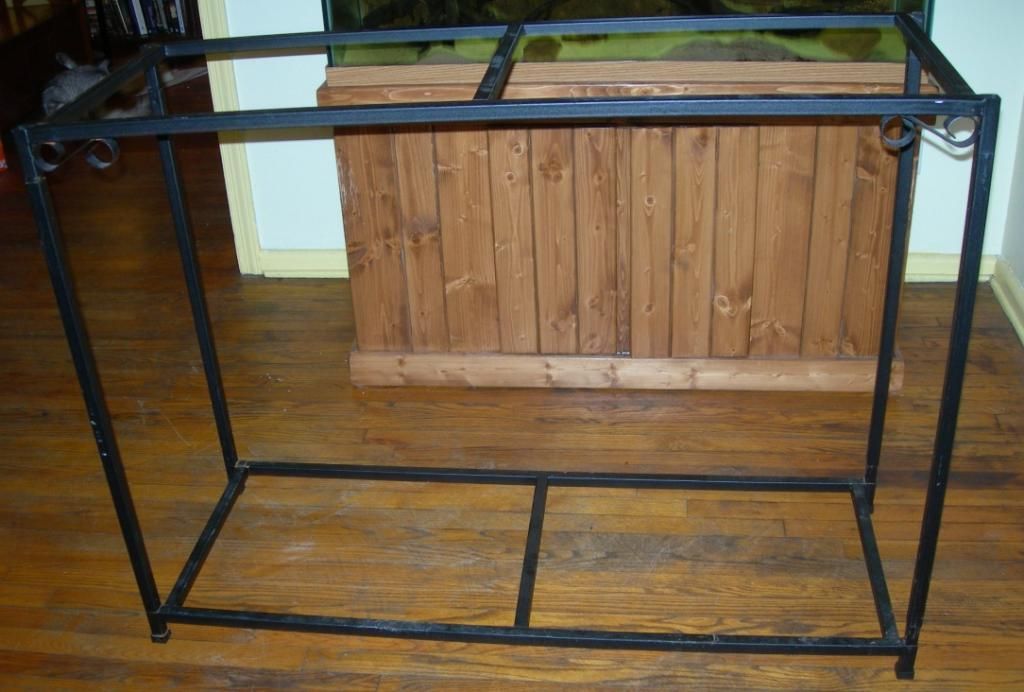 oh and the picture of the black stand is the 48" version, so mine would be a foot shorter in length...
Wannabe Guru
Join Date: Apr 2012
Location: United States
Posts: 1,748
That one in the pic is actually the 60p version. The 90p version has four braces I believe in addition to the cross braces. I am not really sure about the pressure since it is rimless, I always thought the entire bottom needed to be supported like an acrylic tank.
I would be hesitant to use the top one, not saying it can't be done, I just wouldn't want to test it and see if 48 gallons end up on my floor. You could always put a sheet of furniture grade plywood on top and paint it to match.

I can't find the brand of my steal stand and can't find it online. It's not as sturdy looking as the ADA but looks way more sturdy than the top one. I paid either $25 or $50 for it. It has much more surface area on top but similar bracing. I would still use a thin sheet of plywood on the one I have, but it has almost an inch of support all the way around and another inch in the middle. If I can find it, I will post a picture, or can post a picture of it if you want to try to find it.
Algae Grower
Join Date: Jan 2012
Location: Billings, MT
Posts: 48
please do, I would love to see it.
I was already thinking about a 3/4" mdf topper painted black. if you have other suggestions I am all ears
Wannabe Guru
Join Date: Jan 2013
Location: Humarock - Boston MA
Posts: 1,426
A tank that size you'll be fine as long as the 4 corners are supported and the tank is level.
---
I'm not into the image, but into the hobby...