to use a 90* elbow or not?
---
Hey TPT,
I will be replumbing my 55g on Monday, and I will be switching from a cerges style reactor to a Rexx Grigg style. When I come out of the top of my Fluval 205 I can either use the 5/8ID x 7/8OD vinyl tube and "bend" a 90* turn with it, or I have some 3/4" barbed 90* elbows that I can make the turn with.
I know the 90* elbows will put a bit of resistance against the water flow, BUT the vinyl tubing will also collapse down a tiny bit when it makes the turn too! So which one will be the lesser of the 2 evils?
The 3/4" 90* elbow has a ID of .590", where the 5/8" tube is .625".
But even though the 5/8" tubing will be not perfectly round in the turn/bend, shouldn't the ID still be 5/8", so would be less of a restriction???
The over length of the tube coming from the output of the 205 to the reactor is 11". The hight of the 205's output is 15.5" and the input hight of the reactor is 21". So there is a 5.5" difference in hight to make the 90* turn in 11" of length.
So can any of you Plumbing Guru's help me out here???
One other thing I was worried about is the pressure the turn in the vinyl will put on the quick disconnect in the top of the 205. There will be some side pressure exerted by the bend, and that could cause a leak in the o-rings that seal the quick disconnect over time, correct????
I would greatly appreciate any help yall can provide!
Drew
Here's an old pic of the reactor I'm still using. It's probably v3.0 or so of my Grigg reactors, and I built it with the elbows specifically due to fears of flow restrictions. It definitely works as a reactor. I assume it works better than smaller bends, but never did any testing to confirm this. At the very least, it doesn't hurt.
Those are 5/8" barbs, and that's a HW-302 SunSun/Grech/Aquatop/Outside Filter.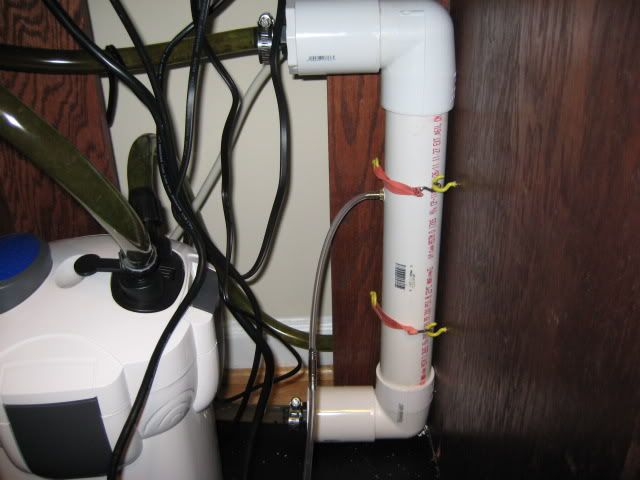 Planted Member
Join Date: Feb 2013
Location: santa paula, ca, United States
Posts: 157
Consider a sweep made for electrical conduit, Still PVC, but gray. Or if you use the flex tube run it through a sweep so the bend is made over some length, not all at one point.
I use 3/4" barbs on everything to lessen the amount of flow restriction. I then use a cup of water boiled in the microwave to heat the 5/8id vinyl tubing so it will stretch over the 3/4" barbs! The ID of 5/8" barbs is .478".

The 90* elbows are a very good idea, but I bought the reactor in the Swap N Shop already built. So I have to work with what I have!

How do you like your SunSun filter? Looks pretty well built! I have had Fluval canisters mainly when I have been doing planted tanks! I got a Odysee (I think that is how they spell it) in trade for doing some work at a friends local fish shop (now closed) and it only lasted about 6 months till the O-rings in the cheaply made cutoff/quick disconnects failed and RUINED about 10squarefeet of Parkay flooring in our new to us home!!! The Wife as PISSED BIG TIME!!! So now I try to stick with what I know is quality stuff! An extra $50-$100 is CHEAP compared to the flooring I had to replace and crap I took from the Wife!!!

Anyway Thanks for the help!
Drew