Algae Grower
Join Date: Jan 2013
Location: London
Posts: 57
Need help!!! So confused please help!!!
---
Hi all
Im struggling big time trying to figure out how to set up my RO unit from ro-man.com
I have been supplied 3 colour pipes, blue, red and green but their instructions dont make anything clear and im needing so major help sorting what goes where???
If you can help at all please post!!
Thanks
*blink*
What are your filters? Do you have DI?
You certainly have a sediment filter, and a carbon filter. The 3rd is either another carbon, or DI.

If you don't have DI, the water must go through the filters in this order :
Sediment, carbon, carbon, RO membrane

If you have DI :
Sediment, carbon, RO membrane, DI

On one side of the membrane plastic box (for lack of a better term), there is only 1 hose connector. Water enters there.
On the other side there are 2 connectors. The one in the center is where the good water exits. The one which is more on the side is reject water.

For the filter cartridges, if you look at the lid, you'll see that one connector goes to the side, and the other goes right in the middle of the lid. Water comes in on the side, and out in the middle.

Now all you have to do is connect the dots!

BTW, if you have DI, it's mostly useless for freshwater, but necessary for reefs.
I know I have an extra housing so don't follow my tubing setup, all you have to do orient your filters like how I have it shown in the picture below and follow the numbers. So the 2 joined filters are on the left side and RO Membrane housing input is on the left.
You can cut you tubing as long or short as you're comfortable with and twist it however you like so long as you get the ports correct.
If you are using the 3rd housing as an extra Carbon housing then connections are different (I suggest DI, but your choice) so let us know and we can explain the minor changes.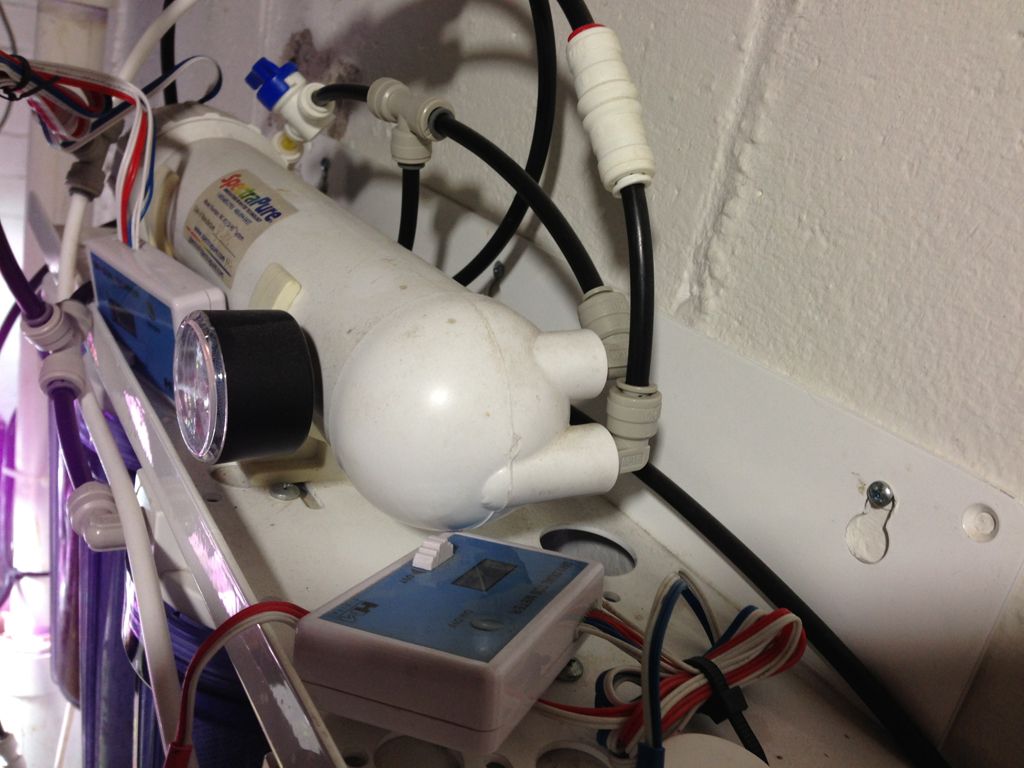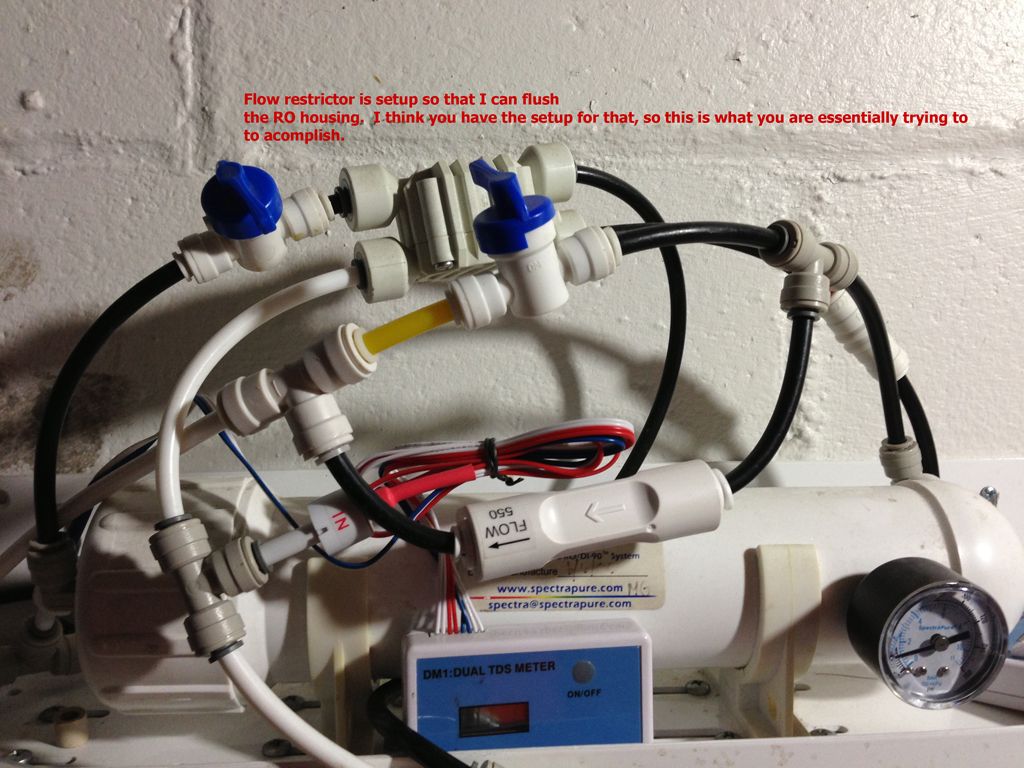 ---
The
穀精 Junkie
---
Last edited by mrkookm; 02-21-2013 at

11:11 PM

. Reason: add pic
Planted Tank Obsessed
Join Date: Apr 2012
Location: Los Angeles, CA
Posts: 403
Green appears to be your waste water output, as it has a flush bypass valve on it. Where you have "Mains water input" would be my best guess too. Now you need to plumb the output of the carbon filter (middle one) into the RO membrane (the round guy on top), then the output of that into the third filter, probably where you have "Output 2" labelled. Why not give the seller a call and see what they recommend? I'm surprised it didn't come assembled, or at least with instructions...