Algae Grower
Join Date: Jan 2013
Location: USA
Posts: 10
Desk Safe to Use For Riparium?
---
Hey everyone,
I have a question about whether my desk will provide enough support for a 20 gallon riparium I have in the works. The desk is made of 1" thick varnished cherry wood, and has 2" square metal legs. What do you guys think? If it makes a difference, I will most likely run the tank with a shallow water level (~4 gallons, ~35 lbs.), to help ease the load a bit on the desk.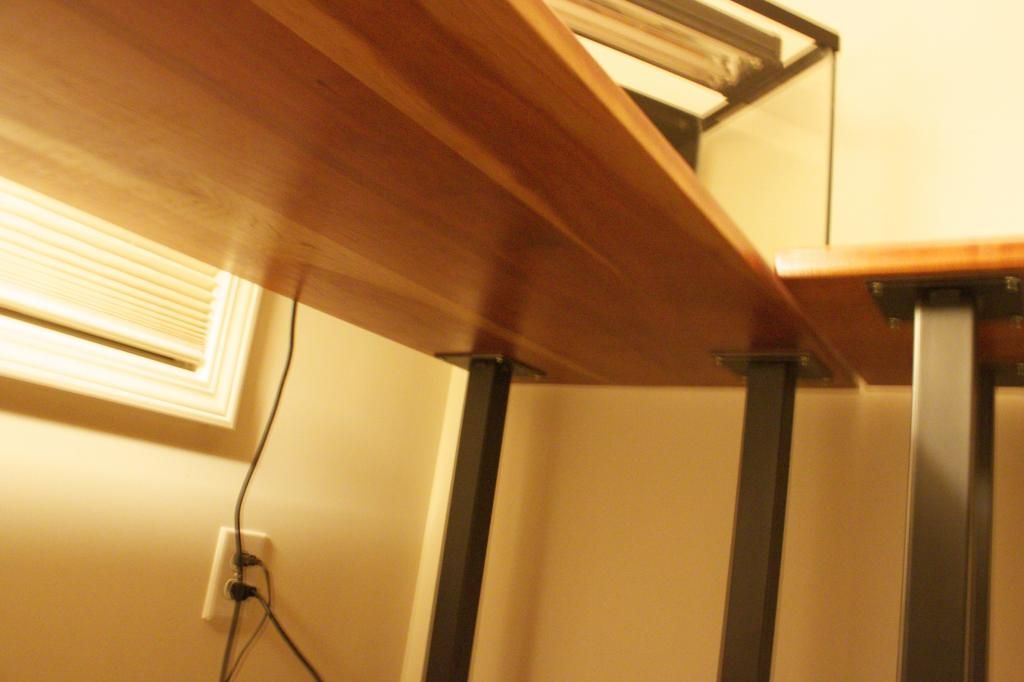 Thank you for your help
20 gallons of water only weighs 160 pounds. Would you trust it to hold a 250 pound adult?
Algae Grower
Join Date: Jan 2013
Location: USA
Posts: 10
the desk feels pretty solid with the empty tank + 140 lbs on it. What I worry about is a) if the desk will sag over time and then snap, and b) the stand is somewhat wobbly front-to-back now sitting on carpet. The tank will not be completely full, at most it will have in it is ~6.5 gallons.
I do a little woodworking and, if it were me, I wouldn't worry a bit about putting that tank with that load on that corner. This assumes the legs are properly secured to the cherry board with screws. The wood will not snap or warp since the load is in the corner over the legs and, anyway, it will only be 50 - 60 Lbs.
Algae Grower
Join Date: Jan 2013
Location: USA
Posts: 10
That is what I wanted to hear. It was either the 20 or a 3 gallon nano I have in storage, and that little pint-sized tank just doesn't have the same amount of impact.

In your opinion, do you think 60 lbs. is the max? Just wondering, for if I were to fill the tank with 6.5 gallons of water (to create a golden ratio of height between water portion and air portion), it would come out to around 80-90 lbs.

Thanks again for your help
That's less than a person. Like the other person said, do you feel a person could sit on the table safely? It certainly seems safe to me (unless the legs are attached with really rinky dink little screws).
Algae Grower
Join Date: Jan 2013
Location: USA
Posts: 10
haha your right. yep, the legs are screwed on very securely. I guess it is a habit from when I had a reef tank- double check everything. You never want to be the guy who has to explain why gallons of saltwater are soaking into the carpet. Thank you for your help.

Alright, on to the next step in the assembly of the 20 gallon riparium.