Algae Grower
Join Date: Nov 2012
Location: Green bay wi
Posts: 54
Is my regulator broken?
---
I have the milwaukee ma957 regulator and on the instructions to set up it tells to turn the adjustment knob counter clockwise till loose and have the needle valve closed and then open the cylinder knob slowly. When I do, this just leaks(blows) out all the co2 by the opening pictured below. Is this suppose to happen? it still does this even with the needle valve opened and the bubbles will just stream out. Am I doing something wrong or is this unit broken. Before when I tried to adjust the low pressure gauge psi to lower it as I turned the knob more to the clockwise the air would come out of the hole.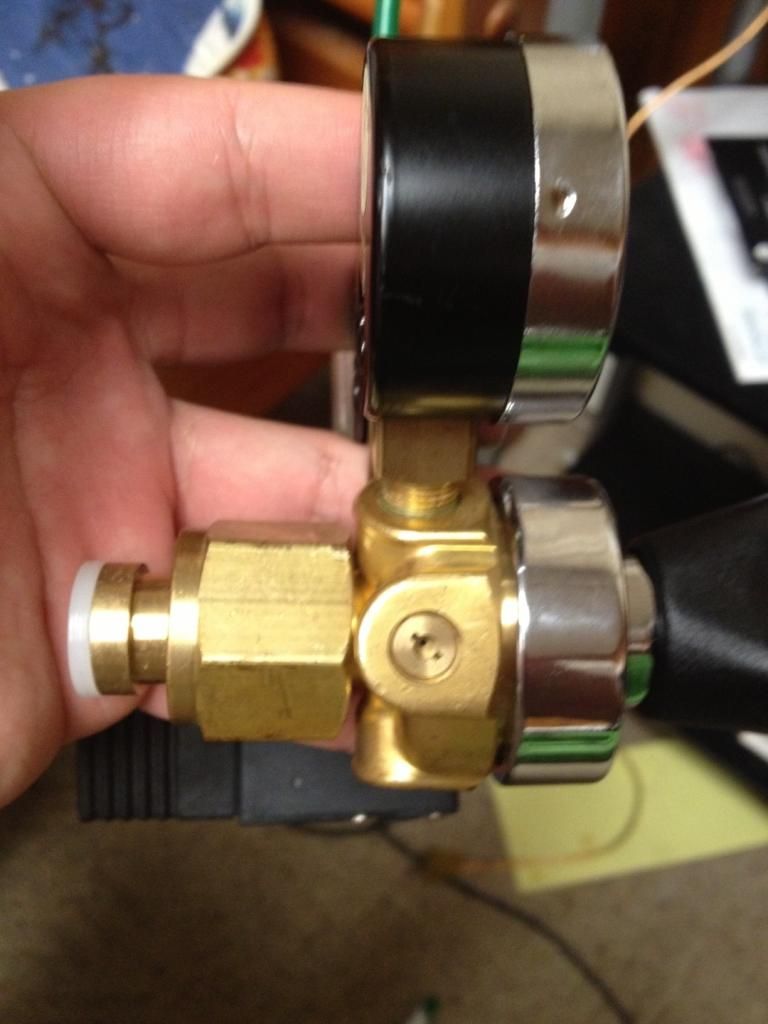 Can't see from the way it is pictured but looks like you are short a gauge in this hole??? Do a search for that type reg and see if it looks like what you have.
No, that's the safety release valve.

If you're sure you're turning it the correct way (to the left) all the way, and as soon as you open up the cylinder you get air coming out of that valve, then yes, your regulator is shot.

However, what you describe is exactly what happens when people confuse "clockwise" and "counter-clockwise" (it happens embarrassingly often), so make sure you're turning it the correct way. And then, if you are, contact Milwaukee for a replacement.

One last thing - in the picture you show, the knob is turned all the way clockwise, which will maximize the working pressure (which you never want). To get minimal pressure, the knob will come outward, and then fall off when you go all the way out. I have a Milwaukee clone (a 3M) in front of me, and the position you have it in definitely causes max pressure.
Algae Grower
Join Date: Nov 2012
Location: Green bay wi
Posts: 54
ok thanks. After messing around with the knob it is now turned almost all the way counter clockwise and the pressure has dropped down to about 10-20psi. Ill see if the bubble count stays constant. I realized I probably wasn't turned counterclockwise enough.
Hopefully your problem is resolved; your low pressure gauge is fine as well, I presume?
Algae Grower
Join Date: Nov 2012
Location: Green bay wi
Posts: 54
yes it is fine. I removed the regulator and did it again now it seems to have stopped.