Planted Member
Join Date: Oct 2012
Location: Vancouver
Posts: 181
Thanks, that is what I thought but wasn't sure it was fully making sense to me!
I am going to start out with a low tech one and see how it goes for now.
Quote:
Is not optional with medium to high light
Certainly not optimal, but certainly possible; I ran 2 gal worth of DIY yeast and sugar for this tank for 4 years:
90 Gal with 350 Watts of MH's.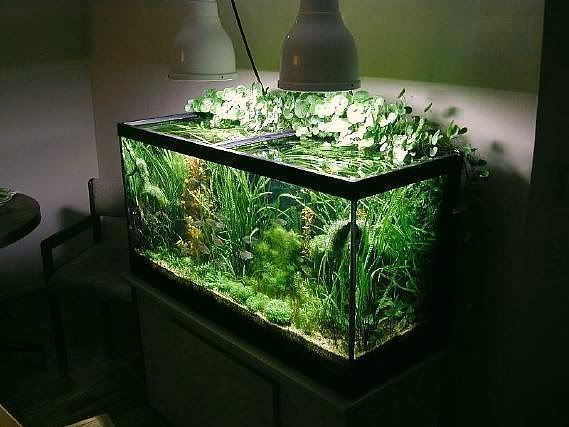 That said.....I would not recommend it to anyone.
Get a gas tank and reg, solenoid and a good needle valve
I've got high-light recommended stems happily growing in low/medium light, no c02. Do they show the full potential of their color? Nope. But they're still very nice plants and this way I'm able to keep some relatively hard to find plants on hand until I *am* ready to set up a high tech tank.

My hygro sunset under c02/high light/ferts would have a bushier growth pattern, larger leaves, and brilliant pinks. Under my med light/med ferts set up the leaves are a little smaller, the sections between nodes are longer and the pink is diminished to a light blush on the upper half of the plant. Still a good looking plant that I'm able to regularly harvest clippings from.

My baby tears carpet (nearing 75% coverage after 2+months) doesn't get as much horizontal growth as it would hi-tech, but I'm willing to wait it out. Hi-tech I'd be pruning and tossing the clippings. Low tech I'm pruning and re-planting the clippings.
I do have a drop checker and it is green
. i adjusted the amount of yeast to produce the right amount of CO2 for my tank. I run it at night so in the morning the thing is light green and then at the end of the day it turns turquoise.
And for the price, if we exclude the equipment, the sugar and yeast is like almost free since i use ~ 1/4 tsp yeast every 1.5 weeks, and 1 cup of sugar at that time. COSTCO sells a fukton of sugar for like $11. OBVIOUSLY, if your tank is larger, proper CO2 levels would be much harder to achieve than in my 10 gallon.
CO2 is not necessary unless you have a more particular plant. You can have a very nice tank especially small if you choose to not run CO2. I did that for a month but the picture of coming home to a tank that has air bubbles on every leaf is so cool. Also, tells me my plants aren't sleepin on the job.
Hey all,
It has been about 2 months since and with my DIY setup, i have been able to achieve decent CO2 levels but i have decided to move to pressurized CO2 for a few reasons. Recently i began EI, and the first thing i noticed was my CO2 indicator fluctuates from green in morning to blue green at the end of the day. From my experience, DIY output is not large enough at least with a plastic bottle. Second, There is no control i have over the amount of CO2 and consistent CO2 levels are key to preventing algae and promoting good growth. I have definitely been learning loads about plant health, the hobby, and where i want to go (aquascaping competitions) over the past 2 months. From common sense, i think my lights and ferts are good so the only thing that is stunting my growth from what i see is my CO2 and i will update how the pressurized system goes. Seems like its time to make a ton of desserts with all this sugar XD.
Quote:
Yes, some plants NEED the addition of Co2 to even live. These are usually carpet plants. Otherwise "low-light" plants just grow slower without additional co2.
I disagree. I don't love this scape but here is an old tank of mine. 10 gallon, seriously underfilter, no real ferts, no excel on a regular, no co2 at all.
This is where I started:
This is where I ended:
Quote from myself in my thread:
"This has been the easiest tank I have ever dealt with"
Planted Tank Obsessed
Join Date: Aug 2011
Location: Denver, CO
Posts: 408
Decide what you have to commit to the tank. If you have the time to commit to pruning and the money to commit to the initial cost of tank, regulator, and solenoid then go for it. You would also need to invest in ferts and set up a dosing schedule because the accelerated growth from the co2 injection would cause a higher demand for nutrients. There aren't many plants that actually require high light and co2 and if you wanted to try those plants it would be worth the investment, but if you're a casual hobbyist, low light/no co2 is a pretty safe bet. DiY co2 is a happy medium where ferts are beneficial, but not as strict. My issue with DiY is the possibility of fluxuations in co2 levels that will lead to algae. For me personally, i work about 60 hours a week plus i have a toddler so much of my time is already occupied. I stick with low light, weekly fert dosing, no co2 and bi-weekly water changes, if that. Keep it! adequately stocked and your fauna will provide your flora with everything they need.