Is this a tiger shrimp?
---
I bought three of these today at a local store and was told they were "most likely tiger shrimp". They have a slight bluish hue to them. I apologize for the poor pictures. They weren't cooperating. I plan on putting them in with my orange neos, but want to be sure of their identity and compatibility before doing so.
Super hard to tell anything from those pics but they look like wild neos. A lot of mine have tiger looking stripes like that.
Algae Grower
Join Date: Sep 2013
Location: California
Posts: 25
Look more like wild neocaridinas (ancestors of cherry, fire red, pumpkin and all the neo shrimps) than tigers.
Here are a couple of clearer pictures. Thanks for the help with the ID. I appreciate it.
They look like what was once sold to me as OEBT blondes (were not tigers at all, they were either neos or rarer neo x tiger crosses). I deleted the pics off my pc last week but let me see if I can find the thread when I posted it.
Here's my old thread, look at post 6 and 7 for clear pics. This is what mine looked like in the container. Once added to the actual tank though, their looks changed considerably and they were brownish and green, I mean pretty instantly once added. Strange, ugly things. Mine all eventually disappeared/died (only had 6 of them)
Do OEBTs ALWAYS have orange eyed offspring? new photos 3/11, need ID
Hmmmm...so should I keep them separate until I get a better idea of what they are?
wild neo once they are on a colored substrate they will change how they look. mine stayed clear like that when in a breeder box, once in the tank they went brown and marbled looking
You can if you want. Mine never bred (if they are neo x tiger, reports have been though its possible for the cross to occur, the offspring were sterile).

I have OEBT, Tangerine tiger hybrids and tibees and the shrimp you've shown doesn't look to have tiger characteristics...the shape looks more neo than anything but I could totally be wrong.
I have a large breeder box that hangs on the outside of a tank that connects to an air pump. I might put them in that for now on my orange neo shrimp tank so that they can have the same parameters without having to set up a spare tank. If they turn out to truly be wild neos, then I have a 20 gallon with some boraras I can put them into once they get a bit bigger.
Keep in mind it can also depend on what they were feeding them. Some foods will turn a shell bluish. It'll become natural again with the right foods.
---
RAOK Club
and BBRR Club! My thinking has been invert-ed!
here is what mine looked like in a breeder box
and once they were moved to sand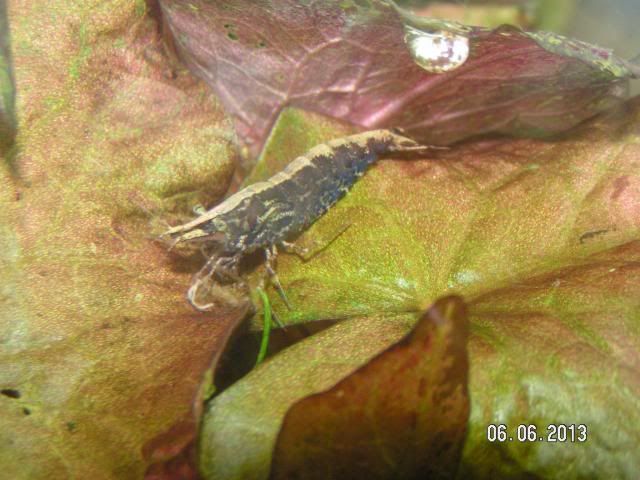 Wow. They definitely changed colors. This ought to be interesting.
One thing I noticed that's different about these shrimp compared to my others is that they won't let go of the plants if I lift them from the water. My orange neos and red rilis always promptly let go of any moss or plants if I'm trimming/moving it. These little shrimp wouldn't let go of the moss to save their lives. I picked up it expecting them to jump right off like all of mine typically do, and they would NOT let go.
So, whatever these end up being, they are extremely stubborn shrimp.