Yea, i know they are rare. It took me a while to find this guy and so far he is the only person i have found that sells them =/.

I wonder what i have...
Wannabe Guru
Join Date: Feb 2012
Location: Ontario, Canada
Posts: 1,359
From the pic they look like marbled cray, aka self cloning crayfish. And they are all female and capable of self cloning. Not plat friendly. Mine eats moss I pit in the tank. And I had 9 endlers in the tank when I got her a month ago, now only 3 left. Mine now eats all my dead shrimps and got fat fast.
Planted Tank Enthusiast
Join Date: May 2006
Location: HI
Posts: 706
agree, almost definitely a marble cray. I have a tank full of them. and they eat plants like goats. the fat female is the one eating all your greenery. they are pretty docile otherwise and mine do just fine in a tank full of platy's. move her to another tank if you ever want to keep plants in that tank.
Hi! if everyone would be so kind and help me id these crayfish that i brought as cajun dwarf crayfish, so i can adopt them out locally!
thanks!
the "female" that everyone think is a marble crayfish, the seller said it might be orconextes palmeri creolanus? (i have never heard of this one)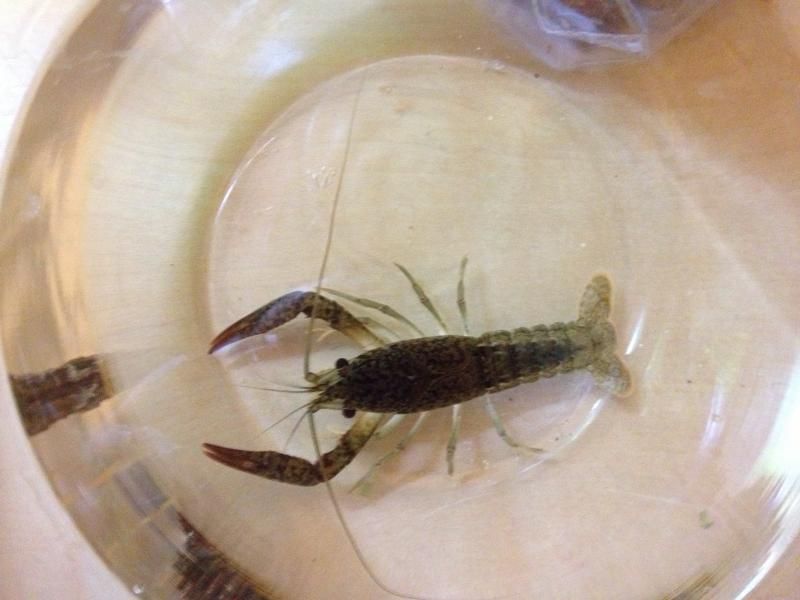 heres the two males, they dont seem to be too interested in plants, any hope they are cajuns?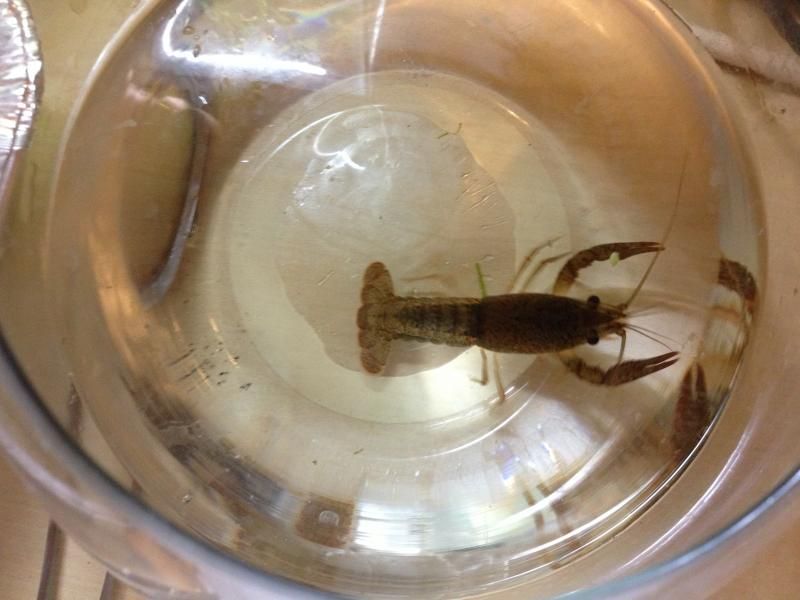 Planted Tank Enthusiast
Join Date: May 2006
Location: HI
Posts: 706
ooh, now that you posted a top clear pic, its NOT a marble body shape is different. don't know what that is either. second two males appear to be your standard Cajun.
How did you establish the sex of these?

From the pics you have they do all appear to be the same species, whatever that may be.
oh i actually have no clue if the gender i am labeling correct. They were labeled when sent to me, and i remember the slightly bigger and browner one was labeled as female.
The gender is only distinguishable from the underbelly.
The photo is of an adult CPO but the cajuns are sexually compatible... juvies or younger are nearly impossible as they arent developed in this regard.
---
"I am Groot", the faithful protector
Quote:
So, i'm starting so suspect that my crayfish are not cajun =/ i was told that they are plant friendly and that their claws stays pretty small so they can't catch shrimps O.o.

My female has molted a few times and she is HUGE, her claw is 1 inch now!O.o.

So i have up my feeding to twice a day and they are still eating all the food and all the plants =/ They ate all the tester plants in the picture from post 1, even the marimo moss ball!! They mowed down all the peacock moss and even ate the ones under the mesh!

lol i brought some new plants and replanted it, this time alot more plants. hopefully they will stay.

But i am really starting to think the males are cajun dwarf crayfish, but the female is not. Her colorings are different too. The males are a light brown with some blue hue. the female is redish/orange/brown with some brownish black spots =/

here is some pictures. Sorry if its a bit cloudy, i just replanted some plants

Picture 1: tester plants in
Picture 2: 4 days later, all plants eaten or half eaten and floating.
picture 3 : new plants in
picture 4: Male in the open, female in pot to the left, male in pot to the right.
picture 5+6: the female
they look HUGE!!!!
Reminds me of the giant crayfish I trap for eatings occasionally.
---
How I feel about non-planted aquariums.
Quote:
they look HUGE!!!!
do you want one of them! lol you can put them with your oebt zizi =D
Newbie
Join Date: Apr 2013
Location: Philadelphia
Posts: 3
does anyone have Mexican dwarf orange crayfish for sale? i live in Philly please let me know. my email address is
domscards1@gmail.com
thank you for to time.