Algae Grower
Join Date: Jan 2013
Location: Australia
Posts: 73
Feeding vegies dilemma
---
I've read all about, got my first shrimp and tried it out.
Boiled the kettle, chopped up a small piece of of zuchinni and three it in for 1 minute. I let it cool and it wouldn't sink.
Did it again for 5 minutes, still wouldn't sink.
Tried a small piece of spinach, nothing.
How am I supposed to do it ???
Planted Member
Join Date: Mar 2012
Location: japan
Posts: 166
Feeding vegies dilemma
---
i usaully weight it down with something or i let it float in the tank and then it sinks by itself
Planted Tank Enthusiast
Join Date: Feb 2012
Location: Citrus Heights, CA
Posts: 703
Yes either weight it down with a rock, feeding dish, plant sinker, etc. Or let it sink on its own. You may have made it to tough, or mushy I guess, by boiling it for the extra time.
---
Last edited by Forumsnow; 03-10-2013 at

12:46 PM

. Reason: Spelling
I serve veggies raw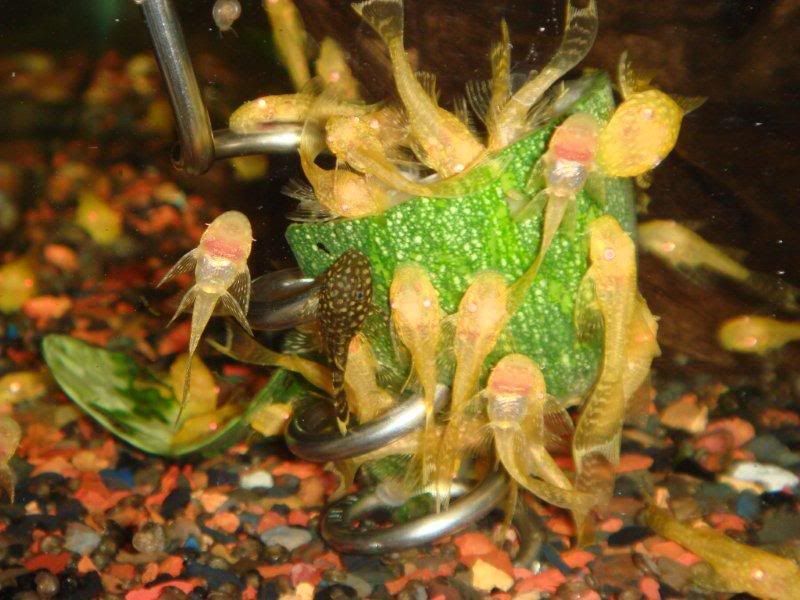 ---
The Fraternity of Dirt
If at first you don't succeed,,, keep kicking it
RubberSideDownOnTheLanding,
2-75g planted, 5-55g planted, 5-20g planted, 110g w/30g sump, 8-10g,
Refugium,
doghouse/newbie
2012 update adding table top pleco pans & a 90g (Nutz)
Planted Tank Enthusiast
Join Date: Feb 2012
Location: CA, USA
Posts: 805
You should tie it down to something that can sink. You should not boiled until it sink, then it would be to mushy and break apart flowing all over your tank making it harder to clean up.
Stick a fork in it and sink it that way with the fork leaning against the glass. That way it's easy to remove the fork and uneaten veggie if needed.
---
EVIL
Camera Pimp member #1
Fork is iron made and is not good for shrimps. You can stick zucchini to the substrate with plastic straw. To prevent veggie to move up just tide one zip tie 2" from the bottom. There are cocktail "swords" which you can use too.
If you like to give good veggie to the shrimps use kale, spinach, dandelion and nettle.
Zucchini just test well for them but it didn't deliver almost anything.
Re: Feeding vegies dilemma
---
A fork is stainless steel and perfectly fine

sent from an undisclosed location using morse code