Question about Amazonia Soil (ADA)
---
So I am doing another shrimp project setting up a few new tanks for TB's and Tibee and I was search the web for the New Amazonia Powder 9 liter bags and finally found some in San Francisco it was labled New Amazoina soil and the picture they had on there web site for the bag said *New* on it but when it got here it had nothing about *New* on the bag so my question is is this New Amaziona Soil or the old stuff from a couple years back? It is in fact powder not normal did they make the older stuff in powder form? Added a picture of the bag I got.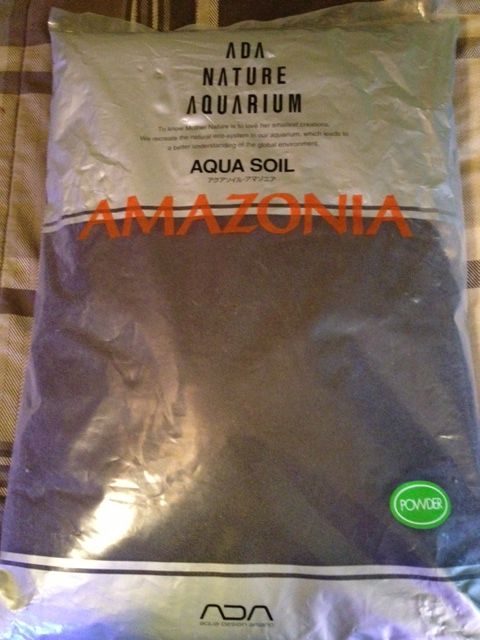 Planted Tank Obsessed
Join Date: Dec 2011
Location: Anchorage, Alaska
Posts: 333
I also ordered reg and powder ADA, but both my 9L bags are New Amazonia.
That's Amazonia "new" formula...they don't label them "new" anymore....they named it new when the AS1 and ASII was still out so people didn't get confused...now that all the old AS is depleted this is the only Amazonia you can buy now so they dropped the "new" part of the name...

You can also tell it's the new formula...it has the new ADA logo....
Thxs Shrimpnmoss thats what I wanted to know I was hoping it was just the way they bag it now.
Planted Tank Enthusiast
Join Date: Feb 2012
Location: Citrus Heights, CA
Posts: 703
Just got that from AFA the other week, most certainly says "New". Not the powder type though. Thought I was reading all over the place that no one had the powde type. Not even over seas.
Planted Tank Enthusiast
Join Date: Feb 2012
Location: Citrus Heights, CA
Posts: 703
Good to know, guess I got old "new" haha. Not surprising I guess since I ordered Africana and it said Africana on the slip in the box but they sent me new Amazonia. At least they took care of it.
Your shrimp will love you for going with ADA AS.