Don't want to mention any names
---
Don't want to mention any names or nothing but went to one of my lfs to see what they had and what do I see. That's right they had a male betta in a tank with a bunch of roseline sharks. Don't know if that betta will be alive in the morning pretty sure I saw some fin nipping and chasing.
Planted Tank Guru
Join Date: Jan 2010
Location: Contra Costa CA
Posts: 11,721
Male Bettas may be all aggression against their own or closely related species (other Anabantoids) but their fancy fins makes them slow moving, and a target for other species known to nip fins. I did not know that Roselines were particularly nippy, but I could easily see that they could beat a Betta in a fight. Fast, agile... compared to a fish 'tripping over his own skirts'.
Pretty sure I saw some killifish in the same tank too. That betta was pretty nice looking purple color maybe a little blue to him. I already have two males one female no more room for another betta.
Im not sayind id do it but if it was just with the roseline it might be ok as ive never seen my roseline nip any fins, not sure about the killi though
Come on! There's always more room for this: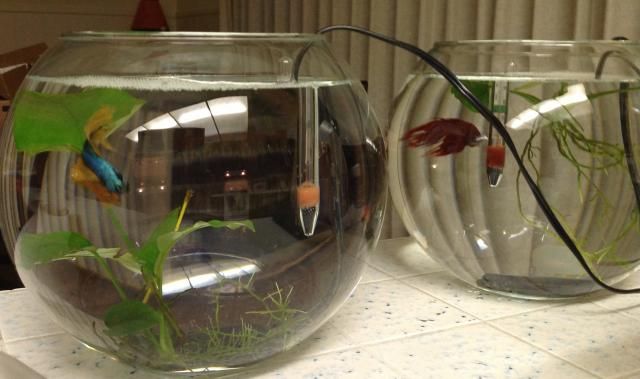 Go back tomorrow and get him!
P.S. you know that a Betta addict on a fish forum is no different than an alcoholic walking into Bevmo to browse. Muhahaha!
Lost my betta a couple weeks back so decided to pick up a new one. He has some good color on him I'm about to put him in a 10g probably saved his life buying him.
I hope you gave the store a stern talking-to.
Forgot to post a pic. Really thinking of setting up different betta bowls across the bar in the kitchen.
---
Last edited by Neatfish; 11-11-2014 at

03:58 AM

.
Algae Grower
Join Date: Jul 2014
Location: Covington, La.
Posts: 133
He looks like the my wife has. It I were home I'd post a pic of him. He's a really beautiful or should I say handsome male.