Will either the ramshorns or the nerites eat fish eggs or fry if there are any in the tank? I know it's unreasonable to ask for a snail that doesn't eat plants or fish eggs, but hey, you never know
---
Eheim Pimp #254, Eheim Wolverine #1
55 Gallon
Work in progress
10 Gallon Shrimp Tank
10 Gallon Planted QT
20 Gallon Shrimp Tank (Work in progress)
I had Danio choprae spawning in a tank with nerites. I never did anything to encourage them, but the population still grew.

I know, anecdotal at best.
---
Sean

Aquascape? I'm a crypt farmer.

It's a fine line between fishing and standing on the shore looking like an idiot.

That IS an aquascape, it's titled "The Vacant Lot".
I know this thread is old, but I just came across it now.
I thought I'd post this pic of a nerite snail going to town on some seriously bad green spot algae. The tank was a 10 gallon and the walls were clean within a week's time.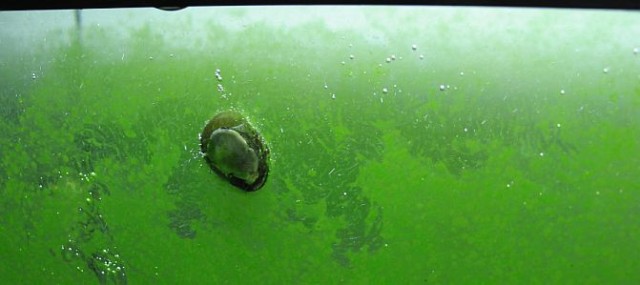 ---
In the D.C., Maryland, or NOVA area? Come check out The Greater Washington Aquatic Plants Association!
www.gwapa.org
I've gotten hundreds of olive nerities snails from AZgardens, some were FUBRed(<10% of total shipment) but those were usually included in the extras so it wasn't so bad. Out of the last 300 snails, I lost a total of 6 snails.
From my experience, they are good peeps
Newbie
Join Date: Mar 2013
Location: U.S.
Posts: 2
I know this reply is years late but in case any one reads it: This company you refer to is terrible (az gardens). For more than $80 i received everything except a few tiny snails dead. The plant i bought from them was full of undesired pest snails which i now can't control. They give no guarantee, will sometimes give store credit but then you have to pay the $34 shipping again - really not worth it!
Newbie
Join Date: Apr 2015
Posts: 1
Quote:
All the information I've found about nerites is that they are, indeed, the most awesome thing ever for aquariums. however, the fact that they are almost impossible to find locally (in seattle - so I'm assuming that means it's nearly impossible everywhere...) makes them more of a pain than they're probably worth. I personally invest in a couple of apple snails and let them get to work, but only because I like how they look. they're not really that great of a cleanup crew. Nothing gets rid of algae like water changes and the occasional scrub.
Where do you live? I find that strange that you can't find nerite snails because they are in all the pet stores where I live. I live in california, USA They are very easy to find and cheap to buy. I have one zebra nerite snail and one tiger nerite snail in my tank. I love them!
Just adding my experience with Az Gardens (you may also check BBB). One Ottos, don't buy here, Petco $1 each on sale. I say this because they usually die due to bad shipping practices. Almost all are caught in the wild, if they go 12 hours without eating a bacteria in their system needed to digest food dies. This results in there death two or three days later. AZ buys from out of the country, in my case, shipped as soon as they received them. They went well over 12 hours in shipping. They will also tell you they fast their fish two days before shipping....certain death. Moving on. High shipping rates, I live 1.5 hours from Tucson and paid $60, they've now reduced their rate to I believe $29 for my area. First order, ordered seven different kinds of fish, three batches were the wrong fish. After proving that, had credit, eat it or pay high shipping. Ordered fish again plus some and plants, emailed, next day called, then called day of shipment, just to insure the fish are in and they have the order right. Arrived two weeks late, no notice and wouldn't you know, two batches of fish were the wrong fish, plants with snails and algae. Try Bob' Tropical, had much better service there. Oh and SAE are the only to eat BBA, Ottos will eat Amazon Sword Plants, have nerites and Amano as well.
Algae Grower
Join Date: May 2015
Location: Rhode Island
Posts: 60
I used to have 4 zebra nerites in a planted 10g that has slight green dust algae on the glass. Never bad enough to classify as a "problem," but the nerites never left the glass. They did great work. Temp was about 76 pH ran steady 7.2 and I always kept up on maintenance so I can't speak to their hardiness, but they never died on me. Ended up giving them away. Never tried to reproduce either. Good looking snails though, nice black and gold striped.