Algae Grower
Join Date: Jul 2012
Location: columbia, SC
Posts: 133
Good "filler" plants?
---
I have:
Wisteria
Amazon Sword
Amazon fern
Purple Mombamba
Java moss
The wisteria was a nice easy starter plant and easy to grow but its starting to look plain and thin. What plants could I get that don't grow too tall and bush out pretty good? I really like the purple mombomba, it grows nicely in my tank.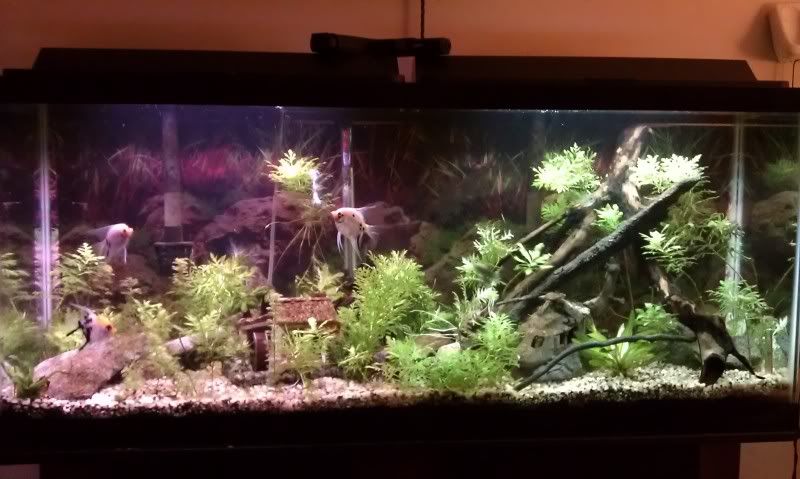 Hygro polysperma grows and grows and grows...
Planted Member
Join Date: Sep 2011
Location: Mesa, Arizona, USA, Earth
Posts: 280
+1 on the H. polysperma, although mine sometimes tends to grow so fast it can be more stem than leaves. And sometimes, not. I think it has a mind of it's own. Another great filler for me is Rotala rotundifolia. It grows a couple inches a week and if I don't trim weekly it will fill the tank. One tip on this plant is that it sends up a lot of shoots from the bottom, and if you don't thin them out occasionally it will tend to drop all the leaves from the lower half of the stems as it crowds out its own light. I think this is a common issue with stem plants, but you have to watch it as this grows so fast.
I'm trying out the larger baby tears/pearl weed as a nice little filler plant. Also diplis diandra
Algae Grower
Join Date: Jul 2012
Location: columbia, SC
Posts: 133
I took out some of the wisteria in the front and put in some babys tears. I really like the way it looks and my loach is going crazy swimming all up in it. I upgraded my lighting so I'm gonna look into something that carpets. I'll post some pics tonight, my tank is more photogenic at night.
Why not look at crypts, they are easy plants and rather undemanding!
-Gordon
Quote:
Originally Posted by
gordonrichards
View Post
Why not look at crypts, they are easy plants and rather undemanding!
-Gordon
+1 for crypts.
Others recommended Hygro polysperma but it grows tall which you mentioned you did not want.
I would also recommend Hygro Lowgrow. Keep in mind you can trim stem plants to grow lower. One I like is Rotala. It grows tall but can be trimmed to be more like a bush.
Dwarf sagateria is a nice plant that will travel. Planting a group glose together will fill in some holes. Anubias inst bush per say but it will grow in the shadows of your other plants, making it ideal for some of those open spots.
The plants I recommended will grow in most tank conditions and are relatively easy to come by. Best of luck!
Algae Grower
Join Date: Jul 2012
Location: columbia, SC
Posts: 133