Keeping co2 with a sump
---
Im sick of noisy hob filters. Canisters worth anything cost an arm and a leg. So I decided im going to run a hob overflow box and use my ten gallon thats always under the 55 anyway as a sump. Not sure if im going to build the overflow myself or leave it to the pros and get an eshopps, but thats not why im here. Anyway, im only running diy co2 right now but eventually I will have a pressurized and would like to know how those of you running sumps keep the co2 from gassing out?

To silence the overflow I will have the contraption that allows air to be pulled in so im thinking that could be a problem. Im going to run the line from the tank under the surface of the water in the sump though so no wet/dry to worry about. I want to diffuse the co2 into the return area of the sump or make an inline reactor for the return line and keep the outflows low in the tank to allow the co2 rich water to mix well before being pulled out at the top. Is there anything else that can be done?
Wannabe Guru
Join Date: Jul 2011
Location: Denver, CO
Posts: 1,703
People like Tom Barr have figured out clever methods for seriously limiting CO2 loss in sumps.

I don't remember the specifics off the top of my head but there are solutions out there for you if you can track them down.

I am certain that plantbrain has some posts here that discuss his methods though.
eliminate as much splash as you can in the design and seal the sump.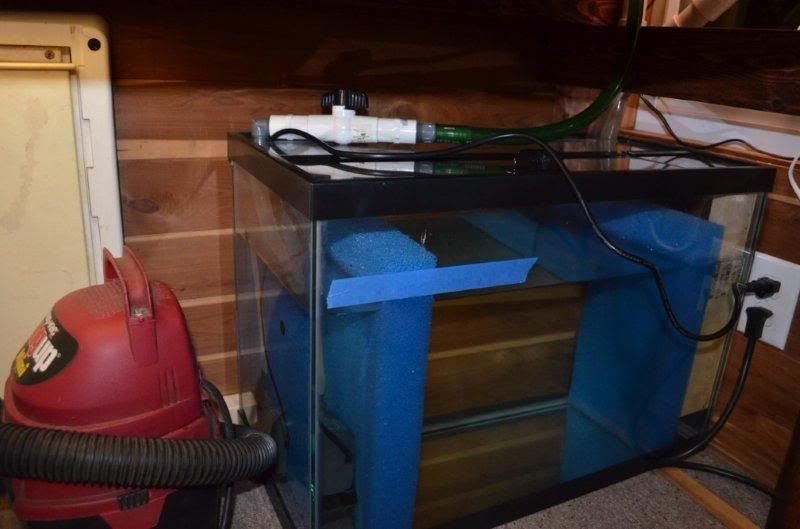 ---
The Fraternity of Dirt
If at first you don't succeed,,, keep kicking it
RubberSideDownOnTheLanding,
2-75g planted, 5-55g planted, 5-20g planted, 110g w/30g sump, 8-10g,
Refugium,
doghouse/newbie
2012 update adding table top pleco pans & a 90g (Nutz)
Quote:
I want to diffuse the co2 into the return area of the sump or make an inline reactor for the return line
You also have the choice of using a needle wheel pump.
If you have never used a sump don't forget rule #1.....make sure when you turn off your pump the sump is large enough to hold any back flow.
I would have to keep the overflow kind of high because all I have room for is a ten gallon sump. I can always make a hole in the return to break the siphon in case it decides to drain my tank right?
i used the siphon break hole method on mine. works great

i also have a wet dry and setup properly it doens' twaste a lot of co2

noise is best controlled with a multiple drain setup OR a bigger drain line
anything over 300 gph through the drain needs a 1.5 inch drain line
anyhing under 300 needs a 1 inch
anything over 700 gph needs a 1.75 inch drain line OR jus make the big sep and go to 2 inch but that can handle like 1600-2000 gph quietly.. you likely will not need that much
---
Sump Pimp #7
75G Rainbowfish Journal
---
Last edited by HD Blazingwolf; 03-11-2013 at

05:19 PM

. Reason: just cause i wanted to