Hardwater stains
---
I inherited an old reef tank. It had been left to evaporate down leaving hardwater lines. I cleaned the glass with straight vinegar until it looked clean. Now several months later the lines and stains are back. It makes for a cloudy appearance despite the water being clear. I have tried razor scraping and scrubbing with various "scrubbies" but nothing seems to work. Is my only option to dismantle the tank and use harsh chemicals to remove it such a CLR or the like? Any ideas?
I've read that Mr clean magic erasers may work, but have not tried this yet personally. It is possible that the glass became foggy from micro-scratches.. I.e. not using fresh razors every time.
Planted Tank Obsessed
Join Date: Sep 2012
Location: TX
Posts: 474
+1 on the magic erasers, just make sure they are the plain original ones and don't contain any cleaning products. I've used them in my shrimp tank without incident.
Great idea! Thanks. There are scratches but it's mostly hard water stains. You can see the lines and hazy areas. I'll give it a try.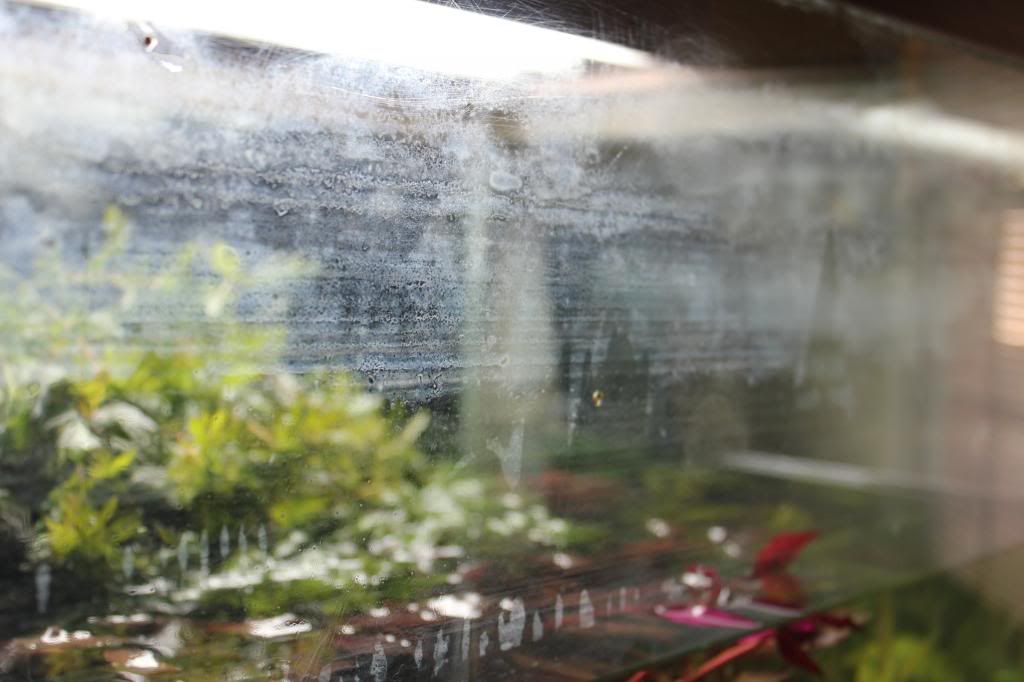 ---
Last edited by Zorfox; 02-20-2013 at

08:33 PM

. Reason: Added an image of the stains
I would also try combining the two (melamine eraser with vinegar).

If that doesn't work, you can take some paper towels soaked in vinegar and leave them hanging over the rim of the aquarium so that they touch the hard water stains. After about 20-30 minutes, they should come off easily.