46 Gallon BioLoad
---
Hey wanted to get some insite on the bio load suggested for my tank. Currently I have 2 Flame Red Gourami, 2 Neon Blue Gourami, 18 Cardinal Tetra, 6 Otto Cat Fish, 2 German Blue Rams, and 2 Female Bettas along with around 6 Amano Shrimp. I've tested everyday for weeks and not one problems with nitrate, nitrite, and ammonia they're all at 0 sometimes nitrate getting to around I belive 5 PPM but not for long I usally test a few hours later and it went down and that's usally after I had added new fish.
Setup I have a 150W Quartz Heater, Currently running a air wand until I get my Co2 System setup just waiting on a special order part, I have a AquaClear 70 & 50 running as well and my lighting is a Marine Land Reef Capable light.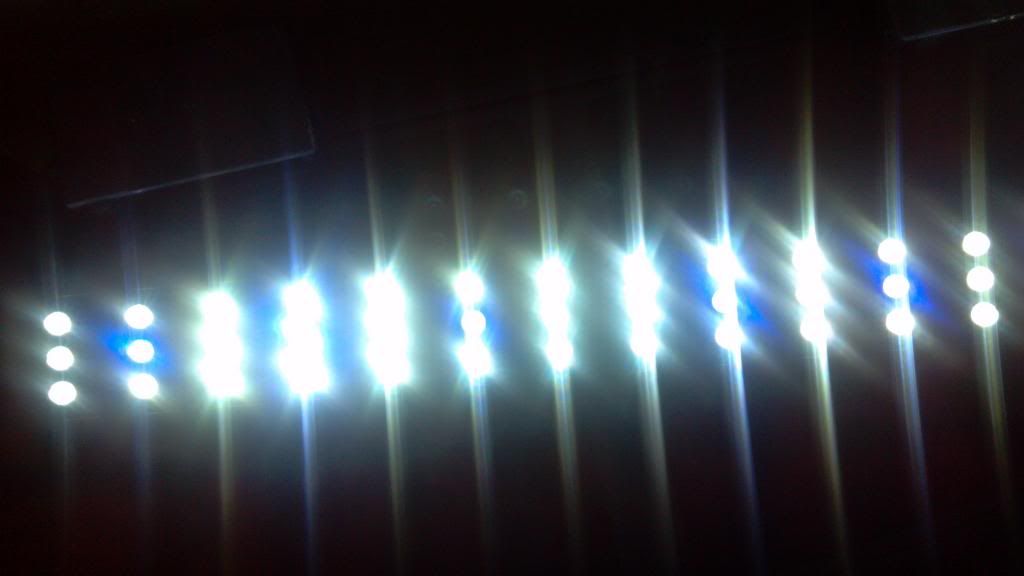 The tank imo is heavily planted due to the fish needing places to hide and feel safe. My substrate is Organice Choice Potting Mix that I soaked for several weeks and removed the floating stuff from it, I have a layer of dark flourite on top to help cap that, then a layer of Eco-Complete, and topped with black sand to stop leeching.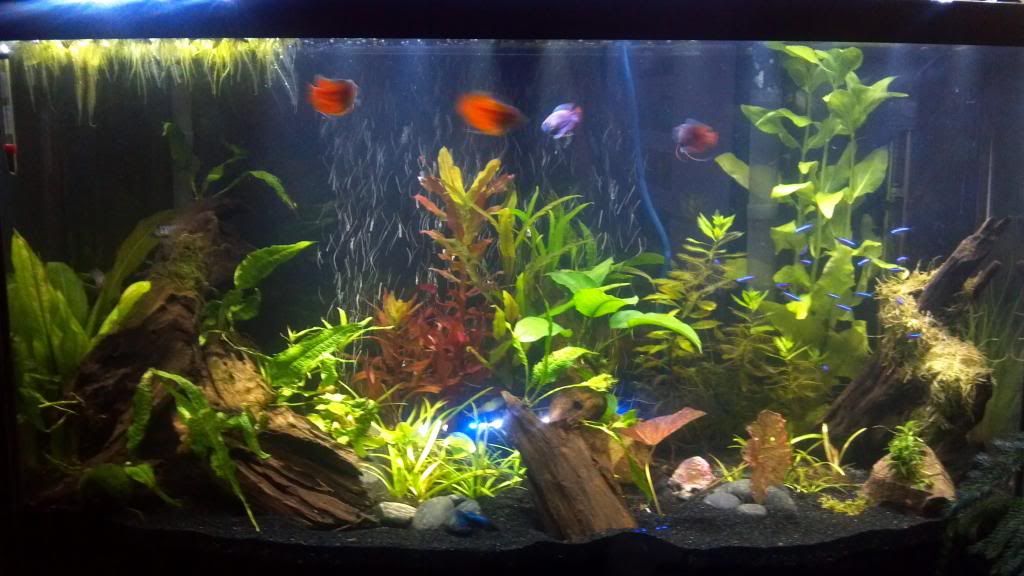 Any Suggestions let me know, I also have a PH of 7.5 and VERY soft water I buy from a fish store when I do water changes.
Algae Grower
Join Date: Dec 2012
Location: OFallon, MO
Posts: 42
Tank looks nice to me. Not sure what type of questions you are asking though.
Algae Grower
Join Date: Feb 2011
Location: CA, USA
Posts: 109
Looks nice. Stop buying water. Most fish and plants will adjust to tap water.
Just curious how many fish I can keep because I want to get at least three dwarf rainbows and maybe dwarf loaches
I think you're well stocked.
When stocking your tank you need to also take in account the swimming space for your selected fish. You have 12 bottom swimmers and 32 mid to top swimmers. I, personally, wouldn't add more.
---
Looking to get rid of those trimmings? PM me!

Algae Grower
Join Date: Jan 2013
Location: Northern Virginia
Posts: 39
Idk how you have that many gouramis without them killing each other, but I guess that might be enough territory.
90% of the time the Gouramis just sit in my plant on the right and touch each other with their feelers but very rarely do they chase each other.
Your bioload isn't really the issue here, it's species-specific behavior-

There's a good chance you're going to have some compatiblity issues over time. Anabantoids tend to get territorial and as a rule don't tend to play well together. Also, female bettas *can* be kept together, but generally work the same way African cichlids do- you have to be keeping a whole bunch of them so they can't likewise stake out and fight over territory.

Personally, I'd pick just one species of gourami, and be SURE you have a male/female pair (which can be hard to do, since females typically are drab and don't get sold by petstores), and rehome the female bettas and other gourami.

With your current setup, I think within a few months (looks like you have young fish that haven't fully reached sexual maturity) you're going to start either finding very cowed/beat up fish, or fish that have jumped to escape bullying from the others.
---
Tampa Bay Aquarium Society
- Next meeting Monday, Oct 13, 2014 @ 7:15pm- See ya there!
TBAS Annual Fish Auction - November 1st!!
If anyone shows any aggression id be sure to get them a new home but for now they seem very peaceful and the female bettas have been living with one another for almost a year now they were in a 20 gallon tank that got torn down.
That does seam like a lot of fish for that size tank. My 46 has only 20 small fish. But much more heavily planted then your tank. I would be worried that there is not enough room for all those fish to live happily. I dont know much about HOB has I only use canisters though.
---
46 Bow Front Planted
Eheim 2217 & 2236, 2-39wt T5 bulbs (10,000), 72-75*
Pristella tetras, cardinal tetra, amano shirmp, bamboo shrimp, nerite snails, assassin snails and red cherry shrimp.