Planted Member
Join Date: Jan 2013
Location: Middleton, WI
Posts: 213
Two tanks next to each other
---
I picked up a 75 last weekend for $75. It was a good deal, and I especially like the Roman columns with airstone that will make a great centerpiece! LOL

I'm thinking about putting this next to my 65. I'm going to be making a new stand for it, because I can't stand the one it came with. What are thoughts about the height of two tanks next to each other? Align them with the tops of the tanks or the bottoms? Anyone have any pics of two tanks next to each other that they might want to share?

Thanks!
desk group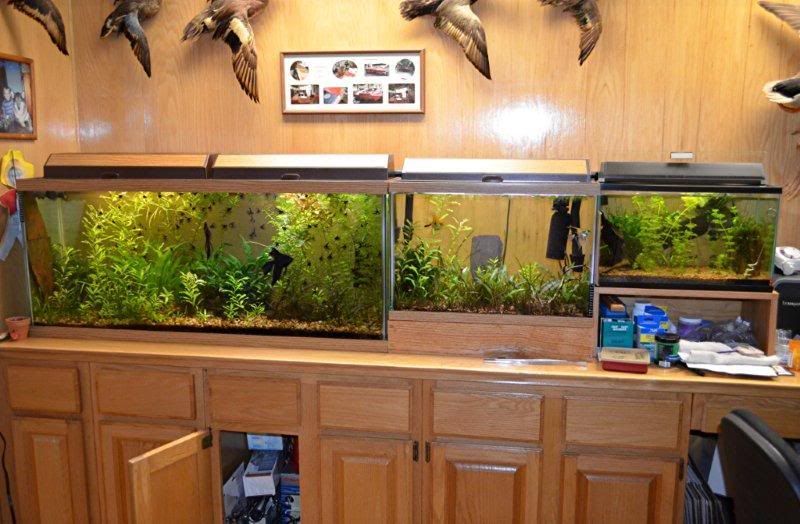 ---
The Fraternity of Dirt
If at first you don't succeed,,, keep kicking it
RubberSideDownOnTheLanding,
2-75g planted, 5-55g planted, 5-20g planted, 110g w/30g sump, 8-10g,
Refugium,
doghouse/newbie
2012 update adding table top pleco pans & a 90g (Nutz)
That looks terrific wkndracer. Lining up the tops of the tanks answers the question beautifully and those black juvies make a great display!
Planted Member
Join Date: Jan 2013
Location: Middleton, WI
Posts: 213
I have to concur. I really like how they are all lined up with the top of the tanks!

I just picked up two gold veils yesterday that are breeding size. The guy said they have bred for him before, and they seemed to be paired off. Hopefully I'll have some coming my way soon!